World Refugee Day: TV show teaches Arab children who are out of school
Children in conflicts, Education in emergencies
"Before I sleep at night I imagine that I am in school and studying in class. Then my parents pick me up and we go home where we live in peace."
The haunting words of a young girl living in a refugee camp. One of 30 million children around the world who on World Refugee Day today are displaced from their homes by conflicts and emergencies.
The girl features in a video (watch it below) about an "on-air" school which provides core teaching in Arabic, maths and English to children aged four to seven and older ones who have missed out on school.
Broadcaster SAT-7 launched a 90-minute daily programme called My School (Madrasati in Arabic) in March. Rita Elmounayer, SAT-7 KIDS and SAT-7 ARABIC Executive Director, said many displaced children – even some in refugee camps – are still able to watch television.
She added: "In providing education to this lost generation of refugees, especially those from Syria and Iraq, we are investing not just in their future but in the future of the Arab world.
"Teaching them to read and write is giving them the possibility to be exposed to different points of view, maybe find a job later and ultimately to help shape society and make a positive difference in the Arab world of tomorrow."
The teaching is made fun through competiitions, quizzes and educational games. Education is vital for displaced children – it can keep them safe from the perils faced by many refugee and internally displaced children including rape, violence, prostitution and recruitment into fighting or criminal activity.
SAT-7 – a member of the Global Faiths Coalition for Education – has had some encouraging feedback. One parent wrote to say: "I like your programmes so much, especially My School. It keeps my son Youssef watching and he is learning from it."
SAT-7 TV teacher Shams asks a question about adding up
The Christian satellite broadcaster reaches into millions of homes across the Middle East and north Africa. This week SAT-7 announced it had encouraged its viewers and supporters to sign the #UpForSchool Petition, which calls on world leaders to keep their promise to get every child into school.
A World at School is calling for a global fund for education of at least $100 million to rapidly disburse funding for education in humanitarian crises such as that in Syria, Iraq and neighbouring countries.
We are also urging the mobilisation of donor funds to support education for more than 400,000 Syrian refugee children in Lebanon. You can back our calls by joining six million other people and signing the #UpForSchool Petition.
Rachel Fadipe of SAT-7 said: "We believe education is the key to the future of the Middle East, as it will it broaden children's horizons and help them to achieve a better socio-economic future.
"It should also provide an essential counter to the insidious propaganda and indoctrination of ISIS as it relentlessly tries to recruit more children and young people to its barbaric cause."
Learn more about the facts and human stories behind World Refugee Day.
http://www.aworldatschool.org/news/entry/Young-Syrian-refugees-tell-of-heartbreak-and-hope-2046And meet young Syrian and Palestinian refugees in Lebanon who tell of their heartbreak and hope.
---
More news
Theirworld initiative helps to deliver $30m of computers to Ukrainian children
Theirworld initiative helps to deliver $30m of computers to Ukrainian children
Theirworld's mission to give children in crises a safe place to learn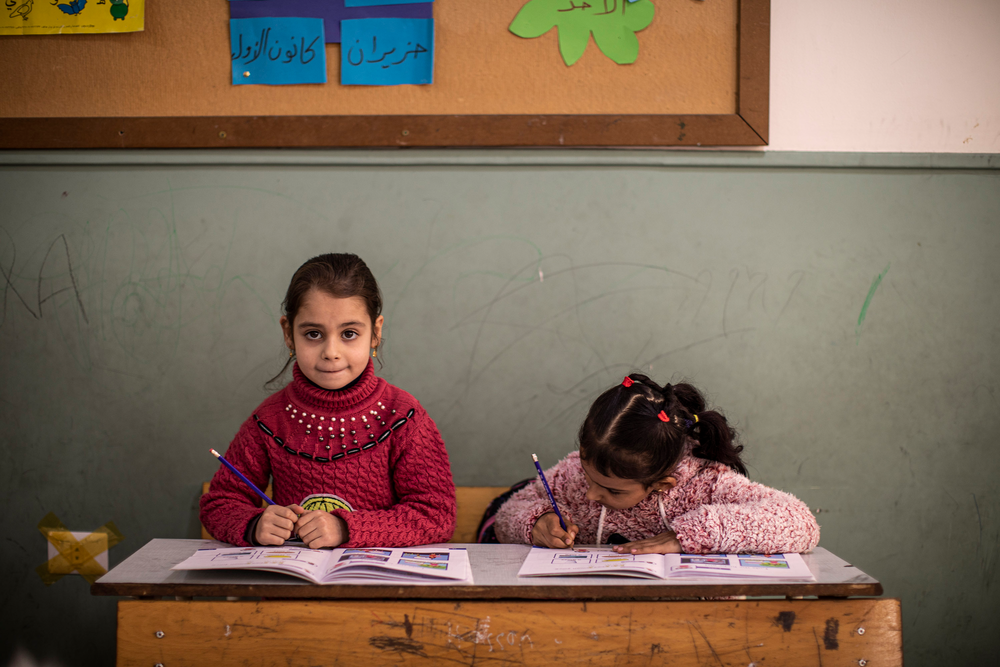 Theirworld's mission to give children in crises a safe place to learn