Battle forces students to trek six hours on bombed mountain road to sit exams
Children in conflicts, Education in emergencies, Safe schools
---
The worst fighting in Yemen's three-year conflict meant 2000 high school students headed for the safety of the capital Sanaa.
---
Fighting in a port city in Yemen has forced around 2000 high school students to flee to the capital to sit exams, braving a six-hour journey along a mountain road scarred by land mines and aerial bombardment.
The boys and girls started arriving in late June for the university entrance exams, having left Hodeidah because of a battle that began on June 12 between Houthi rebels aligned to Iran and a coalition led by Saudi Arabia.
"We were comfortable in our city in Hodeidah, relaxed, not thinking of war and then we were surprised with this war that forced us to move to Sanaa, and affected us in our education, our livelihood and everything else," said Ahmed Shawky.
The students are now staying in schools or with friends and relatives and their reception is an example of how Houthi authorities are trying to ease social frustrations in the territory they control.
"We have received almost 2000 students (from Hodeidah) who were distributed across Sanaa's schools and other schools close to Hodeidah … We have offered all the necessary help to the displaced students," said Ali Al Saqaf, an official from Amanat al-Asimah province that includes the capital.
The Hodeidah battle is the biggest in the three-year war and the United Nations fears it risks triggering a famine in a country where an estimated 8.4 million people risk starvation. 
The battle has calmed in the last week – but thousands have fled and many others remain trapped because of landmines.
Yemen's deadly toll
The UN says Yemen's three-year conflict has killed 2200 children and damaged 1500 schools.
"The relentless conflict in Yemen has pushed a country already on the brink deep into the abyss," warned UNICEF Chief Executive Henrietta Fore after a visit there this week.
At the Sayf bin Dhi-Yazan school in Sanaa, displaced students waiting to sit exams gathered near a garbage dump by the school gates. Political graffiti celebrating Houthi fighters hung in the narrow streets nearby.
Some of the students sat outside the school to which they have been assigned and recited verses from the Koran in a bid to revise for questions that could come up in the exams.
The Western-backed coalition intervened in Yemen in 2015 to restore the internationally recognized government in exile. But since then neither side has made much progress in a conflict seen as a proxy war between Saudi Arabia and Iran.
The coalition has conducted thousands of air strikes against Houthi fighters and has often hit civilian areas, although it denies doing so intentionally. The Houthis have launched rockets into Saudi territory, including at the capital Riyadh. 
Schools are meant to be safe havens for children and youth to learn and be with their friends. That's why 75 countries have signed up to the Safe Schools Declaration – a commitment to protect education and stop military use of schools.
But of the world's most powerful countries – the permanent members of the United Nations Security Council – only two have signed. We're calling on China, Russia and the United States to follow the example set by France and the United Kingdom.
---
More news
Theirworld initiative helps to deliver $30m of computers to Ukrainian children
Theirworld initiative helps to deliver $30m of computers to Ukrainian children
Theirworld's mission to give children in crises a safe place to learn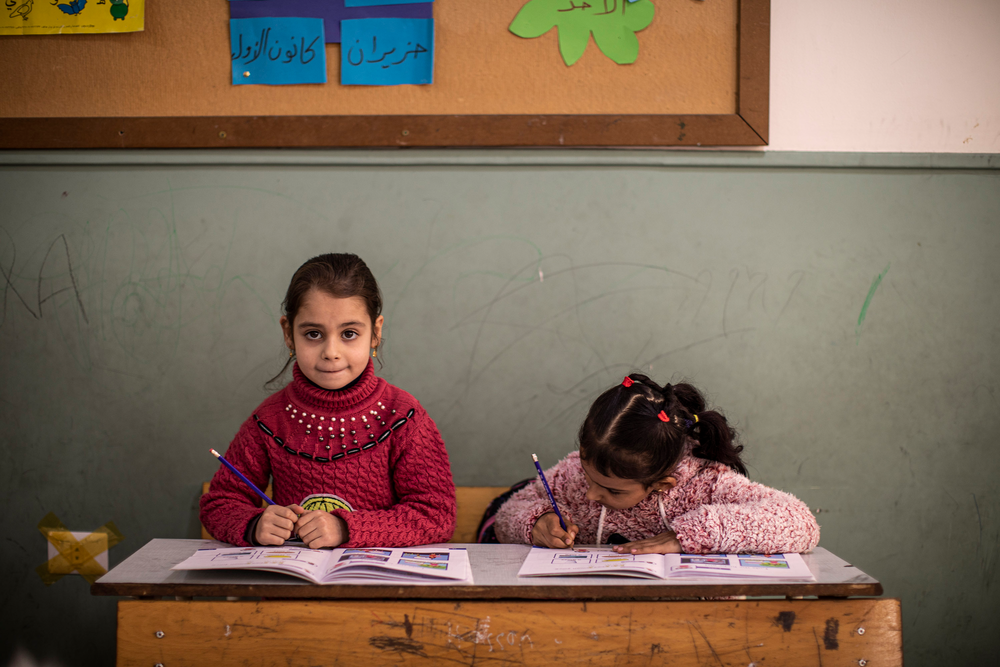 Theirworld's mission to give children in crises a safe place to learn