Zuhair, 13, scarred by Yemen war that has robbed two million children of education
Children in conflicts, Education in emergencies, Refugees and internally displaced people, Safe schools
---
A boy who was injured in a bomb attack is just one of millions of children in Yemen who are suffering terribly because of the war.
---
"I saw people scattered on the floor. They were dead. I saw only half bodies. My clothes were burnt, my hands, my legs and my face. I was completely burnt," says Zuhair.
  
The 13-year-old schoolboy from Yemen was speaking about surviving the bombing of a funeral when 140 people were killed in the capital city Sanaa.
Terribly burned himself during the airstrike, Zuhair suffers from recurrent nightmares and regularly wakes up screaming, according to his mother, who was interviewed along with her son by Save The Children UK.
Now, when Zuhair hears a Saudi-led coalition aircraft overhead, he runs to his mother and asks her to switch off the mobile phone – because he thinks the aircraft can target his family through a SIM card.
Since the conflict in Yemen escalated in March 2015, nearly 1400 children have been killed and thousands more injured in attacks on civilian homes, schools and hospitals.
With no end to the war in sight, Zuhair and his family are among millions of people in Yemen enduring a humanitarian catastrophe.
Two million children are not receiving education and the conflict has made some 1600 schools rendered unfit for use.
Many schools have been damaged by controversial airstrikes and last week there was a judicial review in London over UK arms sales to Saudi Arabia for use in Yemen. While the judges consider the decision, the carnage in Yemen continues and more school children like Zuhair will likely be killed and maimed.
Zuhair and his stepfather, Waleed, were at Al-Kubra Hall in Sanaa last October when two airstrikes hit the hall. 
They were present to offer condolences to the family of a late prominent tribal leader Shaikh Ali al-Rowaishan, because they came from the same village. 
Although they survived the attack, both Zuhair and Walled were badly burnt as a result of the explosion, the intensity of the firestorm setting their clothes alight.
The death toll was one of the largest in any single incident since the Saudi-led alliance began military operations to try to restore President Abd-Rabbu Mansour Hadi to power, following his ousting by the Iran-aligned Houthis in March 2015. 
Zuhair suffered third degree burns to many parts of his body as he frantically tried to extinguish his burning clothing
During the interview, his mother talked of her family's initial attempts to treat his burns.
The family is so impoverished by two years of war they were initially forced to use creams and tomato paste rather than seek medical care.
This is destroying the educational infrastructure in a country with deep need for education for girls and for young people in general. Kevin Watkins, Chief Executive, Save The Children UK
"Now he screams while sleeping," Zuhair's mother said. "He would be asleep and his eyes are closed yet he screams so much and says things that would scare you: 'Mum, the missile will hit. Mum, look after my sisters. Mum, hold me. Mum please do something.' He has changed a lot.
To help Zuhair, Save the Children is to enroll him in a "child-friendly space" where he can play and get psychological support.
Although Zuhair's physical condition has improved and his burns are healing, he remains highly traumatised although he can attend school.
He is just one of millions of children in Yemen who are suffering terribly due to the war.
Kevin Watkins, Save the Children CEO, recently visited Yemen to witness what was happening. He said: "This is a country with one of the biggest gender gaps in education in the world.
"This is destroying the educational infrastructure in a country with deep need for education for girls and for young people in general."
Last week United Nations agencies issued another urgent appeal for the world to help Yemen. 
Three UN agencies said  the number of food-insecure people has risen by three million in seven months, with an estimated 17.1 million people now struggling to feed themselves. About 7.3 million of those are considered to be in need of emergency food assistance.
Dr Meritxell Relano, UNICEF Representative in Yemen, said: "We are witnessing some of the highest numbers of malnutrition amongst children in Yemen in recent times. Children who are severely and acutely malnourished are 11 times more at risk of death as compared to their healthy peers, if not treated on time. 
"Even if they survive, these children risk not fulfilling their developmental potentials, posing a serious threat to an entire generation in Yemen and keeping the country mired in the vicious cycle of poverty and underdevelopment."
Last month Theirworld reported that an airstrike by the Saudi-led coalition near a primary school in rebel-held northern Yemen, killed five people including two children.
The headmaster and two other staff members were among those killed in the air raid in the district of Nihm, northeast of the capital Sanaa, which also left 13 wounded, sources said.
A government military official said the area at the school was hit by two missiles by mistake, accusing the Shiite Huthi rebels of keeping armoured vehicles nearby.
---
More news
Theirworld initiative helps to deliver $30m of computers to Ukrainian children
Theirworld initiative helps to deliver $30m of computers to Ukrainian children
Theirworld's mission to give children in crises a safe place to learn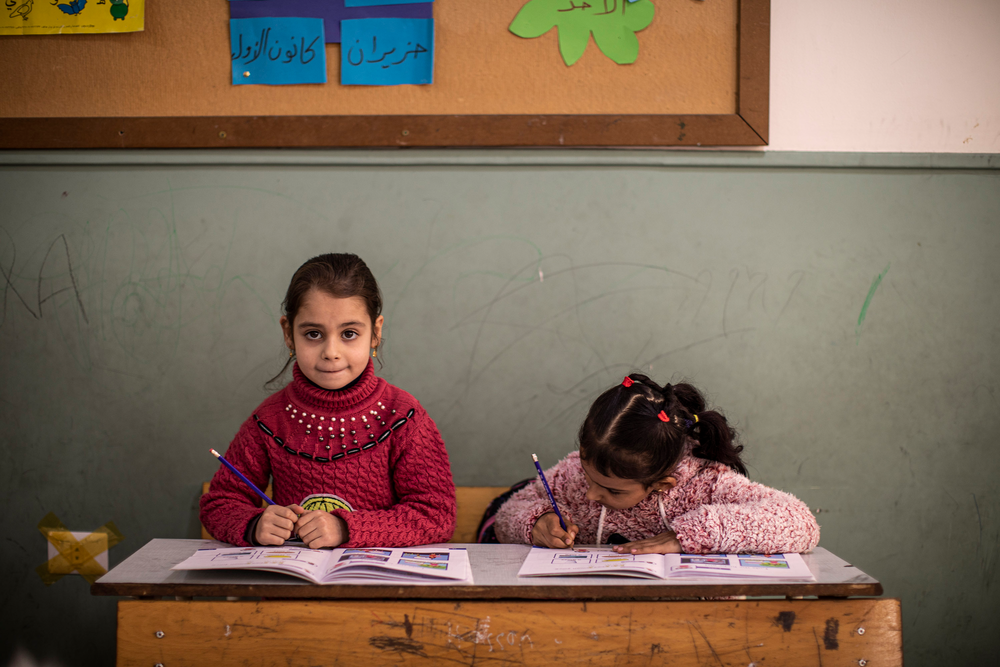 Theirworld's mission to give children in crises a safe place to learn