Yemen school bus attack: UN demands investigation as officials say 40 children died
Children in conflicts, Education in emergencies, Safe schools, Safe Schools Declaration
---
With families preparing to bury their dead today, UNICEF's chief said air strikes on schools and children had to be stopped.
---
The funerals of many of the children killed in a horrific air strike on a school bus in Yemen will be held today.
At least 40 children were among 51 people killed in the attack that caused international outrage, according to officials from the country's Houthi rebels. The death toll had previously been put at 29 child victims.
People in Saada province – where the bus was attacked two days ago by the Saudi-led coalition – began to dig graves yesterday for the children, who were all believed to be under 15.
"God may give us patience," said Hussein Hussein Tayeb, who lost three sons on the bus, which was taking students on a trip.
"I was one of the first to arrive on the scene, seeking to rescue the wounded. I lifted a body and I found that it was Ahmed's face. I hugged him, he was my son."
Ahmed was 11. His brothers Yusef and Ali were 14 and 9.
A Houthi-run TV station said the group's health minister Taha Mutawakil gave the number of dead at 51 including 40 children and at least 79 people injured, 56 of them children. The International Committee of the Red Cross reported the same figures, which it said came from authorities in Saada province.
The Saudi-led coalition – which had called it a "legitimate military action" – yesterday said it will investigate the air strike, which hit the bus as it drove through a market in Dahyan. 
The Saudi Press Agency quoted an alliance official as saying: "The coalition is firmly committed to investigating all claims regarding mistakes or violations of international law, to sanction those who caused these incidents and to provide assistance to the victims."
That change of stance came amid global calls for urgent action. United Nations Secretary-General António Guterres called for an independent investigation into the attack and the UN Security Council demanded a "credible and transparent" investigation.
Henrietta Fore, Executive Director of UNICEF, said the "horrific" attack marked "a low point in (Yemen's) brutal war".
The Saudi-led Arab alliance – whose members receive Western political support and buy billions of dollars a year in arms from the United States, Britain and France – has been fighting for three years to drive out the Houthis, who pushed a Saudi-backed government out of the capital in 2014.
UNICEF's chief was stinging in her condemnation of the bus attack.
Henrietta Fore said: "UNICEF and others have repeatedly called for the protection of children and for respect of international humanitarian law. These calls have been met with utter disregard. 
"Since 2015, nearly 2400 children have been killed, more than 3600 injured and thousands of innocent lives have been damaged or destroyed. Attacks against hospitals, schools and essential infrastructure are commonplace.
"The continuing conflict, repeated attacks and access restrictions due to insecurity and violence are also hampering our ability to reach those most in need, including 11 million children who require humanitarian assistance.
"How many more children will suffer or die before those who can act, do by putting a stop to this scourge?"      
Three years of conflict in Yemen has wrecked the education of hundreds of thousands of children. Almost 500,000 have dropped out of school since 2015 – taking the total number out of education to two million, according to UNICEF.
Last year 1316 children were killed or maimed in Yemen, with 51% of casualties caused by air strikes. 842 children were recruited by armed groups, according to a UN report on children in conflict. 
There were 20 attacks on schools, with 19 of those attributed to the Saudi-led coalition. The UN verified eight incidents of the military use of schools.
Yemen is among 80 countries that have signed the Safe Schools Declaration – a commitment to keep students, teachers and their schools free from the fear of violence and occupation during armed conflict.
Theirworld and others have been campaigning for schools to be safe places for children to learn and be with their peers. While the majority of the 15 current members of the Security Council have signed the Safe Schools Declaration, only two of the five permanent members have done so.
France and the United Kingdom have shown the way by endorsing the declaration and we are calling on China, Russia and the United States to follow their lead. 
---
More news
Theirworld initiative helps to deliver $30m of computers to Ukrainian children
Theirworld initiative helps to deliver $30m of computers to Ukrainian children
Theirworld's mission to give children in crises a safe place to learn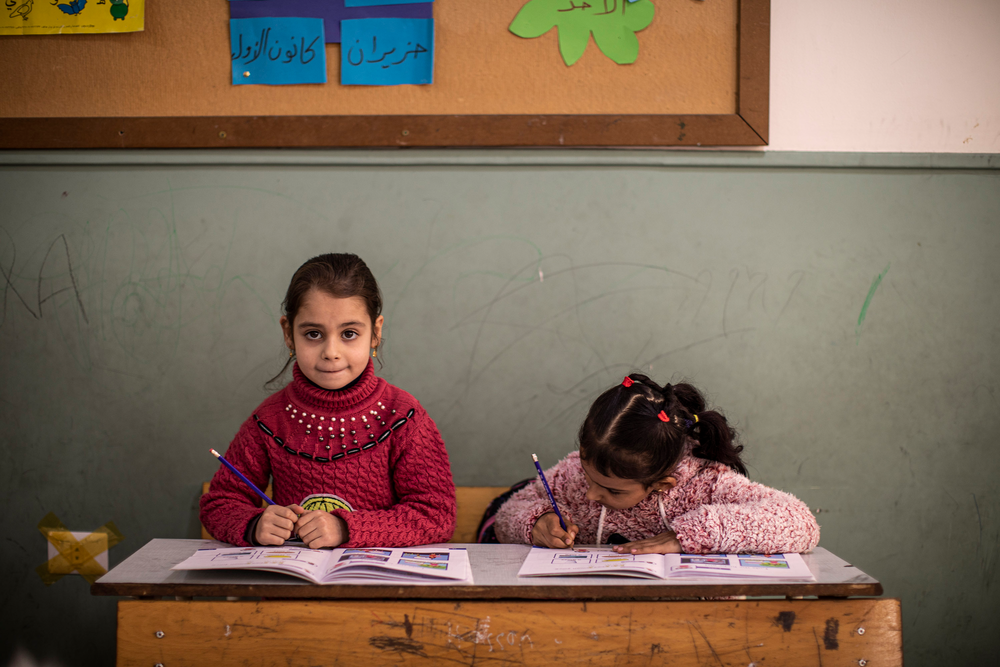 Theirworld's mission to give children in crises a safe place to learn