Yemeni children tell of their terror when bombs rain down on schools
Children in conflicts, Education in emergencies, Refugees and internally displaced people, Safe schools
---
Two million children are out of school in the conflict-torn country - and the head of Save The Children UK says attacks on schools are "destroying the educational infrastructure".
---
A new video has highlighted the terror faced by millions of schoolchildren in Yemen from missiles landing in civilian areas. 
A teenage girl called Amal and members of her family talk about surviving the bombing of a school that killed friends and family in the film produced by Save The Children.
Yemen is suffering a massive humanitarian crisis due to a conflict that's been raging for nearly three years. An estimated two million children are out of school, with around 1600 schools unfit for use because they've been damaged or are now used for military purposes.
Amal, 13, explains what happened when two bombs landed. She says: "My school was targeted by a missile when I was in the class. Two girls were killed. One of them was my teacher. 
"I screamed. I couldn't get out. I was so frightened. No one was able to come in and help me. Suddenly a second missile hit the class again. A lot of people died."
Her brother says: "When they attacked the school I crawled on the floor. But when I was going down the stairs I hit my head and it was bleeding. I tried to escape with Amal but I got trapped in the school. "
Amal's family has been forced to leave home due to a relentless war that has led to the internal displacement of over 2.1 million Yemenis.
Many schools have been bombed or taken over by fighters since the bombing campaign by a Saudi-led coalition began nearly two years ago.
Kevin Watkins, chief executive of Save The Children UK, visited Yemen last week and saw schools and hospitals destroyed by bombing.
He went to a damaged girls' school in Sana'a and told the Guardian: "This is a country with one of the biggest gender gaps in education in the world. 
"This is destroying the educational infrastructure in a country with deep need for education for girls and for young people in general."
In August, an air strike on a Koranic school in Saada province, a rebel stronghold in the far north, killed 10 children and wounded 28 other people, prompting a United Nations call for a swift investigation.
Last week Amnesty International said it had documented at least 34 coalition air strikes in Yemen since March 2015 that appear to have violated international humanitarian law, including attacks on schools.
The human rights group said: "These have resulted in 494 civilian deaths (including at least 148 children) and 359 civilian injuries. 
War in Yemen
The conflict has triggered a humanitarian crisis, with more than 80% of the population needing aid.
It pits Shi'ite Houthi rebels against forces loyal to the government. A Saudi-led coalition, which supports the president, began a bombing campaign in March 2015.
The UN's humanitarian aid official in Yemen said this month the civilian death toll had reached 10,000, with 40,000 wounded.
"They have included indiscriminate attacks leading to civilian deaths and injuries, and attacks that appear to have deliberately targeted civilians and civilian objects such as hospitals, schools, markets and mosques, and caused damage to civilian property, which would amount to war crimes."
In a separate development, the International Organization for Migration (IOM) said the dire situation in Yemen is complicating an already difficult situation for migrants from the Horn of Africa attempting to get to Saudi Arabia.
A high-ranking delegation from IOM visited Yemen's largest city Sana'a earlier this month to assess and support IOM Yemen's efforts to aid displaced people.
The team visited one of the 31 child-friendly spaces that IOM has opened in Yemen. 
It said these provide direct assistance to displaced children, explaining that they aim to "ease the stress and effects of the conflict on children, in addition to providing awareness-raising sessions and psychosocial support for traumatised children".
---
More news
Theirworld initiative helps to deliver $30m of computers to Ukrainian children
Theirworld initiative helps to deliver $30m of computers to Ukrainian children
Theirworld's mission to give children in crises a safe place to learn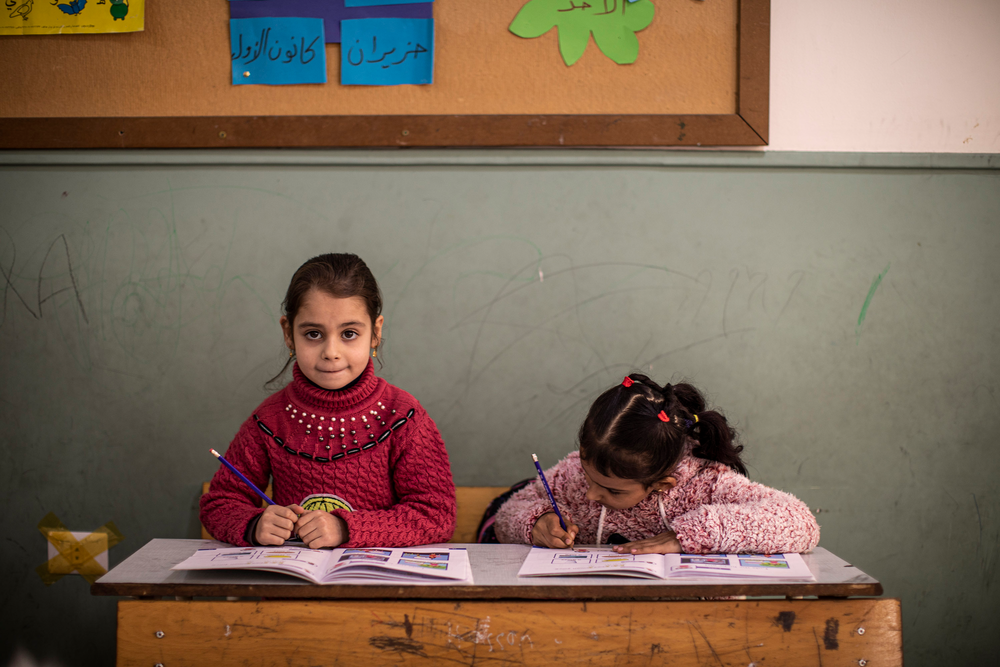 Theirworld's mission to give children in crises a safe place to learn