Young people's message: An attack on one school is an attack on all schools
Baela Raza Jamil is Director of Programmes at Idara-e-Taleem-o-Aagahi (ITA), which promotes education in Pakistan. The Education Youth Ambassador programme has been formed through a partnership between A World at School and ITA and runs in collaboration with the AWAS Global Youth Ambassador programme. Here Baela writes about the aftermath of the Peshawar school attack on December 16.
The past few days have been very painful – and I don't think that pain will go away. But the message from young people is loud and clear. An attack on one school is an attack on all schools.
There is no grey area today in Pakistan after the killing of 132 children at a school in Peshawar. People will have to take sides. The prime minister and all political parties have now stated clearly they are all against terrorism. I think that's what children in this country needed to hear. It's extremely sad and tragic that so many children had to be sacrificed so that we could finally hear ourselves and believe that we have to stand together in this fight against terrorism.
I heard the terrible news while visiting Matiari in a rural area of Sindh province, where we are starting our child marriage-free zones to stop girls being married off at the age of 11 or 12. The tragedy I had seen in Matiari was bad enough. But then, in the middle of a meeting, we heard a newsflash that children had been killed in Peshawar. As the events started to unfold, our faces went completely grey.
We have already recruited more than 120 Education Youth Ambassadors and about 60 of them come from that area of Khyber Pakhtunkhwa and Fata. In those first 24 hours, we saw the citizens of this country come together. Literate and illiterate. Rich and poor. The solidarity was phenomenal.
The Education Youth Ambassadors in the area rallied around families. Many of them had relatives who had been affected, cousins who had died – and so it was very close to home.
Everyone's focus had been on the #UpForSchool Petition and campaign. Earlier this month, we met with Malala's friends Shazia and Kainat. These young women, who had just returned from Malala's Nobel Peace Prize award ceremony in Oslo, were so inspiring that our ambassadors were beginning to feel the campaign was taking shape. But they never realised they would have to play a part in such a huge tragedy so close to home. 
Baela at rally to honour Malala Yousafzai's Nobel Peace Prize
Our Education Youth Ambassadors feel extremely saddened by what they have seen. But they are also very resolved to be a part of a movement that says no to terrorism very openly. I think the culture of silence has ended in this country. I hope we are going to see a new dawn in Pakistan in the next few months, perhaps the next few years. Things are going to be very tough for us but I think that's the only way we can turn a page.
I think we need a very different kind of ideology to emerge. One of peace – and peace through education.
There has been an overwhelming response from our friends, such as A World at School and its Global Youth Ambassadors. The way the children and our partners in India have rallied for the children of Pakistan has been incredible. They have been wearing black pants and holding special assemblies. We look at those pictures and we feel reassured that there is a chance for peace.
Peace needs to become a very important part of what it means to be a good citizen of this region and of the globe.  The messages that have been coming through, from UN education envoy Gordon Brown and from world leaders, makes us feel we are part of one large community.
We welcome any support that can be given to our Education Youth Ambassadors. They need words of wisdom and reassurance and to know there are people out there who will be supporting them in becoming stronger leaders and more effective communicators in these messages of peace and tolerance.
As I said, the children have really made the message loud and clear for everyone. They have been chanting slogans, saying prayers, lighting candles. Our Education Youth Ambassadors held vigils and have collected more than 200,000 signatures for the #UpForSchool Petition.
Please join us and stand #UpForSchool for all children in Pakistan and around the world.
You can sign the #UpForSchool Petition here.
---
More news
Theirworld initiative helps to deliver $30m of computers to Ukrainian children
Theirworld initiative helps to deliver $30m of computers to Ukrainian children
Theirworld's mission to give children in crises a safe place to learn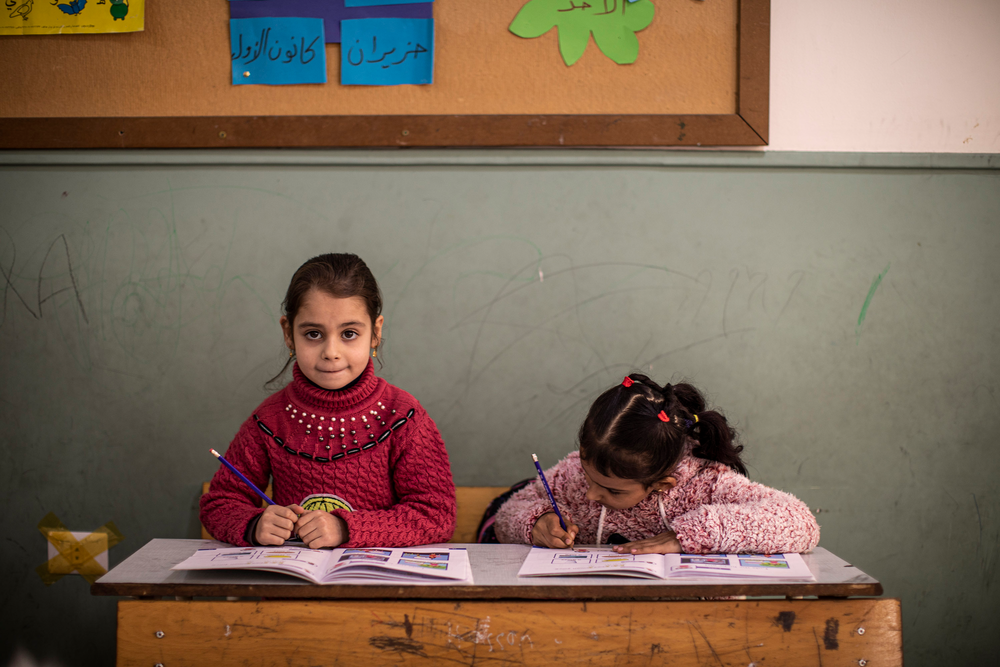 Theirworld's mission to give children in crises a safe place to learn