Youth Leading the #EducationCountdown Momentum
"This cannot be right." "Education is under attack." "Our future is under attack." These are just a few of the comments the Global Youth Ambassadors have been making on our Facebook page in response to some of the major events around the world recently. The abduction of over 200 Nigerian girls, the ongoing crisis in Syria and Iraq and the attacks on Gaza have a common denominator- it's depriving more children and young people of a fundamental right – to go to school. But the bigger story is that what were once uncoordinated, often sporadic actions by young people in response to these developments are being channelled into a big movement of young people standing up for their right to school – to a future of opportunity.
This is a movement that is poised to take center stage as we countdown to the expiration of the Millennium Development Goals – many of which count upon every child being granted an education.
The quest for universal education is by no means new. But the movement started finding its voice when Malala Yousafzai was attacked in Pakistan for simply wanting the right to education for girls like her. Young people had a visceral reaction to that outrageous act and we rallied in cities and communities around the world, delivering petitions and making "#IamMalala" and "#MalalaDay" trend on social media. Championed by the United Nations Education Envoy and led by A World at School, this budding movement gained an unmistakable momentum when we gathered at the United Nations for the first ever 'Youth Take Over" Event on Malala Day in July 2013. 500 young people from over 100 countries came to not only hear Malala speak but also pass a resolution that demanded that the United Nations do more to protect schools and children from attack and deliver on its promise to get every child into school and learning. The youth who came to the United Nations and the millions more who organized online and events in over 50 countries were only getting started.
In April 2014, 500 outstanding youth leaders from over 85 countries became A World at School Global Youth Ambassadors. Their mission is to keep the momentum and lead the actions in their communities, schools and online to get every child into school and learning by 2015. The Ambassadors have been equipped with innovative Youth Toolkits developed by partners like Plan International and the Youth Advocacy Group of the Global Education First Initiative to help them shape and conduct effective education campaigns in their own countries. And those efforts are beginning to bear fruits.
In response to the abduction of the Nigerian schoolgirls, this movement has been leading the #BringBackOurGirls campaign online and in communities from Rio De Janiero to Delhi and Abuja. In June, on the Day of the African Child, A World At School mobilized ambassadors to stage a symbolic "takeover" of the African Union and solidarity events in over 50 cities around the world to demand #SafeSchools for all and ask world leaders to #FundEducation.
And those efforts are now being coordinated under a singular umbrella as part of the #EducationCountdown campaign that was launched earlier this week. I was fortunate to be the emcee at the United Nation's event with Secretary General Ban Ki Moon and Malala. The 500 young people who had gathered from all over the world made it clear that we were not only going to make sure that our efforts trend online, but we are keen to see concrete actions as part of this campaign.
In September the Ambassadors are gathering at a special #UpForSchool Youth Rally kicking off the week of the United Nations General Assembly where we will launch new efforts that will reverberate around the United Nations and into every city, village and classroom until the end of 2015.
58 million children are out of school, millions more are not learning and this movement is fighting to change that.
Getting to speak to young global citizens every day, I will continue to throw the challenge that you just can't imagine a world where millions are denied of education and in the next 500 days, we are going to be making sure that governments, businesses and all concerned take the actions to stand #UpForSchool.
---
More news
Theirworld initiative helps to deliver $30m of computers to Ukrainian children
Theirworld initiative helps to deliver $30m of computers to Ukrainian children
Theirworld's mission to give children in crises a safe place to learn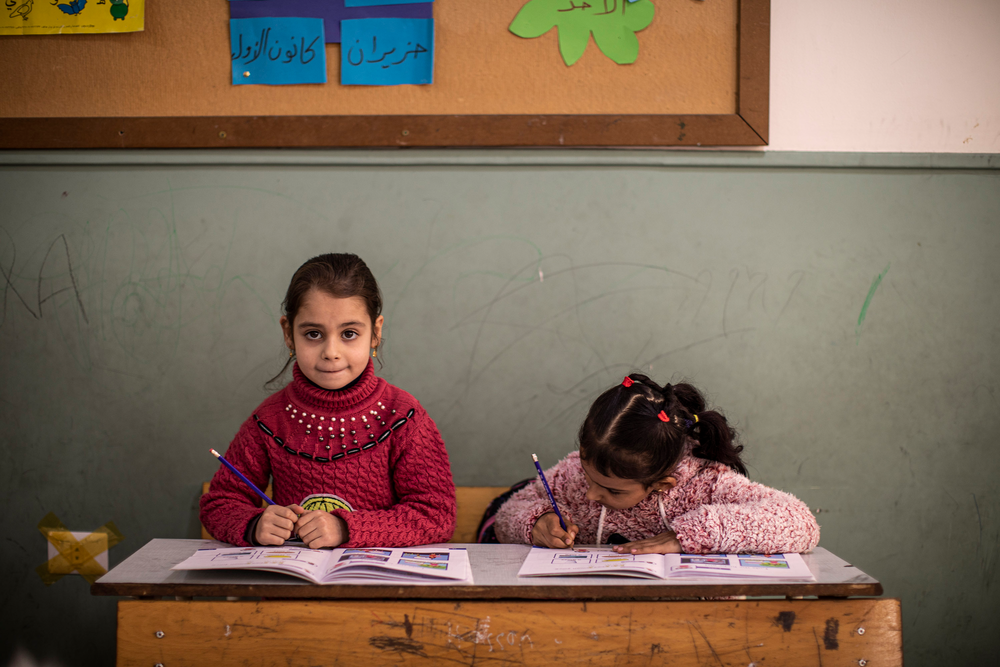 Theirworld's mission to give children in crises a safe place to learn