150,000 school pupils in Kenya and Uganda to benefit from technology programmes
Teachers and learning, Technology and education
More than 150,000 students, 500 teachers and 100 teacher trainers will benefit from two new education programmes in Kenya and Uganda.
Dubai Cares concluded its successful "What If?" Ramadan campaign by announcing the initiatives, which will capitalise on the widespread use of mobile phones by teachers to strengthen teacher training and student learning.
Tariq Al Gurg, chief executive of the philanthropic organisation, said: "The role of the teacher has evolved with the focus on education shifting from Education for All to Learning for All.
"ICTs (Information Communication Technology), such as mobile phones, desktops and tablets, present important tools in strengthening teaching and learning outcomes… By using the technology to promote the standards of education in our beneficiary countries, we are swiftly closing the skill and knowledge gap between established and emerging markets."
He added: "The most critical element that inspires a child's learning experience is the teacher. Children learn only when their teachers are qualified educational facilitators who are motivated to teach."
The new programmes will be implemented over three years and will tackle the issues stemming from lack of opportunities, developmental stagnation and insufficient support for teachers in developing countries.
A recent World Bank study found that only 19% of public school teachers in Uganda and 35% in Kenya demonstrated basic knowledge of the curriculum.
This has a debilitating effect on students' learning experience and more than two out of every three students enrolled in grade three in East Africa fail to pass grade two tests in English, Kiswahili or mathematics.
In both countries, Dubai Cares will work in partnership with the Aga Khan Foundation to roll out the teacher training and school improvement programs, to test and demonstrate the transformative potential of using mobile phone technology, desktop computers and tablets.
Dubai Cares' "What if?" Ramadan campaign had overwhelming support from the community, with businesses and individuals donating towards ensuring primary education for children in developing countries.
The campaign urged the United Arab Emirates community to imagine the lives of children in developing countries, especially those who have to forgo school to help their families earn a living.
It also included a "Build a Classroom: Change their Reality" activity at The Dubai Mall, which gave participants the chance to build a simulated classroom brick-by-brick through their donations as a symbol of providing children in developing countries with access to quality primary education.
Mr Al Gurg said: "The UAE community rallied around the campaign, making generous donations and spreading the word far and wide."
---
More news
Take the test and discover how our Schools Hub helps students grasp the global education crisis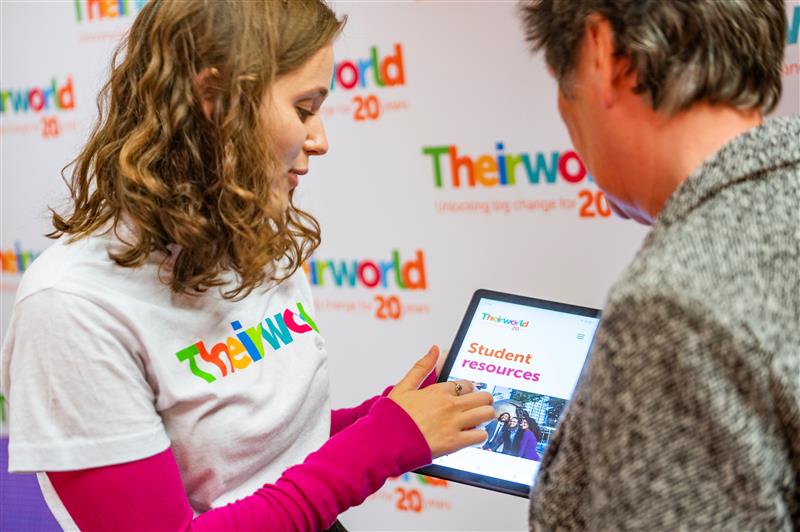 Take the test and discover how our Schools Hub helps students grasp the global education crisis
Teacher helps Harrison move from life on the street to success at school
Teacher helps Harrison move from life on the street to success at school