2016 in numbers: the year of child refugees and education in emergencies
Children in conflicts, Double-shift schools, Education in emergencies, Refugees and internally displaced people, Safe schools
---
2016 was a year dominated by headlines and images of refugees and children suffering in emergencies around the world. We take a look at the scale of the global humanitarian crisis in some of the worst-hit countries.
---
One in four of the world's school-age children – nearly 500 million – live in countries affected by humanitarian crises such as conflicts, natural disasters and disease outbreaks.
About 75 million children are either already missing out on their education, receiving poor quality schooling or at risk of dropping out of school altogether.
Without safe places to learn, they are at risk of child labour, child marriage, exploitation and recruitment into armed groups.
With the world facing levels of humanitarian crises not seen since the Second World War, $22.2 billion of financial aid is urgently required in 2017 to help 93 million marginalised people across the world.
"The scale of humanitarian crises today is greater than at any time since the United Nations was founded,"  said Stephen O'Brien, the UN's Under-Secretary-General for Humanitarian Affairs and Emergency Relief Coordinator. "Not in living memory have so many people needed our support and solidarity to survive and live in safety and dignity."
But there was progress this year. The Education Cannot Wait fund was launched in May at the World Humanitarian Summit. It aims to raise almost $4 billion to provide quality education to more than 13.6 million children and youth over the five years from its 2016 launch – and to reach 75 million children by 2030.
And hundreds of thousands of Syrian refugee children are now at school in their host countries. However, more needs to be done if every child is to get a safe place in school.
Here we look at some of the countries affected by the world's humanitarian emergencies and refugee crises during 2016.
SYRIA
An estimated 11 million Syrians are now refugees. At the Supporting Syria and the Region conference in London in February, the international community pledged more than $12 billion to help Syrian refugees, with $1.4 billion going to education. 
They promised there would be no "Lost Generation" of children as a result of the Syrian crisis and that 2.7 million children – all refugee and vulnerable girls and boys in host communities – would be in quality education by the end of the 21016-17 school year
But the international community has been slow to act on the promises and a large proportion of the money has still to be delivered. Almost one million Syrian refugee children are still out of school.
TURKEY
It has taken in more Syrian refugee children than any other country – and 2.7 million Syrian refugees in total. There are more than 800,000 Syrian refugee children in the country, 400,000 of them out of school.
Some young people have had no schooling for more than five years and Turkey needs urgent help to stop the spread of children falling into child labour.
A report by the Council of Europe said: "The employment of children under the age of 15 remains a considerable problem in Turkey. This is both a consequence of and a cause for children not attending school."
LEBANON
There are 1.1 million Syrian refugees in Lebanon, almost half of them children.
Hundreds of Syrian refugee children are working 10-hour days on the streets for up to six days a week, according to a report last week by the International Rescue Committee.
But former education minister Elias Bou Saab, whose three years in the job has just come to an end, oversaw more than 200,000 Syrian refugee children being enrolled into Lebanese schools.
JORDAN
Home to around 225,000 child refugees from Syria. At the Syria summit in London in February, Jordan pledged to educate every child living there during the 2016-17 academic year.
More than 100 of Jordan's state schools now run a double-shift system, where local and refugee children are educated at different times.
"Our aim is zero children out of school in Jordan," said Education Minister Mohammad Thneibat. "Jordan is completely committed to this. It is our national duty."
IRAQ
One million children who live or did live under the rule of Islamic State in Iraq have been denied a normal education, according to Save The Children.
They have either been out of school in cities such as Mosul or forced to learn from extremist teachings designed to brainwash them into becoming fighters.
A father of five called Hamid said: "They (IS) would tell children how to make bombs. When children came out from the school there was a big TV in the garden where they were showing propaganda: how to kill and how to make suicide bombs and how to cut heads off."  
SOUTH SUDAN
More than 325,000 children and adolescents have been given access to education in emergencies this year. Over half of the country's children are out of school – and even where education is available many families are too scared to send their children.
More than 360,000 children under the age of five are estimated to be severely malnourished.
PAKISTAN
In January, armed militants stormed a university in northwestern Pakistan, killing at least 19 people and wounding dozens – a little more than a year after the massacre of 134 students at a school in Peshawar.
Gordon Brown, the United Nations Special Envoy for Global Education, said: "Once again an education establishment has been targeted by terrorists in a deadly crime which violates international law. Just over a year ago there was outrage in Pakistan and internationally at the loss of lives when terrorists stormed a school. Now a university is under assault.  
"It is wholly unacceptable that schools and colleges are being targeted across the world, from Nigeria to Syria to the Indian subcontinent when they should be seen as safe havens of learning."
AFGHANISTAN
Around 3.5 million children are out of school – with 75% of them girls.
The worsening security situation has forced about 1000 schools to close this year – more than double last year's total. 
300 schools were destroyed in September and October – and 388 children were killed and 1121 injured in the first half of the year.
Education officials fear next year could be even worse if Taliban insurgents seize more territory.
ETHIOPIA
A devastating drought in Ethiopia caused the worst food crisis the country faced in 30 years.
El Nino, combined with the increasing impact of climate change, resulted in a serious drought on the back of twelve to eighteen months of erratic or failed rains. 
More than 2.9 million children needed food in January, according to Save The Children.
The government recently declared a six-month state of emergency following violent anti-government protests
---
More news
Theirworld initiative helps to deliver $30m of computers to Ukrainian children
Theirworld initiative helps to deliver $30m of computers to Ukrainian children
Theirworld's mission to give children in crises a safe place to learn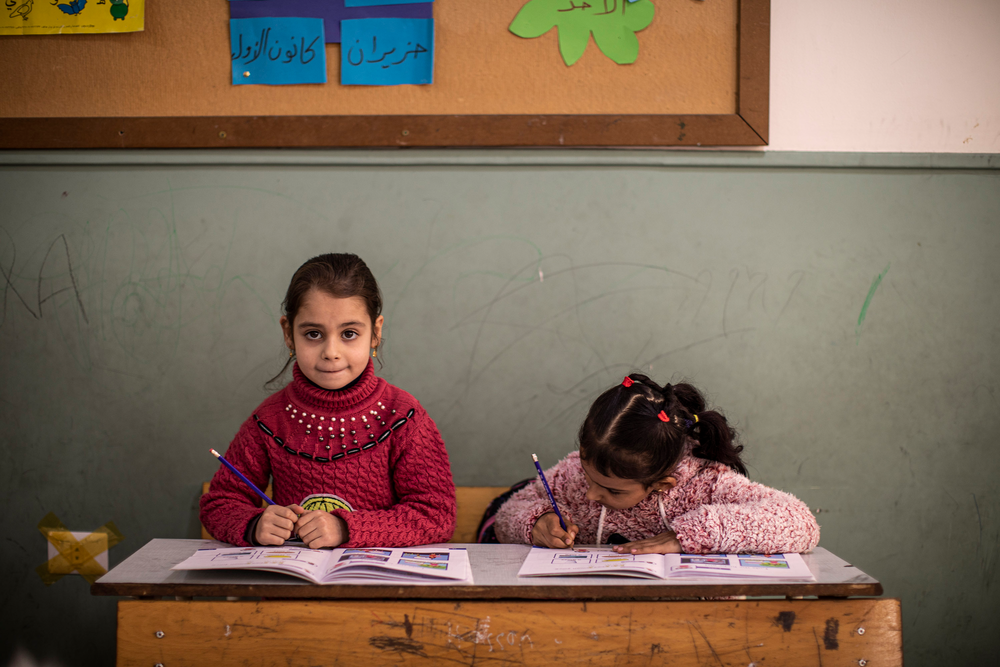 Theirworld's mission to give children in crises a safe place to learn