750 million adults around the world cannot read a story like this one
Syrian refugees writing in a classroom in Lebanon
Reading and writing is something most of us take for granted. We gain the skills early in our life and improve them throughout school.
But more than 750 million adults around the world are illiterate – and two-thirds of them are women. Another 250 million children of primary school age do not have a grasp of basic literacy skills.
They are in danger of being left behind. As adults, they will not be able to do simple tasks such as reading medication instructions, filling in a job application form or having the skills necessary for vocational education or training to improve their earning potential.
Tomorrow is International Literacy Day – when we recognise the importance of literacy as a human right. Irina Bokova, Director-General of UNESCO, said: "This message is especially vital this year, when states will adopt a new agenda for education and development to guide the next 15 years.
Picture: World Literacy Foundation
"Promoting literacy must stand at the heart of this new agenda. By empowering individual women and men, literacy helps to advance sustainable development across the board ' from better healthcare and food security to eradicating poverty and promoting decent work."
A 2015 report by the World Literacy Foundation said illiterate parents tend to have lower expectations and aspirations regarding education for themselves and their children. It added: "Poor families often place work before education and the children of parents who have failed to complete primary education tend to do the same. In developing countries, school-age children (especially girls) are expected to help with income-producing activities or caring for younger siblings so they are unable to attend school.
"When parents are uninvolved in their children's education, young students are more likely to display behavioural problems, get poor school results, have a high absentee rate, repeat school years or drop out of school."
As events are held around the world to mark International Literacy Day, here is a full alphabet of literacy facts.
A for Adults
757 million of them around the world are illiterate.
B for Burkina Faso
The African country has the lowest adult literacy rate in the world – just 12.8%
C for China
52% of all the illiterate people in the world live there or in India.
D for Dhaka
The Bangaldesh Bureau of Statistics, based in the city, has just revealed that the country's literacy rate is now 61%.
E for Europe
One in five adolescents and one in five adults have only basic levels of literacy.
F for Females
59% of the world's illiterate population are women and girls.
G for Goals
The Sustainable Development Goals, which will be ratified by the United Nations later this month, include a pledge to "ensure that all youth and a substantial proportion of adults, both men and women, achieve literacy and numeracy" by 2030.
H for Huge
A giant game of Scrabble will be held tomorrow at Wellington Railway Station in New Zealand by an adult literacy organisation to promote the power of reading and writing.
I for International
International Literacy Day was first held in 1966 and is marked on September 8 each year.
J for Jamaica
In the Caribbean country, 86.5% of all 10-year-olds are certified as literate – but only 65.7% are considered as numerate.
K for Karachi
With one in three children and adolescents aged between five and 16 out of school in Sindh province, the official literacy rate is 59%.
L for Liberia
Benjamin A. Freeman, one of A World at School's network of Global Youth Ambassadors, has been honoured by the International Literacy Association as one of its global "30 Under 30" list. He has been promoting literacy in Liberia since 2008. Read more here.
M for Money
The cost of illiteracy to the global economy is estimated at $1.19 trillion.
N for Niger
The African nation has the second lowest adult literacy rate in world at 14.4%.
O for Open
Open a book and discover a whole new world. In The United Kingdom, TV star and children's author David Walliams is working with the government to make British children "the most literate in Europe". The plans include book clubs in primary schools.
P for Primary
250 million primary school children around the world do not have basic reading or writing skills.
Q for Quality
The Ako Si Daniel (I Am Daniel) campaign in the Philippines was launched in July in partnership with A World at School and The Philippines Foundation. Money raised from a crowdfunding project will support programmes aimed at increasing access to quality education.
R for Reading
It's great exercise for the brain – studies show that reading for just six minutes can reduce stress levels by 68%, more than going for a walk.
S for sub-Saharan
Nine out of 10 of the world's illiterate youth population is in sub-Saharan Africa.
T for Tamil Nadu
Almost all of the 57,000 schools in the Indian state have a library – but fewer than 10% have a librarian.
U for UNESCO
The UN agency has produced a new e-atlas for the latest literacy data by country, age group and gender. See it here.
V for Volunteers
The Arivoli Iyakkam movement in India, which has an amazing 50,000 unpaid volunteers, is celebrating its 25th anniversary.
W for Writing
About 90% of children with disabilities in developing countries do not go to school. Teaching them to write and read using Braille and giving them support at school can help them to achieve their right to an education.
X for Expert (sorry!)
Children's learning expert Lisa Bradburn has written a blog for the Huffington Post to mark International Literacy Day. She gives tips for aiding your children's literacy skills, including: "Encourage your child to invent, imagine, write down ideas and talk about the world as they see it."
Y for Youth.
115 million of the world's youth – those aged 15 to 24 – are illiterate.
Z for Zambia
The Zambia Daily Mail newspaper is helping to improve child literacy by printing educational picture cards translated from English into local languages.
Sources include UNESCO, literacyweek.eu, USAID, International Literacy Day
---
More news
Take the test and discover how our Schools Hub helps students grasp the global education crisis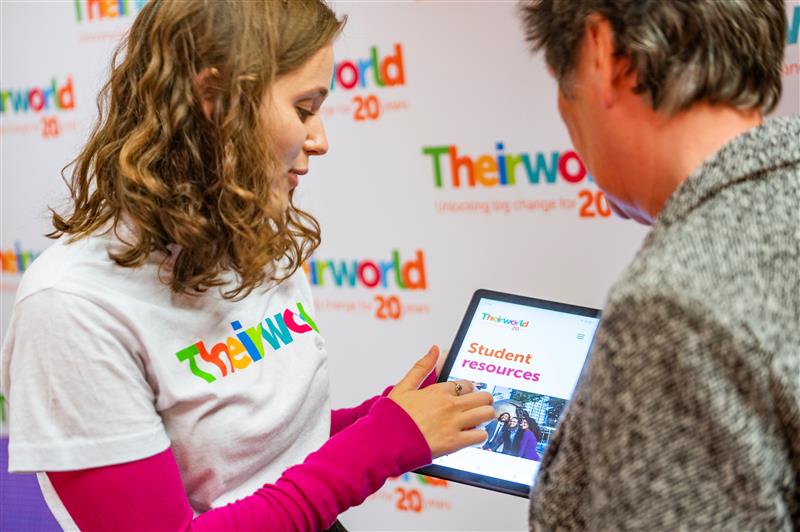 Take the test and discover how our Schools Hub helps students grasp the global education crisis
Teacher helps Harrison move from life on the street to success at school
Teacher helps Harrison move from life on the street to success at school