Air strike kills 15 Syrian children sheltering in Eastern Ghouta school
Children in conflicts, Education Cannot Wait, Education in emergencies, Refugees and internally displaced people, Safe schools, Safe Schools Declaration
---
They were hiding in a basement when three missiles hit the school in Arbin, said the Syrian Observatory for Human Rights.
---
Fifteen children were killed when an air strike in Syria's Eastern Ghouta hit a school basement they were using as a bomb shelter, reports have said.
Two women also died and about 50 people were injured in the raid in Arbin late last night, said the Syrian Observatory for Human Rights.
"Three missiles from a single air strike hit the school, where the underground level was being used as a shelter," said Rami Abdel Rahman, who heads the UK-based monitor. "Rescue workers are still searching for survivors."
Arbin is a key town in the dwindling rebel-held enclave of Eastern Ghouta that has been under attack by government troops for over a month. The observatory said the raid was suspected to have been carried out by Russia. 
Moscow has said it is helping Syria's government "finish off" fighters in Eastern Ghouta but has denied carrying out air strikes against civilians. 
Attacks on schools are banned under international laws. Schools should be safe spaces and protected at all times.
More than 70 countries have signed up to the Safe Schools Declaration – a commitment to protect education from attack and stop military use of schools. Theirworld is calling for the world's most powerful countries – the permanent members of the United Nations Security Council – to join them.
The Syrian conflict entered its eighth year last week. Hundreds of schools have been attacked and an estimated 1.75 million school-aged children in Syria and more than 40% of Syrian refugee children remain out of school.
The battle for control of Eastern Ghouta saw 45 schools attacked since the start of January, with 11 completely destroyed. Many other schools have closed for days at a time because of the danger.
More than 1000 people died in the government offensive on the rebel enclave. 
Two days ago, Syrian President Bashar al-Assad posted a series of videos showing him driving in Eastern Ghouta yesterday – apparently to show the success of the onslaught.
Meanwhile, about 65,000 children have had their education disrupted by the Turkey-led offensive on the Syrian Kurdish town and district of Afrin.
More than 300 schools there have been shut since the end of January and 48 schools have been damaged by attacks, according to the United Nations refugee agency.
All 16 schools in nearby Tal Refaat are closed for classes because they are being used as shelters for displaced people, said UNHCR.
Dozens of children are reported to have been killed and many injured since the hostilities began in the district, said the UN children's agency UNICEF.
It has supplies ready to meet the immediate needs of 30,000 children and the longer-term needs – including clothing and emergency education – for 100,000.
"One of our two child-friendly spaces is closed due to the insecurity but we have increased the number of staff in mobile teams," UNICEF added.
"We have reached around 2500 children inside Afrin with psychosocial support and mine-risk education. We are also reaching children and families who have fled Afrin with similar support, as well as case management."
More than 200,000 people who fled the attack on Afrin are without shelter or access to food and water in nearby areas, a Syrian Kurdish official said.
"The people with cars are sleeping in the cars, the people without are sleeping under the trees with their children," Hevi Mustafa, a top member of the Kurdish civil authority in the Afrin area, told Reuters news agency.
For two months, Turkey and its Syrian Arab rebel allies have waged an offensive on the Afrin enclave, which is held by the Kurdish People's Protection Units (YPG). 
Turkish forces backed by Syrian rebel groups swept into Afrin two days ago, raising their flag in the town centre and declaring full control after an eight-week campaign to drive out Kurdish YPG fighters. 
More than 150,000 people have been displaced in the last few days from Syria's Afrin town, a senior Kurdish official and a monitoring group said on Saturday.
---
More news
Theirworld initiative helps to deliver $30m of computers to Ukrainian children
Theirworld initiative helps to deliver $30m of computers to Ukrainian children
Theirworld's mission to give children in crises a safe place to learn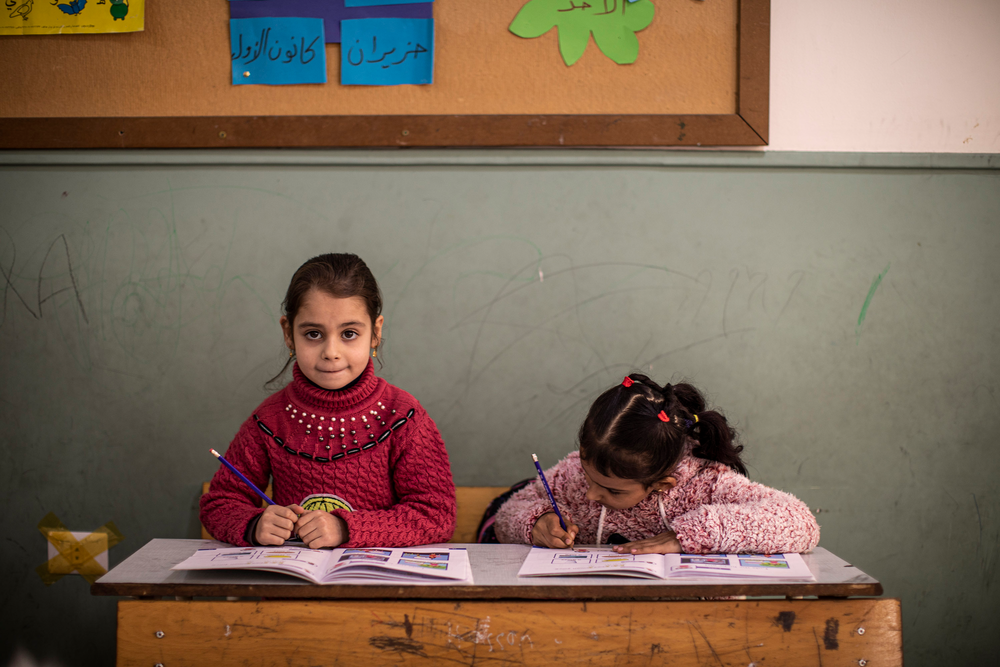 Theirworld's mission to give children in crises a safe place to learn