The art of success: British teacher wins $1m global prize for her work with inner-city children
Barriers to education, Teachers and learning
---
Andria Zafirakou faced a variety of issues including gang violence, impoverished backgrounds and multiple languages when she became a teacher in London.
---
When Andria Zafirakou became a teacher at an inner-city London school, the challenges were huge.
Gang violence was rife and students were recruited right outside the school gates. Many of them came from very poor homes – and they spoke a total of 35 languages.
But that didn't daunt Andria. Throughout Alperton Community School and in the Brent streets beyond, she started to drive change.
Working with the police on the gangs problem. Coming up with a new curriculum to encourage an ethnically-diverse student population. Learning the basics of many of the languages.
Art and textiles teacher Andria's amazing efforts were rewarded last night when she won the $1 million Global Teacher Prize for 2018 at a ceremony in Dubai.
The 39-year-old believes art and textiles transcend languages and cultures.
"They're powerful subjects," said Andria. "They help the students unlock all of their language barriers."
Andria was among 10 finalists for the annual Global Teacher Prize award, who were chosen from 30,000 candidates by the Varkey Foundation. Dubai ruler Sheikh Mohammed bin Rashid Al-Maktoum and British Prime Minister Theresa May were among the first to congratulate her.
"Congratulations to Andria Zafirakou for having won the Global Teacher award," tweeted Sheikh Mohammed after handing her the prize. 
He said teaching "is the greatest job" ever and described teachers as "stars".
The Global Teacher Prize is part of the Varkey Foundation's annual Global Education and Skills Forum in Dubai. The conference also featured a surprise appearance by some of the students who survived the high school shooting in Florida last month, in which 17 people were killed.
Thanks to Andria's work, Alperton Community School has been awarded "specialist school" status in visual arts.
After school, walkie-talkie in hand, she can be seen outside the school gates, getting students safely on to local buses and heading off recruiters for the local gangs.
"You can't let that come through the school gates," she said. "We have to protect our pupils at all costs."
Andria also set up a boxing club for the times she can't be there. She also reworked the school's timetable to allow girls-only sport, important in a conservative community. The result? A cup-winning girls' cricket team.
She knows she can't do it all alone. Andria leads the professional development initiative for the school, building the talent of other teachers for the future.
"You grab on to that enthusiasm she has and it drives you forward," said colleague Nicola Hazley.
All the hard work has paid off and Alperton is now in the top 5% of schools in England and Wales for improving pupils' achievement.
"My calling in life is to make sure that every single child reaches their full potential – that I unlock that," said Andria. "That I make sure, whatever it is that they need to achieve, I make it happen for them."
---
More news
Take the test and discover how our Schools Hub helps students grasp the global education crisis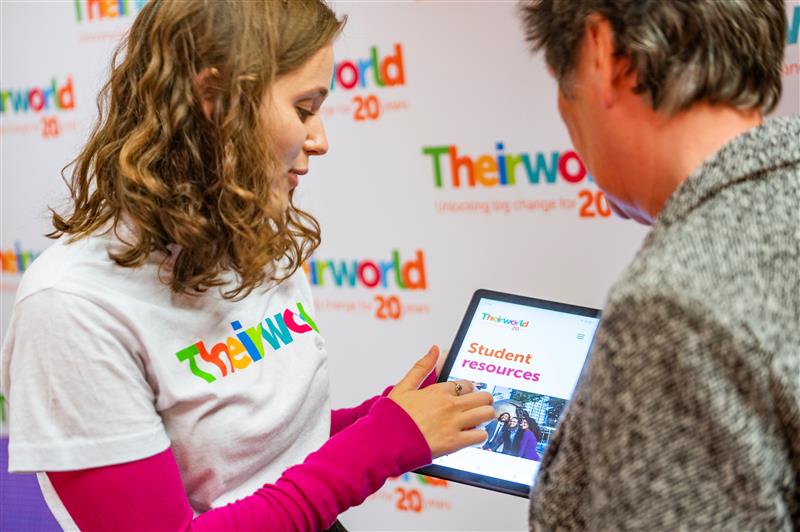 Take the test and discover how our Schools Hub helps students grasp the global education crisis
Teacher helps Harrison move from life on the street to success at school
Teacher helps Harrison move from life on the street to success at school