Bulgaria tries to encourage marginalised Roma children into school
Barriers to education, Discrimination of marginalised children, Right to education, Teachers and learning
---
With only one in 10 Roma children getting a secondary education, special teams including teachers are travelling across the country to meet families.
---
Small armies of teachers, social workers and police officers are swarming across Bulgaria to carry out a Herculean task – convince tens of thousands of Roma parents to send their children to school.
It is part of a new state initiative aimed at tackling soaring illiteracy and a high number of teenage pregnancies in the impoverished community, which accounts for 10% of Bulgaria's seven million people.
An estimated 130,000 children do not attend school in Bulgaria, education minister Krasimir Valchev told reporters recently. A majority of them are Roma.
To reverse the trend, the government has mandated more than 1000 teams of specialists to travel around the country, the European Union's poorest member state, and talk to Roma families.
But the search for dropouts, or those who have never attended school at all, is an uphill battle. 
Of seven homes visited by one of the teams AFP accompanied on a recent morning in Bulgaria's largest Roma ghetto in the southern city of Plovdiv, Zatie Marinova was the only parent to open her door.
"We'll enroll him in school here if his father doesn't call us back to Germany," she said, pointing to her son Orlin, 10.
Like many Romas, Marinova's husband spends a large part of the year in wealthier EU countries to look for work and an escape of the ghetto's grinding poverty.
"Many children quit school because they are engaged in the activities of the family," sociologist Alexey Pamporov told AFP.
"The girls look after their younger siblings and the boys work with their fathers in construction, for example." 
In other cases, parents may well be at home but hide behind closed curtains when the experts come calling.
"The children we're looking for can just as well be next door," said Teodora Krumova of the Amalipe organisation, a key Roma rights group.
"Many parents are suspicious of strangers," she added.
Discrimination against Roma in Bulgaria has been widespread since the fall of communism in 1989, leaving them highly marginalised.
Around 22% of the Roma are illiterate and only 9% have a secondary education even though it is compulsory, a recent study showed. Many do not speak Bulgarian.
Education is the road to success and can help you get out of poverty. Marcel Iliev, 19-year-old Roma from Bulgaria
Experts see a direct link between the lack of schooling and high teenage pregnancy rate.
An estimated 6000 babies were born to underage mothers last year, one of the bloc's highest figures.  
In response to these challenges, the ruling coalition of conservatives and ultra-nationalists has decided to use a carrot-and-stick approach in its latest campaign.
On the one hand, the government offers parents sweeteners like subsidies for school materials and even job search support – big draws for a community ravaged by poverty and unemployment.
At the same time, Sofia is threatening to impose fines and suspend benefits for parents who fail to enrol their children.
The ultra-nationalists even want to go a step further and criminalise school non-attendance.
On the ground, meanwhile, the expert teams, made up of more than 11,600 people, prefer to highlight the positive impact of role models from within the Roma community to encourage change.
Among them is Marcel Iliev, a 19-year-old Roma from the northwestern city of Montana who scored a state-sponsored scholarship in England thanks to his excellent grades.
"Education is the road to success and can help you get out of poverty," he told AFP in a recent phone interview.
The nationwide campaign was launched at the beginning of September and is the first time that police and social workers have also joined teachers in the back-to-school drive. But so far, its success has been slow.
By October 10, the teams had made over 150,000 visits to addresses, with 12,146 returnees, according to the education ministry.
At just over 80% of the homes visited, the children were living abroad.
The poor quality of education in Roma neighbourhoods has further exacerbated the problem, with parents saying they do not see the point of sending their children to bad schools.
"They don't teach our children well. My niece just finished eighth grade and she can't write down her name," fumed Raycho Krastev, a father of three.
Nonetheless, frontline workers like Krumova have praised the new initiative as the first consistent government effort since the end of communism to bring all children into school.
"Families who hesitate will eventually be convinced," she said.
The biggest challenge will be those "living in the most profound poverty", she added, while experts agree that keeping those who return to the classroom from dropping out again will also be difficult.
---
More news
Take the test and discover how our Schools Hub helps students grasp the global education crisis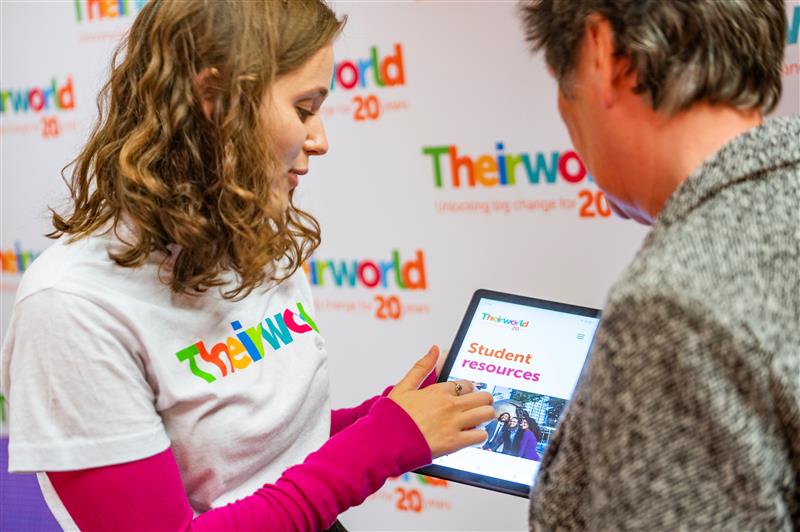 Take the test and discover how our Schools Hub helps students grasp the global education crisis
Teacher helps Harrison move from life on the street to success at school
Teacher helps Harrison move from life on the street to success at school