Too many children with disabilities are being failed in crucial first five years
Children with disabilities, Early childhood development, Right to education, Teachers and learning, Theirworld
As the Global Disability Summit is held today, a policy brief from Theirworld says urgent action is needed on inclusive pre-primary education.
---
When a child's brain is developing incredibly fast in the first five years of their life, it's important they receive nurturing care to fulfil their potential.
For children with disabilities, those early years are particularly crucial. Failure to identify and help them at a young age could condemn them to a lifetime of disadvantages. 
But that's exactly what is happening to millions of children with disabilities or special needs. They are being left behind from a very young age – particularly when it comes to early learning and education.
As the Global Disability Summit is held today in London, a new policy brief published by Theirworld says too many under-fives are being let down by their governments and donors.
Countries and the international community need to invest urgently in early interventions for disabled children and provide inclusive, quality pre-primary education.
"Inclusive education allowed me to improve my self-esteem and maximise my potential as a person with disability," said Mark Mathew Operiano from the Philippines – one of the network of Global Youth Ambassadors with our A World at School movement.
Mark added: "Inclusive education is also a way of enabling non-disabled people to have a better understanding of what people with disabilities can and cannot do. 
"I hope world and country leaders can develop innovative public policies that will help every child with disabilities into schools."
Mohammad Yaaseen Edoo, a Global Youth Ambassador from Mauritius, said: "Inclusive education has made me realise I am not different to my classmates without disabilities. World leaders must invest in inclusive education to ensure every child with a disability receives quality education."
Theirworld's policy brief, Left behind from the start, examines the needs of children with disabilities in the early years – and how inclusive pre-primary education has to be part of their care and development.
---
Left behind from the start: How governments and donors are failing children with disabilities in their early years (July 2018)
Left behind from the start: How governments and donors are failing children with disabilities in their early years (July 2018)
The brief says: "Children with disabilities cannot simply be ignored or treated as a problem in their youngest years. Their lives count, their rights matter and so do their dreams and hopes for the future."
Theirworld calls on governments and donors to "significantly scale up" support for children with disabilities in their first five years – including access to quality pre-primary education and early learning.
In our series on education and disabilities
The briefing says that, as well as ensuring every child has two years of free and quality pre-primary education, governments should specifically target disabled children for inclusion.
Theirworld says reliable data has to be produced to identify and track the needs and progress of children with disabilities. And it calls for an increase in the numbers of teachers with specialist training in inclusive education –  including teachers who have disabilities themselves.
The policy brief also looks at how discrimination, poverty and conflict are among the causes of children with disabilities missing out on nurturing care and early education.
Theirworld Campaigns Director Ben Hewitt said: "The evidence and experience of children with disabilities show that exclusion and discrimination starts at a very young age.
"It is particularly clear when children living with disabilities are excluded from pre-primary education in so many countries around the world. It is vital that two years free pre-primary is provided to every child and we see a quality and inclusive education for all. 
"This will require the big international donors and domestic governments to step up their funding and action, as well as new funding from the proposed  International Finance Facility for Education – a plan to generate an additional $10 billion for education."
Today's Global Disability Summit is being co-hosted by the United Kingdom's Department for International Development, the International Disability Alliance and the government of Kenya.
With 90% of brain development happening in the first five years of a child's life, Theirworld's #5for5 campaign has been calling for more investment in early childhood development – including the five key areas of learning, play, nutrition, health and protection.
Theirworld's #5for5 campaign and our work on early childhood development is supported by the Conrad N. Hilton Foundation.
---
More news
Technology has the power to expand education for children with disabilities
Technology has the power to expand education for children with disabilities
Take the test and discover how our Schools Hub helps students grasp the global education crisis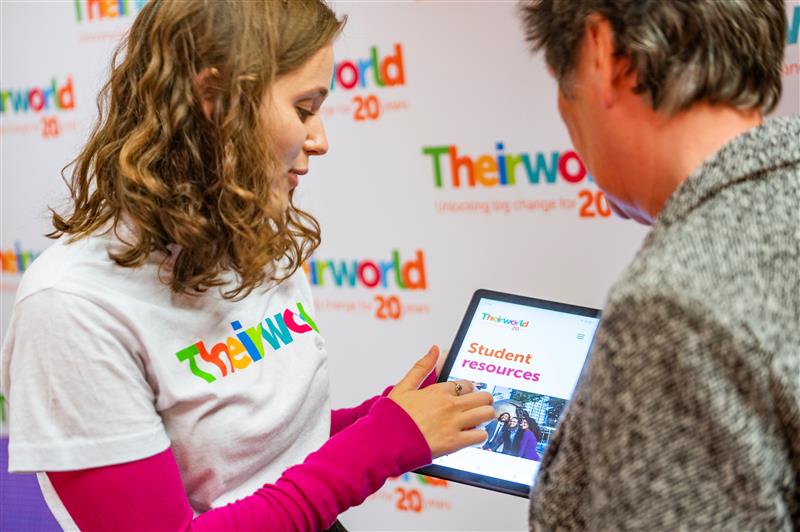 Take the test and discover how our Schools Hub helps students grasp the global education crisis