Circus skills help Syrian refugee children to settle in Turkey
Barriers to education, Education in emergencies, ​Learning through play (Early years), Refugees and internally displaced people, Teachers and learning
---
Juggling and trapeze tricks are taught along with the Turkish language to help Syrian children integrate into school and into their host community.
---
Syrian refugees in Turkey
Figures at December 2016 (from Brussels Conference Education Report, April 2017)
872,536 school-aged children (5-17)
491,896 in formal education
13,310 in informal education
367,330 out of school
Laughter rings out and there is an atmosphere of excitement and joyful chaos. Children are perched on stilts, others spin plates or happily perform aerial dances.
This is not a big top circus in a major city but a house in southeastern Turkey, where Syrian refugee children learn circus tricks in an innovative programme to help integrate into their foreign host country. 
The Her Yerde Sanat association (Turkish for "Art Anywhere") works with 120 young people aged three to 20. 
Just north of the Syrian border, at the house in Mardin province, there is a beautiful view over the Mesopotamian plain to Syria, which 80 of the youngsters once called home. The other children are Turkish.
On the ground floor, some 15 children alternate between aerial dancing from ribbons suspended from the ceiling, juggling and the trapeze, while younger ones in a second room play percussion instruments with an impressive intensity. 
Upstairs, Turkish is being taught to Syrian children so they can integrate into school.
Some learn the circus arts every day because they are unable to go to school – for others it is a weekend activity. Some become good enough to perform publicly in shows or regional festivals.
Fifteen-year-old Eyad Haj Mahmoud, originally from Aleppo in northern Syria, believes the classes are helpful.
"I learned things here that have allowed me to become a better person," he told AFP.
It is a chance for the children to temporarily forget their past – adult instructors, most of whom have a professional or amateur circus background, are told never to ask about their origins.
Surrounded by the sound of laughter and raucous activity, Pinar Demiral told AFP the children "are just here to create circus art".
One of the co-founders of the association, established in 2012, Demiral said: "We use the circus as a tool to break down all the language barriers."
In the daylong workshops, trainers switch from one language to another, helped by their students who also do music and hip-hop classes.
The adults are mostly volunteers from outside of Turkey, who come for an average of three months. Some speak Turkish and Arabic while all know English.
Syria's conflict has killed more than 310,000 people, forced over five million people to flee the country and left much of it in ruins since it erupted six years ago.
Turkey is home to over 2.9 million Syrian refugees, according to figures released by the Turkish interior ministry last month. 
We use the circus as a tool to break down all the language barriers. Pinar Demiral, co-founder of Her Yerde Sanat
Some 300,000 of those are in camps, while others live with the local population.
And this is where the association comes in, helping with integration through circus arts in a project partly funded by NGO International Medical Corps, together with the Swiss government.
Activity coordinator Muhammed Kheir Kassim came to Turkey from Damascus four years ago and said he discovered the association through his son.
Having been a school headmaster in Syria, he soon got involved himself.
"I sent my son (to Her Yerde Sanat) to prevent him from hanging around on the streets, especially because he is a refugee and risks having problems in society."
He described his privileged relationship with the children, saying he was like "a father" and "a friend" to them.
"We get angry, we reconcile, we fight but at the end of the day, we have the same heart and the same goal," he said.
Teenagers are trained so they can mentor younger ones when volunteers are in short supply or need help. It is a role they take very seriously.
"They learn things from each other, they help each other," Demiral said, whose aim is to give children "a space, in which they are respected and taught skills so that they can find their own balance".
Turkish children benefit from the experience too.
Nursena, a girl from Mardin, has been taking part for a year, her mother told AFP.
Tuba Akburak said Nursena had "gained confidence after coming, she makes friends more easily". 
But, working with children who have seen war and been through trauma and experiences far removed from those of their Turkish friends, is not always easy.
"There are sometimes conflicts between Turkish and Syrian children, they might fight," Demiral said.
"But from day one, when they enter, we just tell them that the only rule is 'we cannot fight'."
While mindful that they are working with children with a "background of war", she added that she wanted to stop the cycle of violence.
"At first, they want to fight and show their power, but playing in the same space, being equal, it decreases the tensions between the groups."
---
More news
Take the test and discover how our Schools Hub helps students grasp the global education crisis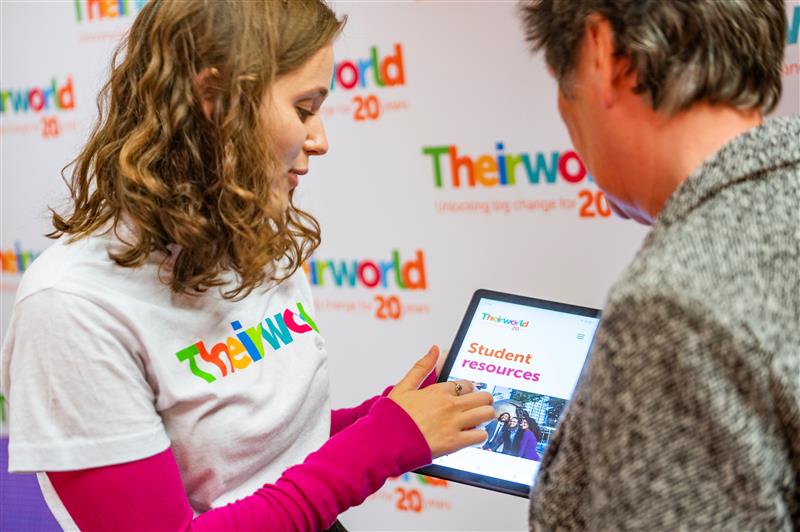 Take the test and discover how our Schools Hub helps students grasp the global education crisis
Teacher helps Harrison move from life on the street to success at school
Teacher helps Harrison move from life on the street to success at school