DRC student realises her dream of becoming primary school teacher
Noelly is only 21 – but she knows exactly how she wants to help children in the Democratic Republic of Congo.
She is one of 30 students who recently completed a two-year training programme to qualify as primary school teachers.
They are the first class to graduate from the DNS Teacher Training College in Mbankana, which is sponsored by Planet Aid.
In September, they will start working at rural primaries.
Noelly is looking forward to that day. She said: "I want to work for sustainable development by teaching in rural primary schools.
"For the development of our country, education means a lot."
During her student teaching stint at two primary schools in Mbankana, she brought in new methods which she had learned at the college.
These included group work, problem-solving, more classroom activity and generally challenging and engaging the students.
She said: "I love teaching because I learn twice when I teach. I alwasy feel free in my thoughts and I am updating my knowledge through study. Children also teach me by their behaviour and reactions.
The first graduate class from the teacher training college
Noelly was inspired to teach by her own childhood trauma. She lost both her parents at the age of 12 while growing up near Kinshasa.
She could not afford to go to school – but a teacher paid her fees until her relatives could help.
Noelly is grateful for that chance. And she has been determined to succeed in a country where girls are often expected to be quiet.
She said: "A woman is generous by nature, she thinks of the welfare of others. For me to be a woman is to take greater responsibility for improving the situations of others.
"Today I am a competent girl without fear of standing in front of people and taking up challenges."
She is also determined to help other female student teachers at the college to speak out and build up their confidence.
Planet Aid supports teacher training in the DRC, Angola, Mozambique, Malawi and India.
Its programme is particularly suited to rural developing areas and helps teachers to become catalysts for change in the classroom and the community beyond.
Planet Aid collects and recycles used clothing and shoes and uses the money to support sustainable development in poor communities. As well as training teachers, it helps to improve health, increase income, aid vulnerable children and strengthen communities.
---
More news
Take the test and discover how our Schools Hub helps students grasp the global education crisis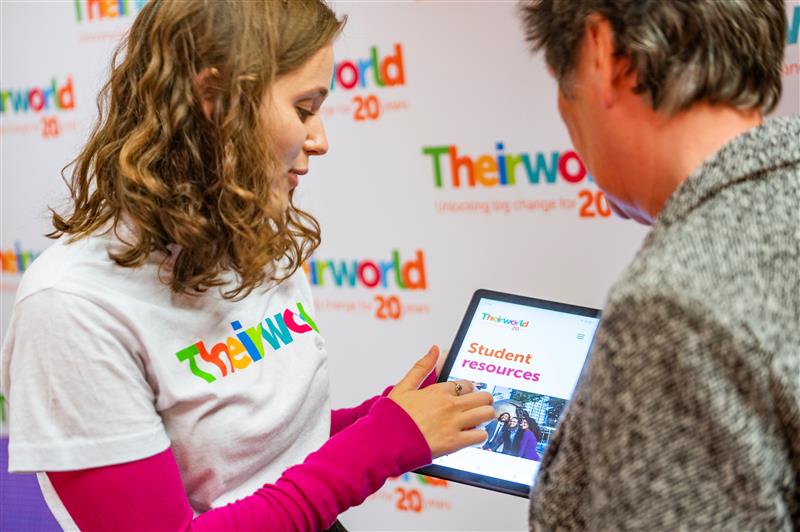 Take the test and discover how our Schools Hub helps students grasp the global education crisis
Teacher helps Harrison move from life on the street to success at school
Teacher helps Harrison move from life on the street to success at school