Educating the East End head Jenny Smith urges teachers to sign #UpForSchool Petition
Teachers and learning, Up for School or #upforschool campaign
Picture: Channel 4
Reality TV head teacher Jenny Smith is calling on teachers across the United Kingdom to throw their support behind the biggest petition in history.
The star of Channel 4 series Educating the East End wants millions to demand world leaders take immediate action to get every girl and boy into school, without danger or discrimination.
Jenny helped launch the #UpForSchool petition at a special youth rally marking the 25th Anniversary of the Convention on the Rights of the Child. The rally, at London's Southbank, was hosted by A World at School and the Overseas Development Institute (ODI). UN Special Envoy for Global Education Gordon Brown delivered a powerful speech about the importance of educating every child in the world and 2014 Nobel Peace Prize Winner Kailash Satyarthi was interviewed about his support of the campaign.
Jenny, 41, head teacher of Frederick Bremer School in East London, said "We often forget in the UK how lucky we are to have free and high-quality schools. There are 58 million young people around the world who don't have this right. That's truly shocking. 
"We have to work together to create a future for our young people and support teachers around the world. That's why I'm proud to have helped launch the #UpForSchool petition in the UK – and stand with the 2014 Nobel Laureate Kailash Satyarthi and a movement of people collecting signatures in every county around the world in support of the right to education."
A World at School Global Youth Ambassadors Kainat Riaz and Shazia Ramzan – the teenagers who were injured on their school bus with Malala Yousafzai by the Taliban in Pakistan in 2012 – also shared their courageous story at the rally and supported #UpForSchool. The event demonstrated the unprecedented public support for the 58 million children currently excluded from school because they are child labourers, brides, discriminated against and exploited. There is also growing outrage over the increasing numbers of attacks on schools.
Kainat Riaz and Shazia Ramzan said: "Why can we not walk alongside our boys? Why do we have to cover our books and risk danger of attack for wanting to learn? Why? Books are my future, and I believe that eduaction is a fundamental right."
Sarah Brown, campaigner and co-founder of A World at School, said "World leaders promised to get every child into school by 2015. We now have a window of opportunity to put the pressure on them to keep their promises, making 2015 the year all children secured the right to go to school and learn."
A range of diverse partners have announced their support for the petition, including Education International – the global federation of teachers' unions – pledging to collect six million signatures and the Africa Network Campaign on Education For All (ANCEFA) collecting signatures in more than 30 countries across sub-Saharan Africa.
Making sure all children around the world have the right to an education join us please @aworldatschool #UpForSchool pic.twitter.com/Y8WNvknzbj

— Andy Akinwolere (@AndyAkinwo) November 23, 2014
Fifteen schools from London to Tyneside also attended the rally to pledge their support. Ade Adepitan MBE, British television presenter and wheelchair basketball player, and Andy Akinwolere. formerly a presenter on the children's TV show Blue Peter, also took a stand #UpForSchool.
Andrew Smith, Faculty Leader for Humanities & MFL from Boldon School in South Tyneside, who travelled with 10 students to attend the launch, said: "My students have come away from this event with a real determination to make a difference and encourage all in our school to play their part in promoting this important initiative. The #UpForSchool petition will send out a powerful message that change must happen. I want to encourage teachers and students across the UK to get their schools involved in this historical campaigning moment."
A teachers' toolkit is now available, including ways for schools and students to get involved to help make #UpForSchool it the world's largest petition. You can download the kit here.
And don't forget to sign the #UpForSchool Petition NOW!
---
More news
Take the test and discover how our Schools Hub helps students grasp the global education crisis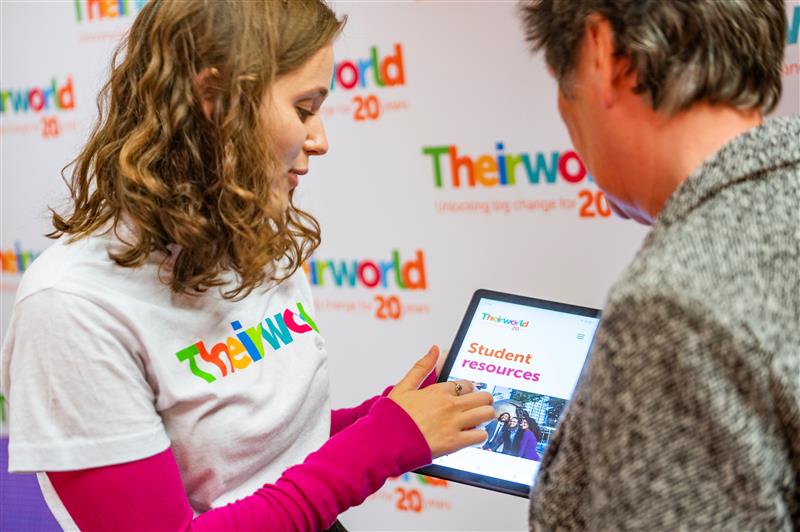 Take the test and discover how our Schools Hub helps students grasp the global education crisis
Teacher helps Harrison move from life on the street to success at school
Teacher helps Harrison move from life on the street to success at school