Big moment for donors and developing nations to increase their investment in education
Barriers to education, Children in conflicts, Discrimination of marginalised children, Early childhood development, Education Cannot Wait, Education funding, Education in emergencies, Girls' education, Refugees and internally displaced people, Right to education, Sustainable Development Goals, Teachers and learning, Theirworld
The countdown has begun to a major education funding conference - and effective spending, with support for pre-primary education, is crucial.
---
Today marks the three-month countdown to a big moment in the global education calendar.
February 2 is when richer donor countries and some of the world's poorest nations will come together in Dakar, Senegal.
A financing conference for the Global Partnership for Education (GPE) will be co-hosted by Senegal and France – the first time a donor country and developing country have done so.
The GPE is aiming to raise $3.1 billion to support its mission in developing nations to help ensure that every child receives a quality basic education – concentrating on the poorest and most vulnerable.
The conference will be held against a backdrop of 263 million children and adolescents out of school and another 617 million in the classroom but not learning basic skills.
It will be a chance for the governments of both donor and developing countries to increase their commitments to education and to ensure the money is used to the greatest effect.
United Nations Secretary-General Antonio Guterres said: "Investing in education is the most-cost effective way to drive economic development, improve skills and opportunities for young women and men, and unlock progress on all 17 Sustainable Development Goals."
Here's our guide to the GPE, the conference and what needs to be done to help fund education for every girl and boy.
What is the GPE?
It is a global partnership and funding organisation that works with some of the world's poorest countries – mobilising financing for education and supporting them to build effective education systems.
What is the financing conference?
The GPE wants to raise $3.1 billion from international donors to replenish its funds and support its work for the next three years. The commitments made there will support the education of 870 million children in 89 developing countries that are home to 78% of the world's out-of-school population. 
The GPE says it will enable an extra 19 million children to complete primary school and 6.6 million to finish secondary school, train 1.7 million teachers, build 23,800 classrooms and distribute 204 million textbooks.
The conference is being co-hosted by the governments of Senegal and France after an announcement by Presidents Macky Sall and Emmanuel Macron. It will bring together donor and developing country governments, the private sector, philanthropic foundations, civil society and international organisations.
Why is more education funding needed?
The global goal is for every child in the world to have a quality education by the year 2030. But there is a massive gap between today's $1.2 trillion in annual education spending and the $3 trillion level needed in low- and middle-income countries by 2030. That gap needs to be closed. 
What do developing countries do themselves for education?
The vast majority – 88% – of funds for education in the developing world already comes from those countries.
But they still need to increase their spending on education – and spend that money effectively. Campaigners and experts are calling on developing countries' leaders to increase education spending to at least 20% of their total national budgets. 
And at least 10% of that should go towards funding pre-primary education and ensure that every child has access to at least two years of free, quality pre-schooling.
Theirworld is also calling on the GPE to use 10% of its money to support pre-primary education. 85% of children in low-income countries do not have access to pre-primary education. That leaves them at risk of being left behind, dropping out of school and not getting the skills they need to fulfil their potential.
But even if those countries do all they can, a sizeable gap remains for the international community to fill.
So will the GPE replenishment help to do that?
The GPE will make an important contribution which will provide necessary funds to the poorest countries. But much more needs to be done if every child in every country is to be in school and learning, to bridge the anticipated $37 billion gap in 2020. 
The GPE conference is the first of three major opportunities in 2018 to invest in education:
The GPE needs the $3.1 billion to fund its work in developing countries from 2018 to 2020
The Education Cannot Wait fund for education in humanitarian emergencies – including conflicts and natural disasters – needs $383 million of funding for next year
An International Finance Facility for Education (IFFEd) – which has been backed by the G20 – must be launched to release $10 billion of additional funding each year by 2020
Are any developing countries investing 20% of their budget in education?
According to GPE's latest figures from 2016, 78% of partner countries have either maintained their education budget at or above 20% of public expenditure – or increased their education budget in the year 2015.
One example is conference co-host Senegal. With GPE support since 2006, it has increased its investment in education to 24% of its domestic spending.
Many sub-Saharan countries including Benin, Niger, Senegal, and Ghana have committed to increase investment in education.
What else can poorer countries do?
Governments should take the lead in funding education by setting investment targets and improving how the funding is spent to make it most effective. 
They should commit to improvements right across their education systems – from basic monitoring, community involvement and accountability to in-service training and materials for better teaching.
They should develop large-scale student assessments, improve internet access and increase the use of digital technology.
Governments must also target their education spending on what works most effectively for girls' education, the inclusion of children with disabilities, those from minority backgrounds, children living in poverty and those affected by conflict.
How is the three-month countdown being marked?
Theirworld is among several international organisations that have today signed a joint call for developing countries to invest in education.
The Compact on Financing of Domestic Education urges nations to spend 20% of their budgets on education. If their current spending is below that, they should include "ambitious steps" to increase it.
On the GPE replenishment, it says: "We are committed to seize this moment to secure ever greater financial commitments to education from developing country governments – in order to ensure that every child is able to access their right to an inclusive, quality education. 
"We recognise that all pledges of resources are first and foremost pledges that governments are making to their own citizens."
---
More news
Skills for the future give young people the best chance of success
Skills for the future give young people the best chance of success
Take the test and discover how our Schools Hub helps students grasp the global education crisis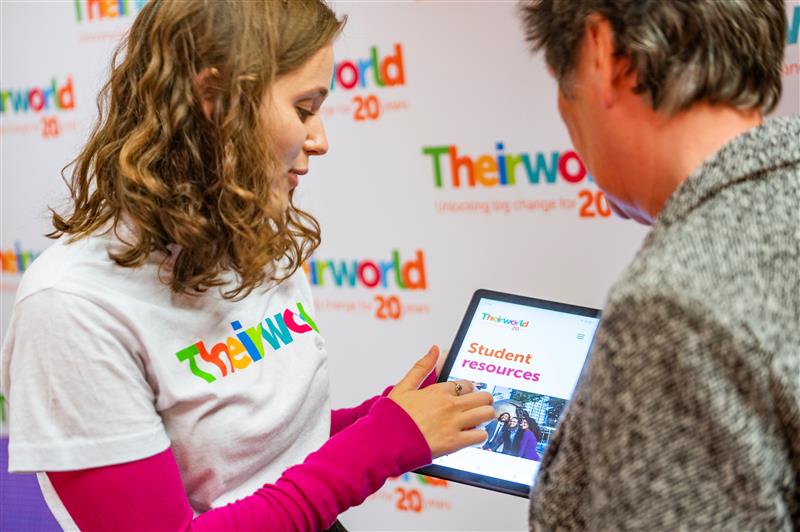 Take the test and discover how our Schools Hub helps students grasp the global education crisis