Education in emergencies to get bigger slice of EU's humanitarian aid
Children in conflicts, Children's welfare after natural disasters, Education Cannot Wait, Education in emergencies, Refugees and internally displaced people
With conflicts and disasters affecting the schooling of 75 million children, the European Union is to increase the education share of its aid funding in 2017 from 4% to 6%.
---
The numbers are simple. About 75 million children had their education disrupted during 2015 by humanitarian emergencies, including conflicts and disasters. Of those, 37 million were left out of school completely.
More than 80% of refugee crises last for more than 10 years – and without education displaced children are at risk of child labour, child marriage, trafficking, exploitation and extremism.
But the response has been underwhelming. Of all the money that goes to humanitarian aid, less than 2% of it is spent on educating children in safe schools.
The European Union showed the way forward yesterday when it announced it would increase the education share of its aid funding in 2017 from 4% to 6% – six times higher than in 2014.
The move was revealed at the Education in Emergencies Forum in Belgium, hosted by the European Commission. Christos Stylianides, EU Commissioner for Humanitarian Aid and Crisis Management, called on other international donors to step up their efforts, saying: "Education is not a privilege, education is a right. 
"Our aim is to enable access to quality education in a safe learning environment for vulnerable children caught in situations of emergency. By funding education, we can make a real investment in children's futures and their hope for a better life."
The increased share of funding will support access to formal and non-formal education, including life skills, vocational training, recreational activities, school materials, new education facilities and training for teachers and parents.
The announcement came during a session on partnerships to deliver education in emergencies hosted by Theirworld President Sarah Brown. 
She said: "EU Commissioner Stylianides has championed education for children caught up in the most dramatic and desperate humanitarian circumstances right from the start, raising education spending from 2% to 4% and now 6% this year.
"He has promised to prioritise education in emergencies and I truly welcome the delivery of this promise to children."
More than $97 million in EU humanitarian aid has so far been allocated for education in emergencies projects – benefitting over 3.8 million children in 47 countries.
Also taking part in the forum session in Brussels were Omer Celik, Turkish Minister for EU Affairs; Lebanon's Education Minister Elias Bou Saab; Linda McAvan, Chair of the European Parliament's Committee on Development; and Google's Vice President of Public Policy Nicklas Lundblad.
Celik said he was "proud" that Turkey is hosting three million refugees – 800,000 of them children.
McAvan said: "As MEPs (Member of the European Parliament) we are fully committed to increasing funding dedicated to education in emergencies and have found a strong ally in Commissioner Stylianides, who quickly delivered on our call to raise the percentage of humanitarian funding given to education to 4%.
"His new pledge to raise funding to 6% is really good news – but now we need other international donors to match the pledge and deliver the money.  We can't carry on leaving humanitarian aid programmes like those for Syria half-funded."
Meanwhile, the United Kingdom's Department for International Development (DFID) has confirmed its commitment for 11 million children to gain a decent education and help 6.5 million more girls go to school.
In its Bilateral Development Review 2016, it said: "Britain is leading global efforts to improve the lives of girls and women in the world's poorest countries. During the past five years we have helped more than five million girls get an education." 
DFID also said the Education Cannot Wait fund – established to deliver education in emergencies – "will help more than 4.5 million children and young people receive a better education, helping ensure they are safe from exploitation.
---
More news
Theirworld initiative helps to deliver $30m of computers to Ukrainian children
Theirworld initiative helps to deliver $30m of computers to Ukrainian children
Theirworld's mission to give children in crises a safe place to learn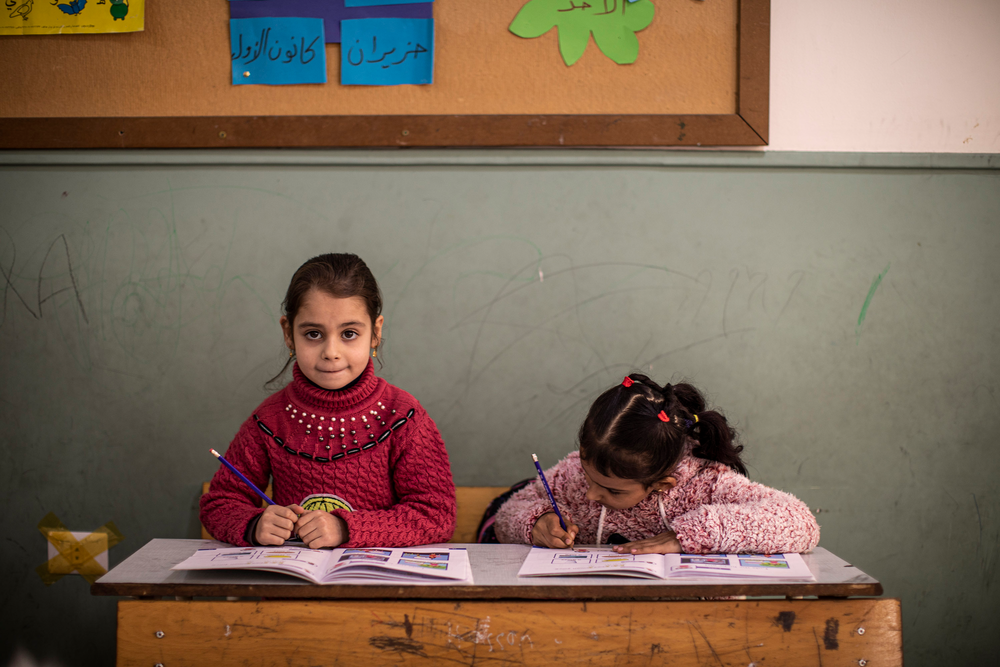 Theirworld's mission to give children in crises a safe place to learn