Five things you need to know this week about global education and coronavirus
Coronavirus and education, Education Cannot Wait, Refugees and internally displaced people
---
Emergency funding to keep children learning during the crisis and fears for refugee children on the Greek islands are featured in our news roundup.
---
Girls and poorest students are focus of education aid
Girls and the poorest children will be the focus of a major package to help developing countries deal with the effects of coronavirus on education.
They will be hardest hit by school closures caused by the pandemic. So the Global Partnership for Education (GPE) is providing $250 million to assist governments to provide learning for up to 355 million children.
"The Covid-19 pandemic is creating an education emergency that could have devastating impacts on children in developing countries," said Julia Gillard, GPE Board Chair. "Unless we act now to support education systems, millions of vulnerable children, especially the poorest girls, may not be able to resume learning when this crisis is over."
At least 630 million children are currently out of school in developing countries in Africa, Asia and Latin America and the Caribbean. Of the 67 countries eligible for the GPE funds, 63 have already closed schools nationwide – depriving children of education, health care and nutritious meals. 
Education ministries and local education partners can use the GPE funds to ensure learning can continue. Some examples are:
Producing educational radio and TV programmes and distributing equipment such as radios and textbooks to the poorest households
Supporting teachers – and ensuring they and schools are equipped to re-open when it is safe to do so
Ensuring children with special needs and disabilities are included
Adolescent girls will be disproportionately affected by increased drop-out rates caused by worldwide school closures, UNESCO and Plan International warned this week. 
Of the 1.54 billion children and youth whose education is being disrupted by coronavirus, 111 million are girls living in the least developed countries where getting an education is already a struggle. 
"While many girls will continue with their education once the school gates reopen, others will never return to school," said a statement by Stefania Giannini, UNESCO Assistant Director-General for Education, and Anne-Birgitte Albrectsen, Chief Executive Officer, Plan International. "Education responses must prioritise the needs of adolescent girls' at the risk of reversing 20 years of gains made for girls' education."
'Fierce urgency' to help children in crisis
A separate package of help will support education for vulnerable children and youth affected by the pandemic in 16 crisis-hit areas. Education Cannot Wait (ECW) – the global fund for education in emergencies – is giving $15 million in emergency grants. 
The money will aid children already impacted by armed conflicts, forced displacement, natural disasters and protracted crises. An additional series of grants to support the response in other crisis-affected countries will be released shortly and reach partners soon.   
"Martin Luther King, Jr. spoke of 'the fierce urgency of now,' and the crisis for these vulnerable children is right now and that is why ECW is making its full emergency reserves available immediately," said Gordon Brown, Chair of ECW's High-level Steering Group and UN Special Envoy for Global Education. 
The fund is releasing its entire emergency reserve in two batches to support governments, UN agencies and civil society to reach children in just a few days. The grants will last from six to 12 months. 
Virus fears for camps on Greek islands
Fears are growing of coronavirus outbreaks in refugee camps on the Greek Aegean islands after a migrant camp on the mainland was quarantined yesterday. Authorities said 23 people had tested positive at the Ritsona camp near Athens.
It follows a confirmed case three weeks ago on the island of Lesvos – just 10 miles from the Moria camp, which is home to 15,000 migrants. 
More than 40,000 refugees – 45% of them children – are stuck in overcrowded camps on the Greek Aegean islands in conditions which the government itself has described as a "ticking health bomb".
Theirworld is working with partner organisations to send 5,500 children to school on the islands. We are also supporting the Tapuat Centre near the Moria camp to provide education to 420 children and early childhood education to another 60.
Reopening of classes put on hold
South Korea has cancelled the planned re-opening of schools next week and will instead launch online classes, while delaying the annual college entrance exams.
Schools in the Japanese capital Tokyo are set to reverse a plan to start reopening schools that had been closed due to Covid-19.
Most Japanese schools have been shut since the beginning of March – but Tokyo's metropolitan government said it was planning to reopen at least some schools in the new academic year next week. But now it is considering keeping them closed until early May.
One country which hasn't shut down all its schools yet is Sweden. But it is increasingly being criticised for that stance. Theodora Papadimitropoulou, whose 15-year-old daughter is still in class in Stockholm, said: "I think the Swedish government is mad. What are they waiting for? Schools are breeding grounds for infection to spread."
Sierra Leone ends school ban on pregnant girls
https://www.instagram.com/p/B-aD5NiBQxV/?utm_source=ig_web_copy_link
Sierra Leone has overturned a ban on pregnant girls attending school in a victory for human rights activists who had fought against it for five years.
The West African country introduced the ban in 2015 after a rise in rape, abuse and poverty during the deadly Ebola outbreak fuelled a spike in teenage pregnancies.
The government claimed that allowing pregnant girls to attend school would tire them out, expose them to ridicule and encourage other girls to get pregnant. Critics said the ban increased stigma and set thousands back in their studies.
"We have cause to celebrate as thousands of pregnant girls across Sierra Leone will be allowed back into classes nationwide when schools reopen after Covid-19," said Marta Colomer – Amnesty International's Acting Deputy Regional Director for West and Central Africa.
---
More news
Theirworld's mission to give children in crises a safe place to learn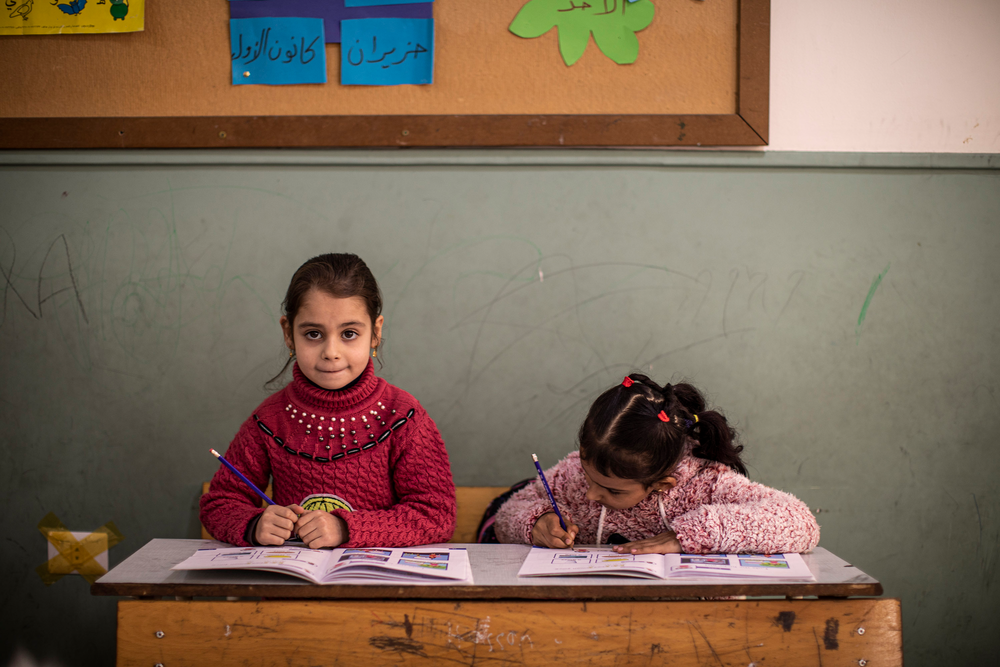 Theirworld's mission to give children in crises a safe place to learn
World Refugee Day: ACE project helps children to integrate and learn in Greece
World Refugee Day: ACE project helps children to integrate and learn in Greece