Five things you need to know this week about global education
Children in conflicts, Education funding, Education in emergencies, Refugees and internally displaced people, Teachers and learning
---
Our news roundup includes donor aid for Syrian refugees, a mass school shooting in Brazil and the tragedy of children buried in a collapsed school in Nigeria.
---
Donors pledge $7bn to help Syria and refugees
Delivering education to every child got only a passing mention as a major conference yesterday announced pledges of $7 billion to support humanitarian aid in Syria and for countries hosting millions of its refugees.
Theirworld has been campaigning since 2016 for world leaders to keep their promise to get every Syrian refugee child in school. There has been progress – but over 800,000 children are still denied an education in Turkey, Lebanon, Jordan, Iraq and Egypt. Another two million children inside Syria are out of school.
While more Syrian refugee children were enrolled in school this year, the increasing number of refugees means the proportion out of school has also increased.
The third Supporting the Future of Syria and the Region conference in Brussels ended with the pledging announcement and a declaration by co-chairs the European Union and the United Nations.
The 41-point declaration's only mention of education said: "The importance of long-term support for children affected by the conflict, including psychosocial support and access to quality education, was noted."
Theirworld's #WriteTheWrong campaign will continue to put a focus on the needs of refugee education.
Students killed in Brazil school shooting
Two former students murdered five teenagers and two officials at a Brazilian school before killing themselves on Wednesday. Police said the attack was inspired by the 1999 Columbine school massacre in the United States.
The students who died at the the Raul Brasil school in Suzano near Sao Paulo were boys aged 15 and 16. Another man was killed outside the school 10 people, mostly school children, were shot and injured, with several in serious condition. Many others fled for their lives during the attack.
School shootings are relatively rare in Brazil. The last major incident was in 2011, when 12 children were shot dead by a former pupil in Rio de Janeiro.
Theirworld's recent report Safe Schools: The Hidden Crisis recognised that many countries are affected by high levels of violence and produced a framework for action to help safeguard children's education. 
Meanwhile, a boy who was shot 15 times in the Parkland high school attack in Florida was in Spain this week as the guest of Barcelona football club. Anthony Borges survived the shooting that claimed the lives of 17 people last year.
13 months after the tragic events in Florida, Anthony Borges will see his dream come true of seeing Barça play at Camp Nou in the flesh. He and his family arrived in Barcelona yesterday and have already visited the stadium. pic.twitter.com/JrcDUMT6Wg

— FC Barcelona (@FCBarcelona) March 13, 2019
Children die as Nigerian school collapses
Families are keeping a vigil at a hospital for children pulled from the wreckage of a collapsed school building in the Nigerian city of Lagos.
Rescue operations have ended but authorities have not been able to give a final death toll after the four-storey building housing the school, homes and shops collapsed on Wednesday.
Tolls given ranged from one to eight dead and between 37 and around 50 recovered alive. But a spokesman for the national emergency agency said some of those presumed dead had been revived and the figures were in flux.
Residents say the school had around 100 students. Lagos Governor Akinwuni Ambode, who visited the site hours after the building collapsed, said the school had been set up illegally and that buildings in the area had been undergoing structural testing prior to the accident.
Reports said the building had been earmarked for demolition months ago.
UNICEF pays wages of Yemeni teachers
UNICEF is paying the wages of more than 97,000 teachers in war-torn Yemen. The agency said it has paid out the equivalent of $50 per month to each and aims to increase the figure to 136,000. 
The UN estimates that over two million of Yemen's seven million school-age children are being denied an education as a result of the four-year conflict. 
Salaries for teachers were suspended in 2016 as the war between the country's rebels and a government backed by a Saudi-led alliance brought the economy to a halt. 
Geert Cappelaere, UNICEF's regional director for the Middle East and North Africa, said: "Without a regular salary and due to the conflict and the ongoing economic crisis, teachers have been unable to commute to their schools or had to look for other livelihood opportunities to sustain their families."
Trump wants to slash US international aid
President Donald Trump wants massive cuts in US spending on international aid – asking Congress to approve a fiscal 2020 budget that slashes its help by $13 billion.
Under his plan, backing for sub-Saharan Africa would fall from $1.5 billion last year to $665 million in 2020. Kenya would lose more than half of its aid – dropping from $102 million to $43.5 million from October.
The planned cuts come after the US stopped all aid to Palestinians through the agency UNRWA, that runs 711 schools for over 500,000 children in Gaza, the West Bank, Lebanon and Syria.
Congress is likely to ignore the president's wishes. The Washing Post said: "The proposed cuts are not as deep as the 30% cuts recommended a year ago and 32% proposed for the previous year. Foreign aid enjoys wide bipartisan support and Congress largely restored most of the cuts proposed by the White House in the previous years."
---
More news
Take the test and discover how our Schools Hub helps students grasp the global education crisis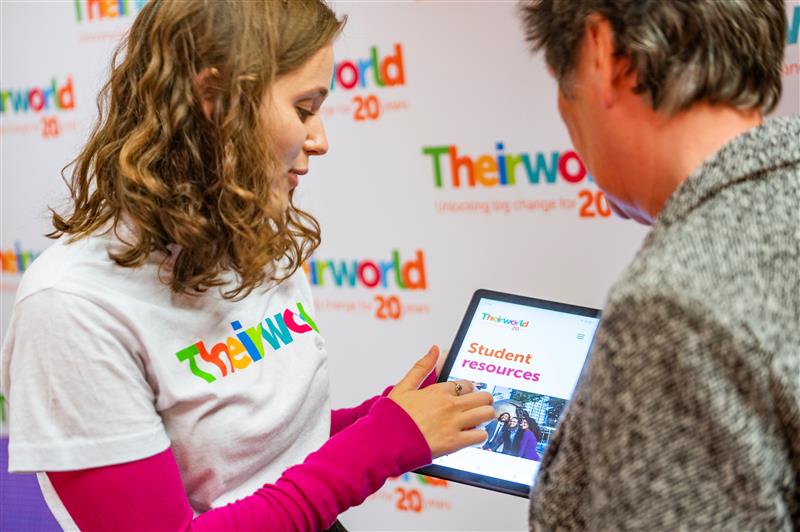 Take the test and discover how our Schools Hub helps students grasp the global education crisis
Teacher helps Harrison move from life on the street to success at school
Teacher helps Harrison move from life on the street to success at school