Five things you need to know this week about global education
Children in conflicts, Coronavirus and education, Teachers and learning
---
Our news roundup features attacks on education in Nigeria and Yemen.
---
Schoolgirls win the right to sing
Schoolgirls in Afghanistan will be allowed to sing and recite poems in public after an outcry forced the government to overturn a ban.
A directive sent to schools in the capital Kabul said girls over the age of 12 were to be excluded from public performances where any males were present. Campaigners and cultural figures said it recalled restrictions imposed during Taliban rule in the 1990s, when girls were banned from school.
In recent years, groups of girls and boys have revived the tradition of reciting well-known poems and singing anthems at school events or on national days.
The Afghan Education Ministry said it was committed to allowing all students – male and female – to take part in cultural and sporting activities. It originally defended the ban on the grounds that parents had asked for it, then said the memo had been issued by the head of Kabul's education directorate and did not reflect its own policy.
"The protests from various quarters forced the Education Ministry to reconsider its decision but questions and concerns remain in regard to human rights, particularly women and children's rights," said spokesman Zabihullah Farhang of the country's independent rights commission.
Gunmen kidnap primary school teachers
Gunmen on motorbikes stormed a primary school in the Nigerian state of Kaduna and kidnapped three teachers but no children, a state official said after the fifth school abduction in three months.
It was the first attack on an elementary school in a wave of such attacks in which more than 700 people have been abducted since December.
Rema Primary School was attacked on Monday. Samuel Aruwan, Kaduna state's commissioner for internal security, said: "This led to two pupils going missing. We are happy to inform you that the two missing pupils have been found. The government can confirm that three teachers have been kidnapped."
Kidnap for ransom has become common in parts of the northwest in recent years. Last month attackers stormed a girls' secondary school in Zamfara state , kidnapping 279 students who were later released.
Vaccination trips for 1m teachers
Teachers around the world are to be offered one million free or discounted trips to vaccination appointments to protect them and support the reopening of schools.
Uber – a member of the Global Education Coalition – will provide transportation in 20 countries including Brazil, India, Nigeria, Pakistan and the USA. They will partner with local NGOs and government bodies to distribute rides to teachers.
Uber has already worked with UNESCO and its partners during the first wave of Covid-19 to deliver meals to the hardest-hit students in countries such as the UK, Kenya, Mexico and Colombia.
"This will make a meaningful difference for many educators and school communities around the world and help children get back to learning in classrooms as soon as possible," said Stefania Giannini, UNESCO Assistant-Director General for Education.
Covid effect varies across Europe
Covid-19 cases may be rising in parts of Europe – but some countries are continuing to restart or keep open their education systems.
In Denmark, more schools will be allowed to resume from Monday. Several French regions started a new four-week lockdown today but schools will remain open.
But the picture is different in Bulgaria, where schools will shut until the end of March. In Poland, schools will move entirely to online learning, even for the youngest children.
In Pakistan, authorities in Gujarat state ordered schools and colleges to be shut across eight administrative divisions until April 10.
School attack kills Yemeni children
Three children and 15 soldiers were killed when Yemen's Houthi forces fired a missile at a school in the Taiz region where pro-government forces are stationed.
Residents said two brothers and a relative were near the school when it was attacked.
The tragedy follows another artillery shell attack that injured seven children as they left school in the city of Taiz last week.
Almost two million children in Yemen are out of school – half a million of them as a direct result of the conflict, which has damaged or destroyed one in five of the country's schools. Theirworld is among more than 100 NGOs which have condemned UK cuts in aid to Yemen.
---
More news
Take the test and discover how our Schools Hub helps students grasp the global education crisis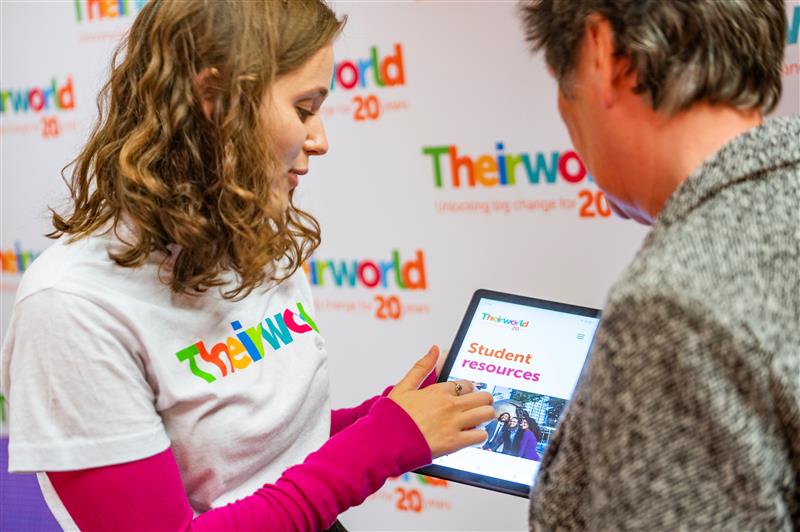 Take the test and discover how our Schools Hub helps students grasp the global education crisis
Teacher helps Harrison move from life on the street to success at school
Teacher helps Harrison move from life on the street to success at school