Five things you need to know this week about global education
Children in conflicts, Children's welfare after natural disasters, Education in emergencies, Refugees and internally displaced people, Safe schools, Safe Schools Declaration, Teachers and learning
---
Our weekly news roundup includes a second devastating cyclone in southeast Africa, hope for refugee children and helping schools stay safe in Nepal.
---
Second cyclone damages hundreds of schools
Hundreds of schools have been damaged by the second devastating cyclone to hit southeast Africa in weeks. 
Cyclone Kenneth killed dozens of people, destroyed at least 45,000 homes in Mozambique and the Comoros islands and left residents in remote rural areas urgently needing food, water and shelter.
More than 600 schools – mostly primary and pre-primary – have been damaged in Comoros. In Mozambique at least 30,000 school children have been affected after more than 250 classrooms were damaged or destroyed. Cyclone Idai had already destroyed 600 schools and disrupted the education of 350,000 children in Mozambique. 
"Children are not at present going to school," said UNHCR spokesperson Charlie Yaxley about the situation in the town of Pemba, Mozambique, which was hit by Cyclone Kenneth. "In a public school visited by a UNHCR team, some 600 people were sheltering."
Education Cannot Wait – the fund for education in emergencies – and its partners announced details of a $1 million grant to support over 77,000 children in 174 schools in Malawi. It's part of the $14 million commitment from ECW and partners previously announced to support a rapid education response to Cyclone Idai in Malawi, Mozambique and Zimbabwe.
Meanwhile, thousands of schools were closed today as Cyclone Fani struck eastern India. About 3,000 shelters in schools and government buildings were set up to accommodate more than a million people in Odisha alone.
Save the Children said 350,000 children are at risk and added that it has shelter, household and school materials ready for distribution.
Education boost for refugee and displaced children
An education programme is helping to enrol more than 450,000 refugee and internally displaced children in schools in 15 countries. 
Former Cameroon and Barcelona football star Samuel Eto'o saw for himself how schools in Malaysia are among those benefiting from a strategic partnership between Education Above All (EAA) and the United Nations refugees agency UNHCR.
EAA founder Sheikha Moza bint Nasser of Qatar and UN High Commissioner for Refugees Filippo Grandi also visited projects in Malaysia implemented by UNHCR as part of EAA's Educate A Child Programme, which operates 131 learning centres.
The partnership will share almost $100 million in support for learning among refugee and internally displaced children.
Sheikha Moza said: "It is clear from what I have seen here in Malaysia that quality primary education can truly change the course of a child's life."
The country hosts 167,000 refugees. EAA and its partners have supported more than 9,400 refugee children from over 17 countries to attend school but more than 6,000 of primary age are still out of school.
Teachers killed in Burkina Faso school attack
Five teachers were killed when jihadists attacked a village school in eastern Burkina Faso. 
"Jihadists led an incursion into Maitaougou village and killed five teachers," a security source said. "Four teachers died instantly in the attack, which took place at around 5pm in the heart of the school, while a fifth succumbed to his injuries a few hours later."
A municipal worker was also killed in the same area of Koulpelogo province, which has been targeted by extremists. President Roch Marc Christian Kabore condemned "this cowardly and ignoble killing" and vowed to track down the perpetrators.
In Nigeria, gunmen broke into a girls' boarding school in Zamfara state, "with the intent to attack the school and abduct students", police said. Two cooks and their three children were reported missing and are assumed to have been kidnapped, with authorities saying the attack seems to be motivated by ransom money rather than ideology.
Nepal's safe schools training for students and teachers
Efforts are underway to ensure every school in Nepal has introduced a basic earthquake safety programme. These include regular earthquake drills and training for students and teachers about what to do in the event of a natural disaster.
A massive earthquake killed over 9,000 people in Nepal in 2015 but fortunately it happened on a Saturday when schools were closed.
A national programme has a target of 7,553 schools to be rebuilt or retrofitted -and 56% of the work has been completed and 29% is ongoing, according to the UN Office for Disaster Risk Reduction.
Rabina Thapa was just 11 when the 2015 earthquake struck. Thanks to teaching at the Divine Light school she knew what to do and, once the worst tremors subsided, she took her siblings out on to open ground.
She now attends the Mahalxmi school and says: "I think we should give some knowledge to the children. It's good that we are going to start earthquake drills here."
Pakistan 'to bring madrasas under state system'
Pakistan plans to take control of a network of over 30,000 madrasas as part of a drive to "mainstream" the Islamic schools by bringing them under state control, the Reuters news agency has reported.
Critics of the madrasa education system say students spend most of the day memorising the Koran and are often ill-equipped for the modern world. They also claim the schools can act as breeding grounds for militant outfits.
"An Islamic education will continue to be provided but there will be no hate speech," said government spokesman General Asif Ghafoor. He added that religious schools will come under the direction of the education ministry and incorporate other subjects into their syllabus.
"We want to end violent extremism in Pakistan and that will only happen when our children have the same education and opportunities," said Ghafoor.
Almost 23 million children are out of school in Pakistan, according to government figures last year. That's 44% of those aged between five and 16 – including 49% of girls.
---
More news
Take the test and discover how our Schools Hub helps students grasp the global education crisis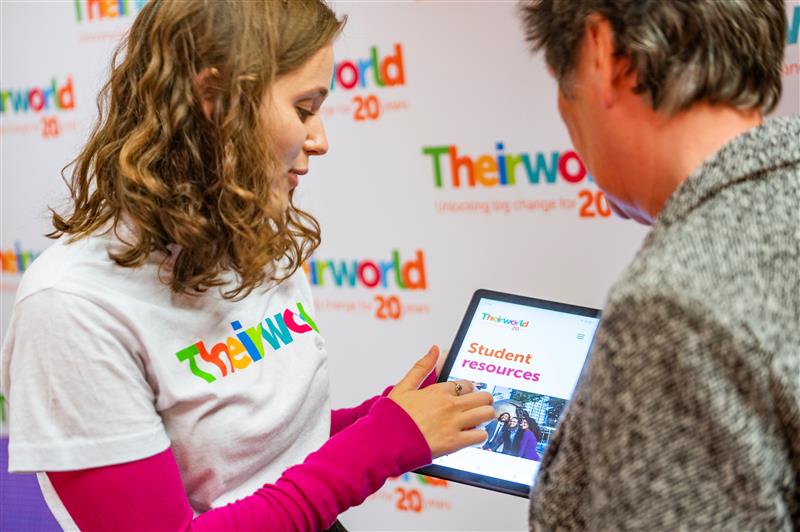 Take the test and discover how our Schools Hub helps students grasp the global education crisis
Teacher helps Harrison move from life on the street to success at school
Teacher helps Harrison move from life on the street to success at school