Five things you need to know this week about global education
Children in conflicts, Double-shift schools, Education Cannot Wait, Education in emergencies, Teachers and learning
---
School meals for children in emergencies and a shocking statistic about  the literacy of 10-year-olds are in our news roundup.
---
School meals boost for children in emergencies
Two global agencies are teaming up to ensure that millions of children affected by humanitarian emergencies do not miss out on education because of hunger and poor nutrition.
More than 70 million children living in extreme poverty attend school but are missing out on the school feeding, health and nutrition programmes that are essential for their ability to learn. 
Education Cannot Wait (ECW) – the fund for education in emergencies that was launched after being championed by Theirworld – and the UN's World Food Programme (WFP) have agreed to combine their programming and advocacy.
"Simply put, sick children cannot attend school and hungry children cannot learn," said WFP Assistant Executive Director Valerie Guarnieri. "It is essential we invest more in the health and nutrition of young learners, particularly girls."
Armed conflict, forced displacement, natural disasters and protracted crises around the world are disrupting the education of 75 million children and youth. Families affected often lack the means to feed their children or send them to school. 
While missing a meal can have a physical impact on a child, chronic food insecurity impacts a child's learning and their wellbeing.
"For many children and youth in crisis-affected countries, a meal at school may be the only food they eat all day and can be an important incentive for families to send and keep girls and boys in school. It is also essential for a young person to actually focus and learn," said ECW Director Yasmine Sherif.
In its first two years of operation, ECW has reached more than 1.5 million children and youth caught in crises with education and has investments in 32 countries.
Last year WFP provided school meals or snacks for 16.4 million in 64,000 schools – 3.4 million of them in emergencies and protracted crises. ECW's investments have already supported school-feeding programmes in Somalia, Uganda and Yemen, with plans to expand to additional countries through the new partnership.
Death penalty for 16 people who set schoolgirl on fire
16 people have been sentenced to death for setting a Bangladeshi student on fire and killing her after she accused her principal of sexual harassment, according to reports.

Nusrat Jahan Rafi's case sparked outrage in April as people demanded justice pic.twitter.com/spKpA7L6h9

— Bloomberg TicToc (@tictoc) October 24, 2019
Sixteen people were sentenced to death yesterday for burning alive a Bangladeshi schoolgirl who refused to withdraw sexual assault charges against her head teacher.
The case highlights what activists say is a culture of impunity over sexual violence in the South Asian country, as well as abuse rife in around 20,000 seminaries that educate mostly poor and rural students.
Nusrat Jahan Rafi was doused in kerosene and set on fire in April after she made a sexual harassment complaint against the principal in the town of Feni. She lived long enough to tell what had happened and a court found head teacher Siraj Ud Doula had ordered her brutal killing from jail after being arrested over the harassment claim.
He was among those sentenced to death. Others included two teachers, activists from the ruling Awami League party and some students – including two females – who either took part in the killing or guarded the gates of the seminary as it happened.
Lebanon's schools stay shut after protests
Schools in Lebanon have been closed this week after protests fuelled by worsening economic conditions paralysed the country. The government approved an emergency reform package on Monday – but the move did not go far enough to persuade demonstrators to leave the streets.
Hundreds of thousands of people have flooded the streets since last week, accusing politicians of pushing the economy to the point of collapse. 
Lebanon's state-run schools had been due to reopen their "second shift" classes for 150,000 Syrian refugee children after a funding gap had left their education in doubt. But schools across the country have remained closed for many days because of the protests.
In Libya, schools that were meant to reopen on October 13 remain closed because teachers are striking for better pay. Salaries have not risen significantly since before the 2011 uprising. Schools are run down and teachers do not receive health insurance or bonuses.
Half of children aged 10 in developing countries can't read a story
More than half of children in developing low- and middle-income countries cannot read and understand a simple story by the end of primary school, according to new research. In the poorest countries it rises to 80%, said the World Bank.
In an effort to boost education spending and increase its effectiveness, the agency released data showing the wide range of children's ability to read and understand a basic text at the age of 10.
Jaime Saavedra, global education director at the World Bank, said: "This is a critical issue. All kids should be able to read. If not, their future is at risk. A lot of children are in school but are getting a low-quality education."
The agency has introduced an ambitious new Learning Target, which aims to cut by at least half the global rate of learning poverty by 2030. The new data is included in the report Ending Learning Poverty: What will it take?
UNICEF warns funding gap will hit education
Millions of children living in areas affected by conflict and disaster are at risk because of a serious shortage of funding for humanitarian programmes, UNICEF has warned.
The UN children's agency said it has only received 54% of the $4.16 billion needed to meet the basic education, health, nutrition and protection needs of 41 million children in 59 countries this year.
"Millions of vulnerable children around the world are suffering the grievous consequences of increasingly complex humanitarian crises," said UNICEF Executive Director Henrietta Fore. "Without additional resources, these children will not go to school, be vaccinated, receive adequate nutrition or be protected from violence and abuse."
UNICEF warned the funding gap means 2.1 million children in Syria and 46,000 Syrian refugee children in other countries could miss out on education activities. It also said the shortfall could seriously impact school feeding programmes to help 60,000 children in Venezuela and education support for children in West and Central African countries affected by emergencies.
---
More news
Take the test and discover how our Schools Hub helps students grasp the global education crisis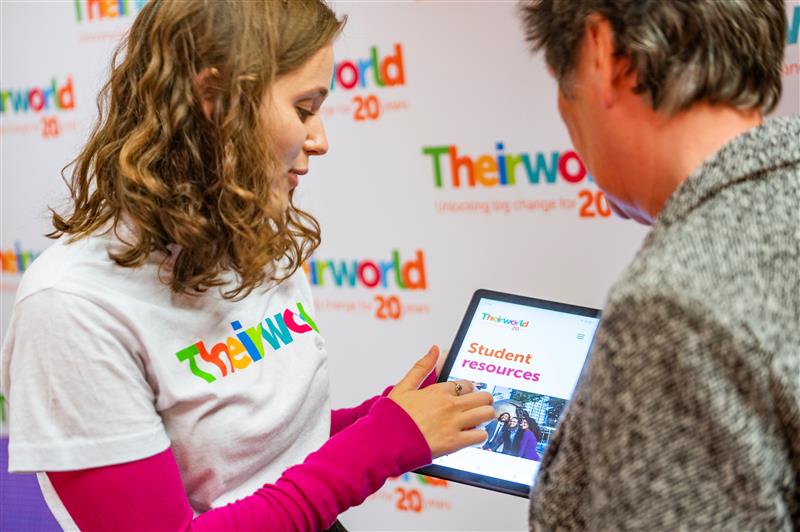 Take the test and discover how our Schools Hub helps students grasp the global education crisis
Teacher helps Harrison move from life on the street to success at school
Teacher helps Harrison move from life on the street to success at school