Former Palestinian refugee wins $1m Global Teacher Prize
She grew up in a Palestinian refugee camp, where she regularly witnessed acts of violence. Hanan Al Hroub decided to become a teacher after her own children were left traumatised when they saw a shooting on the way home from school.
She offers specialist care to refugee students exposed to violence and focuses her work on making her classroom a safe space where she can look after the individual needs of every child.
Hanan's amazing dedication was recognised last night when she was named as the winner of the $1 million Global Teacher Prize.
The announcement was made in a special video message to the ceremony in Dubai by Pope Francis. 
Hanan, who works at Samiha Khalil Secondary School in the West Bank town of Al-Bireh, raised her hands in celebration after winning the prize. She beat nine other finallists who were short-listed from more than 8000 entries around the world.
Accepting the award from Sheikh Mohammed bin Rashid Al Maktoum, Vice President of the United Arab Emirates, she said: "I am proud to be a Palestinian female teacher standing on this stage.
"I accept this as a win for all teachers in general and Palestinian teachers in particular.
"Each day, the role of the teacher is reinforced and its importance confirmed as the world questions what future we want for our children."
A big crowd gathered in the Palestinian city of Ramallah for the announcement – and there was jubilation and tears of joy when Hanan was declared the winner.
After the ceremony, Hanan said: "I feel amazing and I still can't believe that the Pope said my name.
"For an Arab Palestinian teacher to talk to the world today and to reach the highest peak in teaching could be an example for teachers around the world."
Hanan embraces the slogan "No to Violence" and uses a specialist approach she developed herself, detailed in her book called We Play and Learn.
She encourages her students to work together and rewards positive behaviour. Her approach has led to a decline in violent behaviour in schools where this is usually a frequent occurrence.
Through her work, Hanan has inspired her colleagues to review the way they teach, their classroom management strategies and the sanctions they use.
Hanan plans to spend the prize money on helping students and teachers around the world to progress.
The Global Teacher Prize was founded by the Varkey Foundation and is in its second year.
The ceremony was attended by a host of celebrities and dignitories. On-stage presenters included film stars Matthew McConaughey, Abhishek Bachchan, Salmya Hayek, Parineeti Chopra and Akshay Kumar.
There were also video messages from United Nations Secretary-General Ban Ki-moon, Bill Clinton and Prince William, who said: "I know what an incredible teacher can mean to a child. A good teacher holds the power to influence, inspire and shape a young person's life for the better. They represent the key to real change in this world."
---
More news
Take the test and discover how our Schools Hub helps students grasp the global education crisis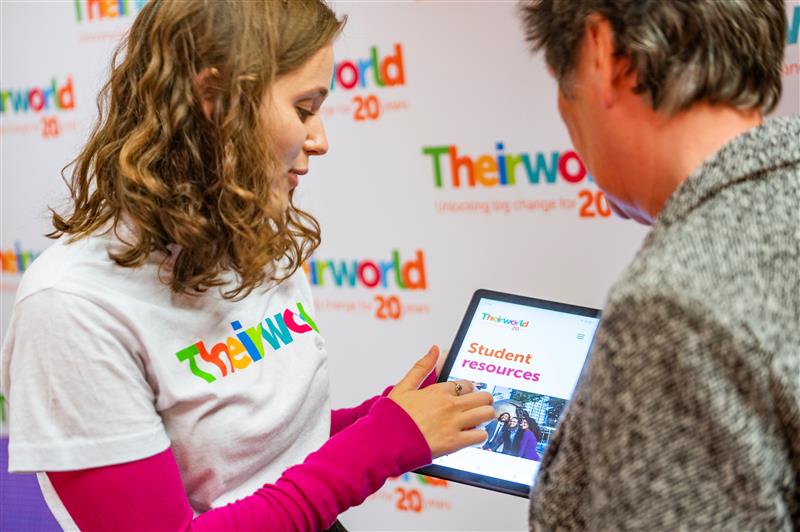 Take the test and discover how our Schools Hub helps students grasp the global education crisis
Teacher helps Harrison move from life on the street to success at school
Teacher helps Harrison move from life on the street to success at school