Going to school has turned my life around and helped my family
Caroline Mutesi is a 22-year-old from Uganda. Here she writes about attending the Day of the African Child events at the African Union in Addis Ababa, Ethiopia, as a Women Thrive youth delegate.
The experience of being an African child at the African Union meant a lot to me. I would never trade it for anything in the world.
This gave me a platform to voice what needs to be done for the African child to achieve a child-friendly, quality, free and compulsory education. Being part of this campaign and representing the youth back at home in Uganda was a dream come true.
Bringing the youth together not only exposed the young people to learning and appreciating the different cultures but we also shared ideas about education.
I enjoyed the whole experience. The youth run, the meeting at the AU and the youth trainings and discussions. The youth delegates came together and shared ideas and we were able to create a draft for the outcome document for the commemoration of the 24th Day of the African Child.
The importance of education cannot be easily measured. Its value is unmatchable and unexplainable.
Education enables us to come up with solutions to our problems and new ideas to improve the quality of life for mankind. Without education, improvement and progress would never be achieved.
There is no greater purpose than using the mind to everyone's best advantage but that cannot be done with basic numeracy and literacy education.
Plan International youth delegates take part in the fun run at the African Union
Because I got a chance to be educated, I can now have positive impact on my family and the people around me. I can make rational and informed decisions financially, politically and also spiritually.
I am 22 years old but education enabled me to get a job two years ago and I have been able to support my family of eight and to partially pay my tuition through university.
My whole life was turned around because I was able to go to school. Without education, I would have been married off by now with many children and my mother and siblings would be starving and homeless without my help.
But now I can pay the rent and bills and tuitions for my little brothers and sisters.
Education ensures that every girl and boy has a chance to shine. We need to protect the education of today's children because they are the voice of tomorrow.
Through education, we assure that our community will have the knowledge needed to function (doctors, engineers, chemists, ecologists, teachers etc.). Also, education can lend our future generations a map of success.
Education is so important and everyone should play a part in ensuring that millions of children who are out of school get a chance for a brighter future.
---
More news
Take the test and discover how our Schools Hub helps students grasp the global education crisis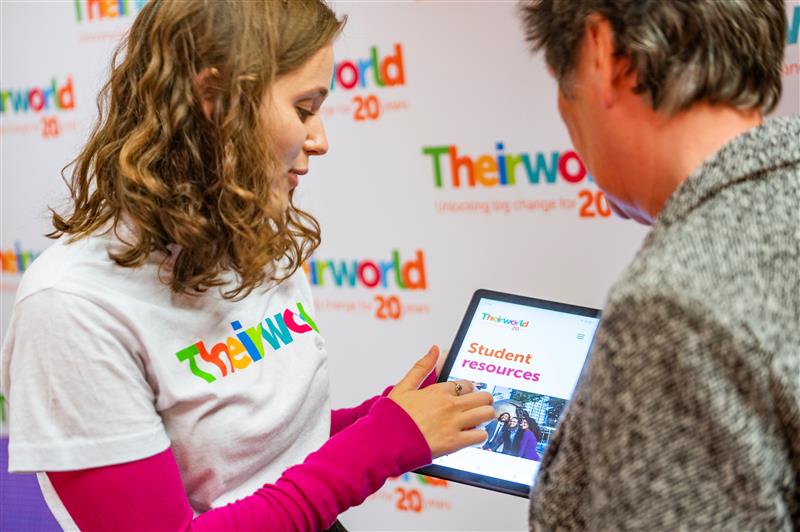 Take the test and discover how our Schools Hub helps students grasp the global education crisis
Teacher helps Harrison move from life on the street to success at school
Teacher helps Harrison move from life on the street to success at school