How education is changing lives on Sri Lanka's tea plantations
Two pictures tell the remarkable story of Melissa Day and her mother. In the first, she is just a few weeks old and cradled in the arms of Vijayalakshmi Kandasamy. In the second, they cling to each other – mother and daughter reunited more than 25 years later.
Melissa was born in Sri Lanka, where her mother worked and lived in grinding poverty on a tea plantation. At eight weeks old, she was adopted by an English family.
She said: "Growing up in the UK gave me one of the greatest gifts you can give a child – education. It enabled me to get a degree and follow my chosen career path.
"If I hadn't been adopted, I would be one of those workers struggling with backbreaking work to survive on very low wages."
A family on the tea plantation where Melissa's family live
On Sri Lanka's tea plantations, working conditions for the mainly Indian Tamil population are poor, sanitation and running water are problematic and educational standards are low. But attempts are being made to change that and Melissa is working with one organisation at the forefront of those efforts.
She said: "I came across the charity Tea Leaf Trust and the Tea Leaf Vision community last year and loved the fact they're trying to help children on tea estates and also encouraging children to become role models in the community."
Melissa, 30, is raising £12,000 to buy a school bus for Tea Leaf Vision to transport students safely to their lessons. In her home town of Ipswich, she has organised fundraising events with a relevant theme – including Tamil street dancers and Sri Lankan cuisine. Thoughts of her family in the Nuwara Eliya hill region of Sri Lanka drive her on. But Melissa wasn't sure if she would ever be reunited with them.
She explained: "I thought my chances of finding my family were really slim because of the civil war and then the tsunami. I knew only my mother's name and age. I'd always wondered about who she was but tracing her across two continents seemed an impossible dream.
Melissa's brothers Ashok and Arun attended courses
"The only keepsake I had of her was a photograph, which was taken at a convent. A friend who was visiting the country on holiday said he would go to the convent with the photograph as a favour."
Then followed an amazing series of coincidences which resulted in the friend finding Vijayalakshmi. Melissa, who is a cosmetic acupuncturist, said: "She had treasured that same photograph of me for 25 years. And I discovered I had two full brothers and a grandmother living on a tea plantation."
Within weeks, she travelled to see them. But what she saw shocked her. Melissa added: "It was heartbreaking to see their poverty and how lack of education, not just for my brothers but other children on the estate, imprisons generation after generation into a lifestyle from which there's no escape."
Now she's working hard to help Tea Leaf Vision, adding: "I love that they're trying to help young people on tea estates and encouraging them to become role models in the community."
Tea Leaf Vision founders Yasmene and Tim Picture: Tea Leaf Trust
The parent charity Tea Leaf Trust was set up in 2008 by Tim Pare and his wife Yasmene Shah – after seeing the tea plantation conditions while on honeymoon the year before. He said: "We went in with a very specific focus – to make young people more employable so they had the option of getting off the plantations and to make them more resilient and able to deal with complex social issues affecting those communities and become effective change agents."
Research showed that on the tea plantations, 80% to 85% of men were alcoholics and 83% of women were suffering domestic violence. Suicide rates are the fourth highest in the world and the plantations are still run in a colonial style to keep workers and their families in a state of near-servitude.
Families put pressure on children to pass exams, as they see it as a way out of poverty. But when students take their A levels, they inevitably fail because of poor teaching and the fact that some teachers actually hold back parts of the curriculum, to be taught in private classes which the poorest can't afford. This leads to children self-harming and committing suicide.
In 2006, the government hired 3000 new teachers. About 1500 of them were not properly qualified and many ended up in tea plantation communities where most parents are uneducated and unable to challenge the system.
Tim said: "The result is that we have people teaching subjects which they failed themselves. For youth to have employment options outside the tea plantations, they need to speak a good standard of English and the schools were not delivering that."
Fast forward to 2015 and the picture looks very different. Tea Leaf Vision has a free, full-time course for young people aged 18 to 24 from more than 20 plantations, who are unmarried and unemployed. Some have to walk or travel by bus up to three hours per day each way. The students learn English, IT skills and personal development – and more than two-thirds will go on to higher education or get a job off the plantation.
Tim added: "In return, the students on our diploma courses have to give up time to teach the English Community Programme, which provides English education to primary schools on the tea plantations. We have 24 locations open once a week, where the students teach classes to between 1600 and 1900 children.
"When we first started, there was deep suspicion of what we were trying to do. Now when I visit I'll be stopped by people who shake my hand and celebrate the fact that their children and family members have gone through the programme and are speaking English.
Children at a tea plantation school Picture: Tea Leaf Trust
"One student came to us so nervous. He had an English teacher at his plantation school who had spoken to the class about 10 times in two years and had slept the rest of the time.
"He ended up getting a scholarship from the Indian High Commission for the children of tea pickers. The Assistant High Commissioner was so impressed with him at his interview that he came to see our school and to see how he could help."
Among those who attended Tea Leaf Vision's courses are Melissa's brothers Ashok, 25, and Arun, 22. Her younger brother Arun discontinued due to mental health issues that are common on plantations but Ashok is thriving on the English Diploma Programme.
Melissa said: "Meeting my family in Sri Lanka was the most incredible day of my life. We keep in touch by phone and I'm planning to go back soon. Raising money to buy the bus is my small way of trying to help the amazing work being done to help the children on the tea plantations."
Tea Leaf Vision has now joined the #UpForSchool Peititon movement to demand changes for children in Sri Lanka and accross the globe. Students at Tea Leaf Vision's schools often face up to 6 hour commutes to their facilities simply because government schools are not providing a good enough education. By mounting an #UpForSchool campaign to collect petition signatures accross Teaf Leaf Vision's schools and network, the organisation is raising awereness about the challenges to education in the country and placing pressure on decision makers.
You can add your voice to the campaign signing Tea Leaf Trust's #UpForSchool Petition here.
Learn more about the work of the Tea Leaf Trust here.
You can visit Melissa's fundraising page here.
---
More news
Take the test and discover how our Schools Hub helps students grasp the global education crisis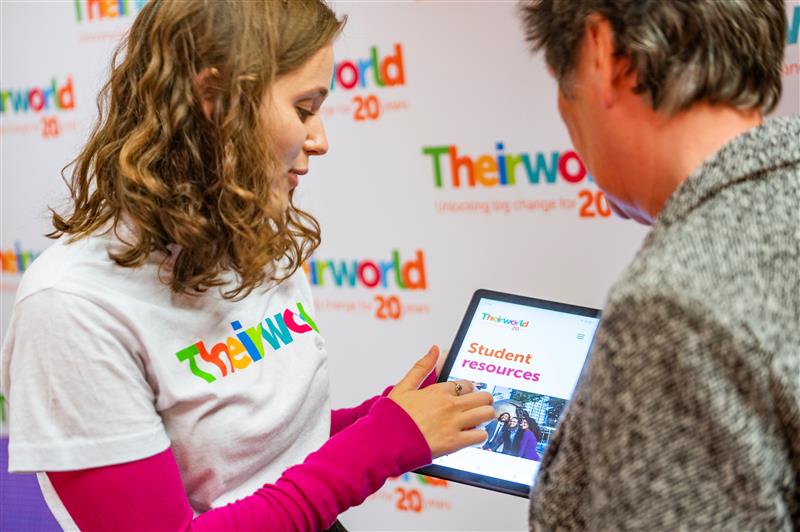 Take the test and discover how our Schools Hub helps students grasp the global education crisis
Teacher helps Harrison move from life on the street to success at school
Teacher helps Harrison move from life on the street to success at school