How mobile phones are helping to take education to hard-to-reach children
How do you teach a child if there isn't a teacher, textbooks or a classroom available? You take the lessons to them – and one way is by mobile phone or mini tablet.
The number of children around the world using handheld devices is growing, so agencies and organisations are taking advantage of technology to deliver education where it is most needed.
While the debate in some countries is about whether students should be allowed to use their phones in the classroom, others are using the opportunity of schooling in the palm of the hand.
Here are just some of the ways smartphones and other mobile devices are being used to deliver lessons to hard-to-reach children.
App for Syrian refugees
Mohammed, a Syrian refugee living in Turkey, plays a game on a mobile phone with his mother Manal Picture: Facebook/Norad
A competition has been launched to develop a smartphone app to help displaced and refugee Syrian children aged five to 10 with basic Arabic reading and writing skills.
With 2.8 million children out of school in Syria and in neighbouring countries, a Norway-led coalition is offering a $1.7 million prize for a game-based app that is engaging and user-friendly.
The rules say: "The focus should be on building vocabulary that children would hear and use at home and in their local environment."
Børge Brende, Norwegian Minister of Foreign Affairs, said: "We know that almost all Syrian households tend to own smartphones. That's why we want to develop this game-based learning tool, which can be used wherever the children are."
Learn more about the EduApp4Syria competition here.
Kenyan classes in a 'brick'
Pupils from Light House Grace Academy at Kawangware, Nairobi, in Kenya are seen using the Kio tablet created by local technology company BRCK Education.
Its flagship product is the BRCK, an internet connectivity device made for environments which do not have excellent internet connections. The mini tablets are customised with features suited for students from poor backgrounds.
The BRCK Kio Kit provides a "digital classroom in a box" that connects any school within range of a mobile phone tower to the internet and locally-hosted content.
Mobiles and Muppets in India
Galli Galli Sim Sim (the Indian name for Sesame Workshop) is a multiplatform initiative that uses the Muppet characters to help prepare children for school and life.
The show focuses on literacy, numeracy, health and nutrition and reaches 30 million Indian children a year in the Hindi, Gujerati and Marathi languages.
As well as games and books, the project uses TV feeds which can be hosted on low-end smartphones.
Sashwati Banerjee, Managing Director of Sesame Workshop India, will be talking about the project during Mobile Learning Week at UNESCO headquarters in Paris from March 7 to 11.
Teaching by text message in Kenya
Toni Maraviglia is an American who moved to Kenya to help start a programme to support teachers in rural areas.
There she hit on the idea of using text messages to teach. So in 2011 she co-founded Eneza Education, which now has 500,000 users and plans to help make "50 million students in Africa smarter".
The courses for ages 10 to 18 are based on Kenya's national curriculum and students receive questions and feedback by text.
Toni told the BBC: "What we see from our students is that many of them will go home and study on this from 20 minutes to an hour every night."
Angry Birds, happy learning
Last week Rovio Entertainment – the makers of the Angry Birds game so popular on mobile phones and tablets – announced it had created Fun Academy, a new company dedicated to engaging children in learning through play.
Last year Rovio teamed up with A World at School to launch a tournament to encourage players to support the #UpForSchool Petition to ensure every child has the right to go to school and learn.
Rovio's Mighty Eagle Peter Vesterbacka said at the time: "Everyone at Rovio believes change is possible and together we can deliver education for all. Together we can make change happen. We are #UpForSchool."
With help from the Angry Birds, the #UpForSchool Petition was signed by more than 10 million people across the world and was delivered to world leaders at the United Nations in September.
Technology is also being used to deliver education and skills ito Syrian refugee children. Read a report by the Global Business Coalition for Education on how this is being explored.
---
More news
Take the test and discover how our Schools Hub helps students grasp the global education crisis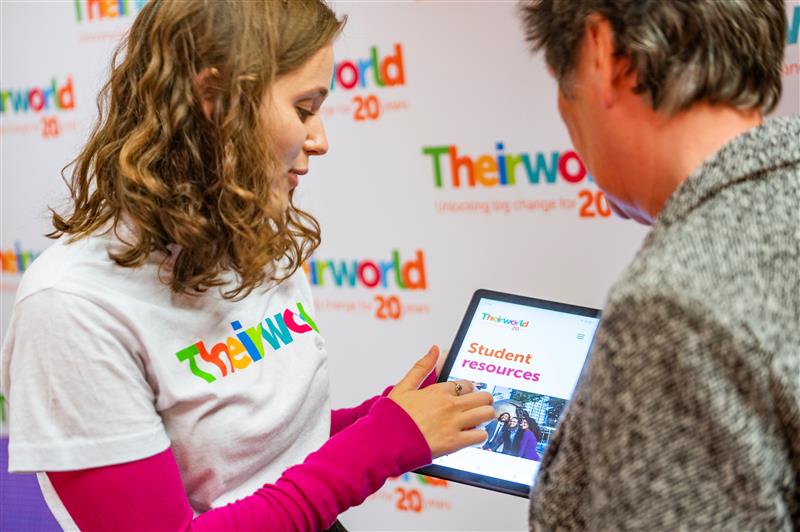 Take the test and discover how our Schools Hub helps students grasp the global education crisis
Teacher helps Harrison move from life on the street to success at school
Teacher helps Harrison move from life on the street to success at school