Six years of war: Syrian refugee children find hope in neighbouring countries
Barriers to education, Child labour, Children in conflicts, Double-shift schools, Education Cannot Wait, Education in emergencies, Refugees and internally displaced people, Right to education, Safe schools, Safe Schools Declaration, Teachers and learning
As the war enters its seventh year, we take a detailed look at the statistics behind the refugees who left Syria for neighbouring countries to find safety and education for their children.
---
On March 15, 2011 – as part of the Arab Spring uprisings – protesters in Syria demanded civil liberties after 40 years of oppression.
Six years later, the appalling conflict in the Middle Eastern country has left more than 320,000 dead, 6.6 million internally displaced and 4.9 million who have fled to other countries.
Cities have been turned into rubble. The education and health systems are in ruins. Syria's children have seen their world bombed and blasted and their dreams and futures shattered.
In the past few days, Theirworld has looked at how children inside Syria have been affected. How they are haunted by the toxic stress of war. And how 2016 was the deadliest year for children, with the number of those killed, maimed and recruited to fight increasing.
Today – as the war enters its seventh year – we take a detailed look at the statistics behind the refugees who left Syria for neighbouring countries and their search for safety and education for their children.
The trail is littered with broken promises and obstacles. But ultimately it is a story of hope, of endurance and of people and countries doing what they can to help their neighbours in need.
The overall picture
Of the 4.9 million people who have left Syria, Turkey has taken in more than 2.9 million – making it the biggest refugee-hosting country in the world. 
It is followed by Lebanon, which the UN says has about one million Syrians – one in four of the Lebanese population.
In Jordan, the UN refugees agency UNHCR says there are registered 630,000 Syrians while the government says it is hosting 1.4 million.
At least another 230,000 Syrians are living in Iraq and 137,000 in Egypt, according to UNHCR.
Filippo Grandi, UN High Commissioner for Refugees, said: "Syria's war has lasted longer than World War Two in Europe. This is unconscionable. Syria's children, whether at home or in refugee communities elsewhere, are its future, one of its few sources of hope."
The education promise
In February 2016, the Supporting Syria and the Region conference in London promised to get every Syrian refugee child into education in Turkey, Lebanon and Jordan during the 2016-17 school year.
Theirworld has been campaigning for that promise to be kept. Our investigation to mark the one-year anniversary of that pledge uncovered the lack of a clear and coherent overview of how it is is progressing. 
We found that less than a third of the $1.4 billion funding needed for education was committed in 2016 and only half of the 1.7 million children are in school. 
Here is a breakdown of the numbers of registered Syrian refugee school-age children at the end of 2016:
TURKEY: 491,896 in school, 380,000 out of school, 871,896 total (ages 6-18)
LEBANON: 200,000 approximately in school, 277,034 out of school, 481,087 total (ages 3-17)
JORDAN: 170,000 in school, 91,000 out of school, 261,000 total
Gordon Brown, the United Nations Special Envoy for Global Education, told a British parliamentary inquiry: "We're still one million kids short. We're still $1 billion short. The UK has made good on its promises – it's time other countries make good on theirs."
In February, international leaders committed to track the progress. The co-hosts of the London conference – United Kingdom, Germany, Norway, Kuwait and the United Nations – will be at talks on the future of Syria and the region to be held in Brussels in April.
Turkey
The number of Syrian children enrolled in Turkish schools and TECs (temporary education centres) rose to almost 500,000 in 2016, according to UNHCR. Of that total, over 160,000 are in schools.
All TECs offer 15 hours of Turkish language lessons to promote the inclusion of refugees in local schools. More than 400,000 Turkish language textbooks have been distributed for use in the centres.
But 40% of Syrian refugee children are still out of school and enrolment is higher in refugee camps than urban areas. Also, about 100,000 Syrian children under 18 are in Turkey's registered workforce, according to the government last month.
Theirworld runs pilot projects in Turkey to identify cost-effective interventions to get around the economic, cultural and language barriers that prevent Syrian refugees from getting an education. 
We are working with partners to establish demonstration projects to address these critical barriers in cost-effective ways and then share results. 
We are setting up Turkish language training programmes to support Syrian refugee children with intensive courses, in order to ensure a smooth transition to the Turkish public school system.
The government announced last month that 56 formal and informal educational facilities will be built in the southern areas where most school-age Syrians live. That will benefit about 40,000 out-of-school refugees and children from host communities.
Up to 15,000 Syrian students enrolled at Turkish universities last year. But that figure is low compared to the pre-conflict situation. Before the war, 20% of Syrian youth were in university. In Turkey today, only 2.2% of Syrian youth are enrolled in universities there. 
Lebanon
Lebanon is home to 488,832 school-age Syrian refugees, of which 202,259 are enrolled in school, according to latest figures from the government in February. That's 41% of all registered refugee children.
Lebanon has many double-shift schools, where local and refugee children can be taught at different times by different teachers in the same classrooms.
In the second shift – created specially to give education to Syrian refugees – 86% of those enrolled attend school every day, which is higher than the average worldwide attendance rate of 84%.
95% of the non-Lebanese students who are enrolled in public schools are in basic education (kindergarten to grade six) and almost half of all of those enrolled in basic education in public schools are non-Lebanese students.
Theirworld has been working in Lebanon to expand access to education to refugee children through research, advocacy and campaigning.
In 2013 Theirworld published the first research to propose the double-shift system as a viable approach to scaling up refugee access to education. 
It was adopted as a central pillar of the Reaching All Children with Education (RACE) national strategy.
Theirworld is investing in low-cost pilot projects to complement the RACE strategy.
These will demonstrate how small-scale investment in key areas can significantly improve access to education and learning outcomes for vulnerable Lebanese and Syrian refugee children.
Jordan
The Ministry of Education estimates the enrolment of 167,000 Syrian children in formal education in the 2016/2017 school year – a 15% increase on the previous year.
One hundred additional schools also opened their doors and there are now 200 double-shift schools operating.
Public schools are continuing to accept new students in this semester, allowing thousands more out-of-school children to enrol.
"We warmly applaud the continued efforts of the government of Jordan towards its commitment made at last February's Syrian conference in London, where it pledged to educate every child in Jordan in the 2016-2017 school year," said UNICEF Representative Robert Jenkins recently.
There are still an estimated 64,000 Syrian children out of school – and the main obstacles are economic hardship, the distances to school and limited transport options.
Iraq
Most of the country's Syrian refugees live in the Kurdistan region and 40% of them are in nine refugee camps. One in four are school-age children.
Hosting displaced Iraqis and Syrian refugees is placing pressure on already overcrowded schools. In the camps, 67% of children attend school – but only 56% of those living in the community. 
The 2017-18 Regional Refugee Resilience Plan for Iraq says a lack of teachers and space for refugee children means innovative approaches have been necessary – including using technology to reach children with interactive self-learning modules and mobile school units driven every day to remote areas.
UNICEF says it aims to have 32,900 boys and girls enrolled in formal primary education in 2017 and 22,000 children participating in child protection or psychosocial support programmes
Egypt
More than 37,000 Syrian students aged up to 17 were enrolled in public schools and 7000 were in informal or remedial Syrian community school classes by October last year.
"Syrian refugee boys, girls and youth will continue to receive education grants upon enrolment and proof of regular attendance," says Egypt's 2017-18 Regional Refugee Resilience Plan. 
"The grant will contribute to school fees, uniforms, books, stationary and transportation to facilitate their learning."
All Syrians who get their secondary school certificates are eligible for Egyptian universities on the same footing as local students.
---
More news
Take the test and discover how our Schools Hub helps students grasp the global education crisis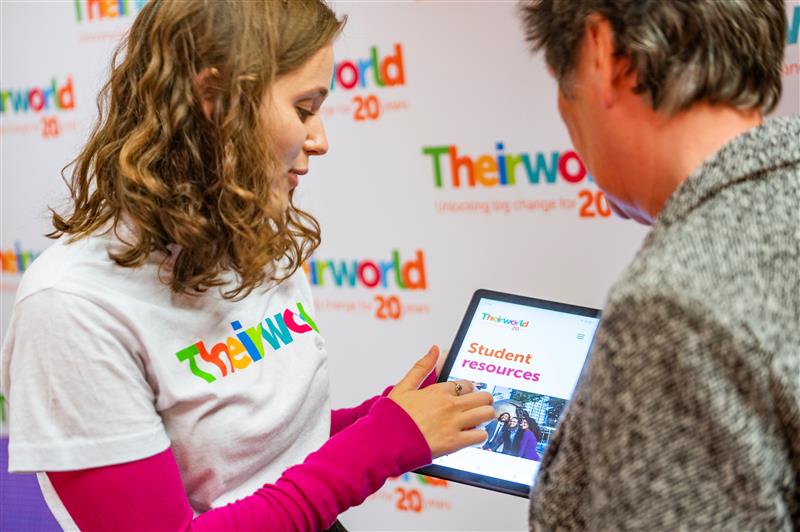 Take the test and discover how our Schools Hub helps students grasp the global education crisis
Teacher helps Harrison move from life on the street to success at school
Teacher helps Harrison move from life on the street to success at school