How we can help teachers deliver quality early learning to refugee children
Early childhood development, Refugees and internally displaced people, Teachers and learning, Theirworld
---
A Theirworld report says every refugee can receive a good early childhood education if teachers are equipped with the right knowledge and tools.
---
Early childhood education is crucial to all children – but especially for child refugees, many of whom have suffered significant trauma.  
However, access to quality early learning is often extremely limited, poorly resourced and chronically under-funded. That is the conclusion of a new Theirworld report which analysed ECE provision in refugee settings around the world.  
Theirworld believes that quality ECE can be delivered to every refugee child if teachers are equipped with the right knowledge and tools. Our report – Supporting Early Childhood Education Teachers in Refugee Setting – identifies four key ways that this can be achieved. 
It includes making the science of early childhood development and education more accessible to teachers, as well as partnering with technical and vocational education and training institutions (TVETs) to provide training and support for teachers. 
---
Supporting Early Childhood Education Teachers in Refugee Settings
Supporting Early Childhood Education Teachers in Refugee Settings
Theirworld plans to stage pilot projects in countries where we have existing strong relationships, where there are large refugee populations and some existing practice or government commitment to ECE. 
Ajwok Mary Valentino, a Theirworld Global Youth Ambassador from Uganda, said: "I was nine years old when people invested in helping me acquire education. Early childhood education is a right for every child and not a privilege. It's an investment to secure the future which includes that of the refugee children."
The new report was written by Maysa Jalbout, a non-resident fellow at the Center for Universal Education at the Brookings Institution; and Katy Bullard, a researcher and education specialist focused on teacher issues and refugee education. 
"High-quality ECE can be a powerful avenue for helping young refugee children manage their trauma and for supporting their well-being, in the short and long term," they wrote.  
"We aim to provide teachers, who are often refugees themselves, with the knowledge, skills and learning community they need to ensure that refugee children are given the best possible start in life and best chance at having healthier and successful futures."  
The report analysed current examples of ECE provision for refugee children in Jordan, Bangladesh, Greece and Tanzania. This provided a glimpse of different approaches, the obstacles and the implications for teacher training. 
The authors looked at how to develop and support the skills of teachers, given that NGOs, charities and agencies that could or do provide ECE have limited capability and resources. 
Yasmine Sherif, Director of Education Cannot Wait – the global fund for education in emergencies – said: "Conflict and humanitarian emergencies can have lasting consequences for the rest of a child's life. But if we prioritise and invest early to provide quality early learning we can change this. 
Our proposals are needed, feasible and scalable. Implementing these proposals will require the meaningful engagement of partners, globally and locally, who believe in the tremendous benefit and potential of ECE. From Theirworld's report by Maysa Jalbout and Katy Bullard
"At Education Cannot Wait, we are committed to investing 10% of our funding towards early childhood education and we call on others to ensure early childhood development and education is prioritised more in humanitarian responses in the future."
The report follows our recent announcement that Theirworld will collaborate with organisations in Lebanon to help thousands of vulnerable Lebanese and refugee children access quality early childhood education.  
The MyBestStart project aims to reach children attending early childhood education (ECE) centres, as well as those learning from home. It will also give digital guidance to teachers and parents. 
---
More news
Take the test and discover how our Schools Hub helps students grasp the global education crisis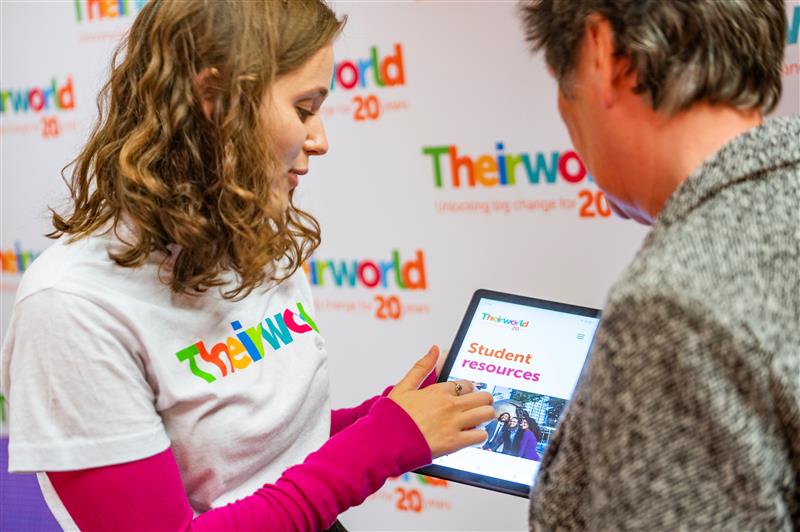 Take the test and discover how our Schools Hub helps students grasp the global education crisis
MyBestStart programme gives young girls the education they deserve
MyBestStart programme gives young girls the education they deserve