How world leaders at UN talks can give hope to millions of children
Barriers to education, Children in conflicts, Children's welfare after natural disasters, Discrimination of marginalised children, Early childhood development, Education Cannot Wait, Education funding, Education in emergencies, Global Youth Ambassadors, Gordon Brown, Refugees and internally displaced people, Right to education, Sustainable Development Goals, The Education Commission, The Global Business Coalition for Education (GBC-Education), Theirworld, United Nations General Assembly
We look at some of the events and themes at this year's UN General Assembly that can help to deliver education and early years care for every child.
---
With the Syrian refugee crisis at its height, UN education envoy Gordon Brown called 2015 the "year of fear" for children. 
Well, 2017 has certainly been the year of disasters and emergencies for millions of kids. Floods, typhoons, hurricanes, droughts and landslides – alongside seemingly never-ending conflicts and millions uprooted by new outbreaks of violence.
As world leaders meet next week at the United Nations General Assembly, education will be high on the agenda. The big themes will be education in emergencies and how to deliver on the global goal of getting every child into school and learning.
But another underlying theme is the "book ends" at either side of a child's formal school process. How to get the investment needed to give quality early years care to the under-fives AND deliver youth skills training and lifelong learning. 
Here we look at how these themes will be reflected at events, discussions and forums in New York next week.
Education in emergency situations – like the South Asia floods, Hurricane Irma and conflict in East Africa – is crucial because it gives children safety and hope in the midst of chaos and terror.
If children are out of school, entire generations could be lost to child labour, child marriage, recruitment into fighting or other life-threatening activities. Educating children contributes towards peace-building and rebuilding damaged communities.
Launched last year, the Education Cannot Wait fund is the first to prioritise education action in humanitarian emergencies. We know it's possible for children to continue to be educated even in the midst of crises and conflicts.
"Education can save children's lives during emergencies," said Gabriella Waaijman, Regional Director for the Norwegian Refugee Council. 
"Schools provide children a secure location, they build protective social structures, they teach essential knowledge for survival and they safeguard the futures of children and communities." 
So Education Cannot Wait was set up after campaigners, youth advocates, education experts and more than 60 leading charities – including Theirworld – called for a new way of meeting the education needs of children caught up in crisis situations.
With more than 75 million children out of school in over 35 crisis-affected countries, Education Cannot Wait will be looking for donors to step up their commitments. An event on September 18 will bring together some of the world's most influential CEOs and major investors.
The fund has already helped to deliver quality learning, teacher training, psychosocial support and new school facilities in Chad, Syria, Yemen, Afghanistan, the Central African Republic, Madagascar, Peru, Uganda, Ukraine and Somalia.
Getting every child in every country into school was a commitment made in 2015 at the UN. It's enshrined in the Sustainable Development Goals – the set of targets countries agreed to reach by 2030.
But with 264 million children and adolescents still out of school, it's going to take a huge effort. How to do it will be the subject of a high-level event on education funding hosted by UN Secretary-General on September 20.
It aims to secure political commitment to investing in early childhood, primary and secondary education. Those attending include French President Emmanuel Macron, UNESCO chief Irina Bokova, Norwegian Prime Minister Erna Solberg, UN youth envoy Jayathma Wickramanayake and Gordon Brown.
UNICEF's Chief of Education Jo Bourne said last week: "Investments aimed at increasing the number of schools and teachers to match population growth are not enough.
"This business-as-usual approach will not get the most vulnerable children into school and help them reach their full potential."
One year ago at the UN, the global Education Commission delivered its Learning Generation report. It included a bold plan to unlock billions of dollars each year to get every child into school.
The commission will give an update next week that will show its proposed International Finance Facility for Education (IFFEd) has been endorsed by more than 30 international organisations and over 145,000 people around the world, including the UN Secretary-General. 
The G20 summit in July agreed that Argentina would take the plan forward under its presidency in 2018 – taking into account other existing initiatives.
On the eve of the summit in Germany, singer and Education Commissioner Shakira said: "We need to greatly increase investment in education as it is key to breaking the cycle of poverty in which millions and millions are trapped."
The Learning Generation report set the pathway that should see international donors putting large chunks of their overseas development aid into education. 
Also on September 20, the Global Business Coalition for Education (GBC-Education) will hold its annual breakfast event. It will bring together business leaders and entrepreneurs who want to make a lasting impact on the lives of children and youth through education.
One of the biggest barriers that needs to be broken down is the lack of contact and communication between the business world and young people.
GBC-Education will address that issue with the launch on September 20 of a Youth Skills and Innovation initiative. Its aim is to bring together young people, industry leaders and experts to create solutions and inspire action to support the development of new skills needed by the next generation of innovators, makers, and entrepreneurs.
Young people will also be at the heart of Theirworld's coverage of the UN events. Two of our Global Youth Ambassadors – Joannes Paulus Yimbesalu from Cameroon and Sylvia Kakyo from Uganda – will be in New York to attend events and bring a youth perspective.
On September 21, UNICEF will publish a report on early childhood development. It is expected to echo many of the themes of Theirworld's #5for5 campaign, which highlights the fact that 90% of brain development happens before a child turns five.
We have been campaigning since last year for leaders to invest in early years care and give every child access to quality care – including the five key areas of nutrition, health, learning, play and protection.
Yesterday Theirworld published a scorecard that showed only 1% of global education aid goes to pre-primary education. Theirworld President Sarah Brown said: "If we are at all serious about keeping the promise to children to achieve inclusive and equitable quality education for all by 2030, the greatest urgency is an increase in pre-primary education."
The Sustainable Development Goals will also feature during a two-day event next week hosted by the Bill and Melinda Gates Foundation. Called Goalkeepers, it will include speakers such as the Gates and former US President Barack Obama.
---
More news
New school resources focus on disability and girls' education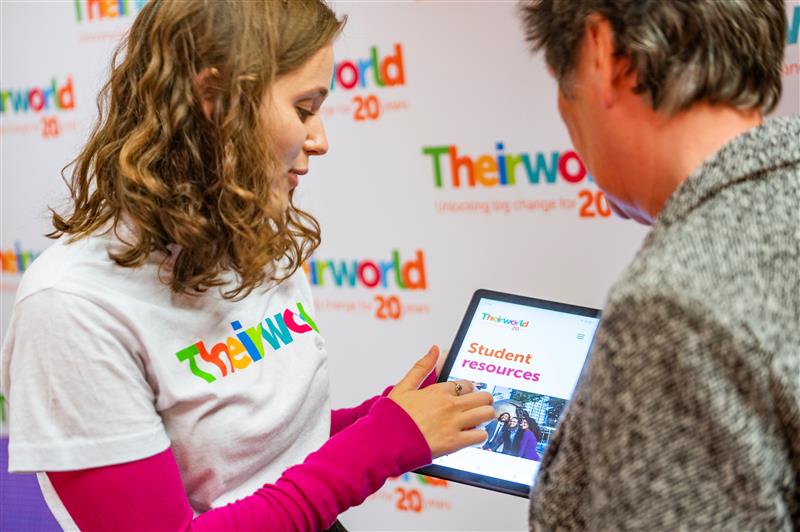 New school resources focus on disability and girls' education
Roger Federer supports the Act For Early Years campaign
Roger Federer supports the Act For Early Years campaign