Meet the man who ran seven ultra marathons on seven continents to help build seven schools
Education funding, Right to education, Teachers and learning
Joel Runyon has raised $192,000 through his amazing feats of endurance - and the money means schools will be constructed in Ghana, Laos and Guatemala.
---
Everything about Joel Runyon is ultra.
Ultra-fit, ultra-enthusiastic, ultra-dedicated to the cause of education for underprivileged children.
Five years ago, he was challenged to help raise the funds to build a school in Guatemala by running an ultra marathon. So he did. Then another. And then some more.
Joel recently completed the incredible feat of running SEVEN ultra marathons on SEVEN continents. That raised more than $192,000 – enough to build SEVEN schools in Ghana, Laos and Guatemala.
Joel's amazing running journey began back in 2012, when he teamed up with the charity Pencils of Promise.
"They challenged me to run my first ultra marathon to build a school with them," he said. "When I did that  – and got to visit the school in Guatemala – I wanted to do more."
So Joel set up IMPOSSIBLE – an organisation designed to help people push their limits by taking on ridiculously difficult challenges.
"One of the core values at IMPOSSIBLE is to never get comfortable and always try to push your limits," said the 30-year-old American athlete, businessman, blogger, author and speaker. 
"Running that ultra was one of the most impactful things I had done and I wanted to do more. 777 – the project to run the seven ultra marathons on seven continents – was conceived as a way for me to push my limits and see if I could do something that seemed impossible and rally others to join in on the cause as well."
An ultra marathon is defined as a long-distance race that is longer than the traditional marathon of 26 miles 385 yards.
See the difference these funds make to schools…
Joel's seven runs on seven continents were:
Africa – Two Ocean Marathon 56k (35 miles in South Africa)
Antarctica – Antarctica Ice Marathon 100k (62 miles across the ice)
Asia – North Face Thailand 50k (31 miles in Khao Yai national park)
Australasia – Narrabeen All Nighter (12 hours nonstop in Sydney)
Europe – Rovaniemi 66km (41 miles in frozen Finland)
North America – Chicago Ultra 50k (31 miles)
South America – Patagonia International Marathon in Chile (39 miles)
"Pencils of Promise is continually building schools in their communities within Laos, Ghana and Guatemala," explained Joel. 
"Now that the funds have been raised, we're working on matching the school builds to the communities. If it all goes well, the builds should be starting later this year and completed soon after."
Joel visited the first school built in Guatemala in 2013 and said it was "an incredible experience". 
He added: "Earlier this year, I stopped in Laos to visit the communities and see the team there. It was awesome to not just see the numbers online of the funds that we had raised, but also see the impact people were making on the ground."
Having run seven ultra marathons on seven continents, Joel wanted to help build seven schools. 
With his fundraising efforts through running being enough to construct six, money towards the seventh was raised through a fitness challenge in June involving "ordinary" people and entrepreneur and author Jesse Itzler.
That took the grand total to $192,000 – well past the target of $175,000.
Pencils of Promise has built more than 400 schools since 2009 – working with communities who are committed to their children's education. It has also trained almost 700 teachers in Guatemala and impacted the lives of 73,000 students in Laos.
Those are the successful outcomes that drove Joel on to accomplish his feat.
Of his seven epic races, what was Joel's favourite?
"Antarctica was the most surreal. It was just unlike any place that I've ever been," he said. 
"The entire time I was pinching myself to make sure it was real. It was also the longest race that I ran, so it was challenging in a few ways, but an absolutely beautiful and stunning backdrop."
Joel's toughest run came inside the Arctic Circle in Finland.
"It was my fourth in six weeks and I knew it by the time I was 30k into the race," he said. 
"On top of the fatigue, the race had no support, I had to melt snow for water, I got lost twice and when I finished the race and my right big toe had swollen a couple of shades of purple. 
"It was a tough race. But in the last mile the Northern Lights showed up and put on a little show. That made me snap back into it and realise how cool of an experience it really was."
---
More news
Take the test and discover how our Schools Hub helps students grasp the global education crisis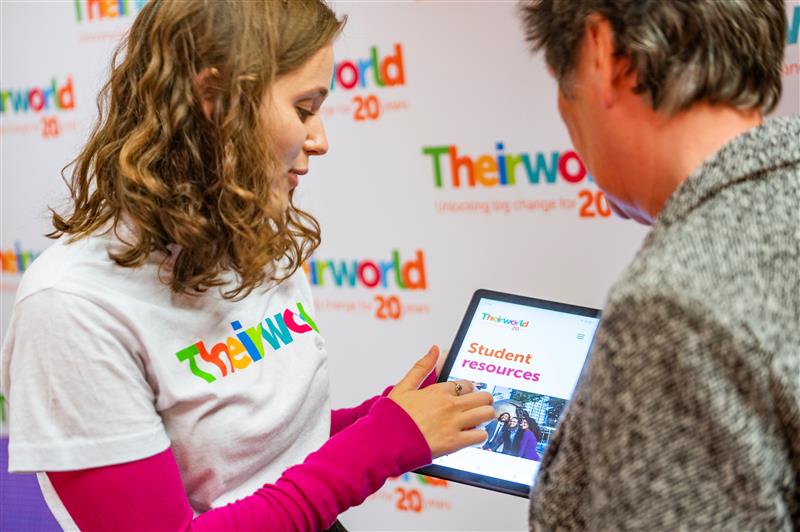 Take the test and discover how our Schools Hub helps students grasp the global education crisis
Teacher helps Harrison move from life on the street to success at school
Teacher helps Harrison move from life on the street to success at school