Kenyan centre helps child labourers off the streets and into education
Barriers to education, Child labour, Days in the childhood development calendar, Right to education, Street Children, Teachers and learning
---
To mark World Day Against Child Labour, we talk to children in the town of Thika about life on the streets and how they are being helped to get a second chance in life.
---
Street children and families have been deemed a menace in society – even being blamed for insecurity in certain areas.
Families, in an attempt to make ends meet, end up forcing their children to work to get money for food.
On World Day Against Child Labour, we look at Action for Children – a rehabilitation centre in Thika, Kiambu County, in Kenya that works to help young children and their families get off the streets and then trains them.
The centre has been in operation since 2003 and has hosted over 1200 children from birth to the age of 18, focusing on boys and their upbringing.
Purity Kagia, the centre manager, says theirs is an uphill task as rescuing, rehabilitating, training and reintegrating the children back into society has its challenges.
"Parents send children to work so that they can get money." she said. 
"However, when a child gets used to money, stopping such behaviours and changing their mindsets back to that of a child is hard and problematic."
She said the process is lengthy and includes family therapy for easier acceptance, a process not easily conducted.
"During rehabilitation, which normally takes about three years, we also rehabilitate their parents and guardians," explained Purity. 
"We visit them and sometimes help them open a business or take them through a course to empower them so that they do not fall back to poverty."
It is a calling that requires both parents and the government to work together to support the children – and Purity called on the country's leadership and partner organisations to provide needed help.
She said: "Resources to maintain this place are not easy to come by. Also something that makes it harder to rehabilitate the children is the missing parents from their lives, which is an integral part to any upbringing."
"We also experience a high turnover of staff which is normally cumbersome having to train new ones every time.
"The children here who are not lucky enough to have enrolled in school are given non-formal education, because the formal one was quite expensive for us to maintain.
"We teach them beadwork and farming as well as how to maintain personal and general cleanliness.
"We have some of our children who go to colleges and even universities and we are proud of them, even if it is just one after two years."
Purity said all the children that she hosts have experienced child labour.
"The children here say that being in the streets wasted their time and they would have done something better. They find it as slavery," she added.
Seven-year-old Paul Lokot says life in the street was tough and didn't allow him to go to school or play with his friends. So how did he get to being there?
"I came here because I never went to school," he said. "I only have a mother and once in a while I used to go to the streets to beg for money and end up sleeping outside."
He said the rehabilitation centre is the best place for him, as it is his second home and gives him a second chance at life. There the children live well and are taught how to read and write.
Paul said: "I would love to go back to school and study to become a pilot.
"In the streets you could not do anything. People used to chase us. I would sleep in the cold and sometimes even fall sick."
Moses Kamau is 17 and knows the streets all too well, as he has lived there for over 10 years.
His reason for being a street child was disagreements with his parents.
"I used to love playing a lot and my parents kept on stopping me from going out to play," he said. "One day I got tired of it and just left and they never looked for me."
But in the streets life was not easy.
"In the streets, the bigger street boys bully you, they force you to buy lunch for them, charge you street tax if you are a newcomer and in different territories."
In order to survive, Paul had to resort to child labour.
He said: "I used to wash shoes for a friend of mine who was a clothes trader and he would pay me. I also washed hats.
"At least the working helped me be responsible and be my own man."
He said being at the rehabilitation centre has saved his life. He would love to go to school and ultimately serve his country.
"I love science and English and wanted to be a neurosurgeon," he said. "But now I want to join the army because I am patriot and I don't like the terror attacks by al-Shabaab."
A 16-year-old who goes by the name Wambua said he wronged his parents and was afraid to go home. That is how he ended up in the streets.
But he loves being at the centre and, after getting an education, wants to be a welder.
He said: "In the streets getting food is very hard, you sometimes sleep cold and hungry and are harassed by the city council officers. If you don't run they will arrest you.
"Bigger boys in the streets force you to sell drugs for them, take your food and money. A bigger boy can't be given money when he begs so they snatch ours or end up robbing people."
Similar sentiments were held by 10-year-old Boniface Mutuku, who is now in nursery school.
The boy, who wants to be a pilot, said he ran away from home after his mother accused him of misusing money he had been given to buy groceries.
His experience in the streets was also a harrowing one.
He said: "I used to sniff glue to get high as I begged for money. The bigger boys would also harass me and take my money."
Joseph Waweru, 15, ran away from home after he refused to wash dishes and started to beg for money to buy food and glue to sniff. 
He is now in class 7 and loves it at the rehabilitation centre. In the streets there was no food, it was cold, he was bullied by the older boys and life was generally hard.
He would like to be a pilot after he is done with his education.
The children seem to hold the same view when it comes to what parents and the government should do to ensure children do not run away from their homes and end up in the streets.
Paul said: "Parents should warn their children that life in the streets is hard and the government should open more schools to enable children to get access to education."
According to Moses: "The government should look into the rehabilitation of street children as well as sensitising parents on child upbringing. Also if children are seen out in the streets, action should be taken against the parents." 
He also urged parents to talk to their children and not just show them the good side of life but also the harsh reality.
Wambua said parents should have an open line of communication with their children and not just punish them. They should also keep them busy and take good care of them. 
He said the government should build a big children's home for the street children.
---
More news
Take the test and discover how our Schools Hub helps students grasp the global education crisis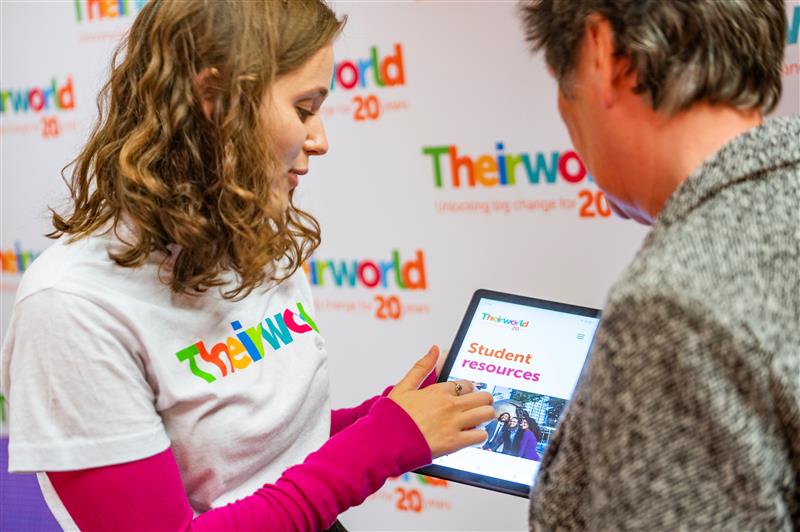 Take the test and discover how our Schools Hub helps students grasp the global education crisis
Teacher helps Harrison move from life on the street to success at school
Teacher helps Harrison move from life on the street to success at school