Mighty Maria's mission to educate a generation of slum children in Bangladesh
Barriers to education, Child labour, Child marriage, Discrimination of marginalised children, Education in emergencies, Right to education, Teachers and learning
The Portuguese founder of the Maria Cristina Foundation is helping to lift families out of poverty - and raises funds by climbing, trekking and taking part in brutal endurance tests.
---
Her goal is ambitious. To educate an entire generation from one slum community in Bangladesh.
By focusing on that, Maria Conceicao believes she can help to lift the children, their families and their descendants out of poverty and make a lasting change.
"There is no quick fix. This has to be a long-term programme," she said.
"We have shown that it is possible but it takes commitment and dedication. It takes at least 12 years of education."
The Maria Cristina Foundation – named after her adoptive mother – has helped to provide education for more than 600 children and many of their parents through its adult programmes since launching in 2005.
It currently supports 127 children and Maria is constantly finding new ways to raise the funds needed for the programmes in the Gawair slum of Bangladesh's capital Dhaka.
She is taking part in six Ironman competitions – a brutal endurance test of swimming, cycling and running – in just two months. 
She has completed the events in South Africa, United States, Taiwan and Australia and the last two will be in Brazil and Spain.
It has always been a struggle to come up with the finance needed to run the foundation.
To help raise funds over the years, she has:
Climbed Mount Kilimanjaro in Tanzania
Trekked to the North Pole
Become the first Portuguese woman to scale Mount Everest
Run seven ultra marathons on seven continents in six weeks
Finished seven marathons on seven continents in 10 days
She holds six Guinness World Records. So what drives Maria to punish her body like that?
"It is purely financial to be honest – we need money to keep the programmes going," she said. 
"Despite the challenges getting a lot of coverage we never seem to raise as much as we need. We still haven't managed to find the magic formula to raise big amounts, even though all of our donations have gone directly to the education programmes."
While working with an airline in 2005, Maria visited a Dhaka slum and hospital during a 24-hour stopover. What she saw led to her starting the foundation.
"I committed myself to help one community that I came across on that trip," she said. "The commitment is to provide a full education to a whole generation, as well as other support to facilitate that education. 
"By educating one generation we have a chance to lift not only that generation, but all future generations for those families, out of poverty."
The programme places children from Gawair into two private schools.
Maria explained: "The public school systems don't give them the boost they need in society to break the poverty cycle.
It took a long time to educate the parents on the benefits for education for their children. They just didn't see the point before but now they are desperate for their kids to go to school. Maria Conceicao, founder of the Maria Cristina Foundation
"They need to be able to compete for university places or internships for respectable jobs. Public schools would only give themselves access to basic, low-paid work and a life living on the poverty line.
"The fees are competitive and the schools have to keep the quality high to attract fee-paying students."
Maria, who lives in Dubai, said the Gawair families couldn't even afford to send their children to public schools.
"They are just too poor, even for a public education," she said. "They need money to register, for exams, stationary etc. 
"Also, poor families need income to survive and often the parents are not fit to work and so the children have to work at a very young age to support the families. 
"The girls are often married off as very young teenagers for the parents to get rid of the financial burden and to pay a lower dowry – then their much older husbands won't allow them to go to school.
"It took a long time to educate the parents on the benefits for education for their children. They just didn't see the point before but now they are desperate for their kids to go to school."
Maria's work has seen her receive several awards, including the European Union Woman Innovators Award, Emirates Woman of the Year 2009, Inspiring Change Award 2014.GQ Woman of the Year Portugal 2015.  
Some of her students have gone on to attend university on scholarships – mostly in Dhaka but also in Dubai and the US.
She said: "Some of the children who were older when we started helping them – and even some adults who we trained in English and job skills – have good jobs now, including several working in Dubai for Emirates Airlines."
The foundation has a volunteer programme and encourages its supporters to visit Dhaka to see how their donations are spent.
"We have had all types of people and professions volunteering," said Maria. "We prefer to encourage people with specific education or health-related skills who can go to Dhaka with a specific objective in mind.
"But we have also had people visit just for a general help, to improve our admin, make records of family details and create photo and video stories.
"If you sponsor one of our children, you are free to visit them in Dhaka to see how they live and visit the school.
"Only a very few sponsors manage to do this – but those who do really see how much of a difference they are making and all end up sponsoring even more children or families."
---
More news
Take the test and discover how our Schools Hub helps students grasp the global education crisis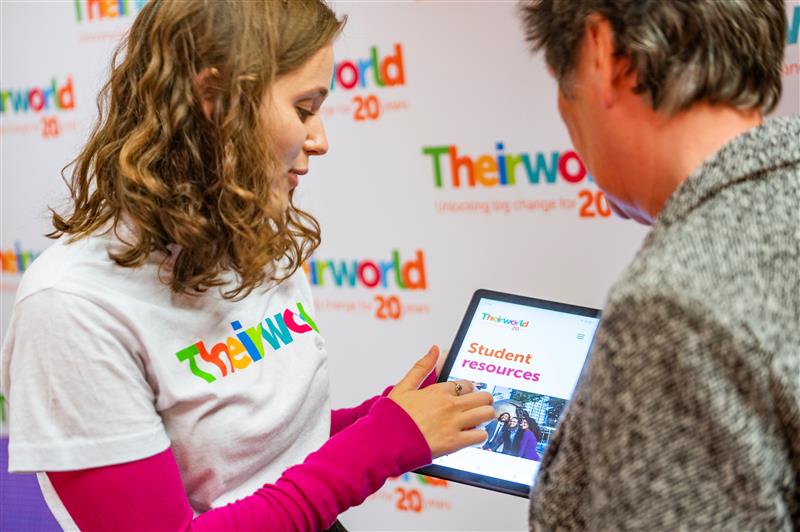 Take the test and discover how our Schools Hub helps students grasp the global education crisis
Teacher helps Harrison move from life on the street to success at school
Teacher helps Harrison move from life on the street to success at school