Theirworld project to help refugee children deal with trauma wins global education award
Refugees and internally displaced people, Teachers and learning
---
The fantastic work of the Trauma Informed Schools programme in Turkey has been recognised by the 2021 WISE Awards.
---
When conflicts and disasters force families to flee their homes and their countries, the impact on children can be devastating.  
Many experience severe trauma such as violence and the loss of friends and relatives. Their education is disrupted and they are thrown into a new life in a new country, with discrimination and language barriers to overcome.  
All this can have a huge effect on their behaviour and their ability to do well at school. Spotting the signs and giving them the support and safe space they need is vital. 
One programme that does fantastic work with Syrian refugees in Turkish public schools is Trauma Informed Schools, run by Maya Vakfı (Foundation) and supported by Theirworld. It trains teachers, school counsellors, parents and caregivers to detect children's psychological issues and help them by developing coping skills and creating a stable and supportive environment. 
We're thrilled that Trauma Informed Schools has been named as a winner of the 2021 WISE Awards, which recognises successful and innovative global education projects and comes with a $20,000 prize. 
Theirworld began supporting Trauma Informed Schools in 2017. Since then, the programme has grown – reaching 12,649 children, 2,740 teachers and 706 caregivers in Istanbul and Sanliurfa provinces. There are plans to expand the project throughout Turkey and into Jordan and Lebanon. 
"We are delighted that our project partner Maya Vakfı (Foundation) has been recognised for the brilliant work they do supporting child refugees," said Rob Doble, Theirworld's Director of Policy, Advocacy and Programmes. "Thanks to their hard work and commitment, some of the world's most vulnerable children are learning to cope with the horror of being forcibly displaced from their homes." 
Esra Özsüer, Founder and President of the foundation, was absolutely delighted that it was selected as one of the six winners of this year's WISE Awards.  
She said: "It is an honour for us. This award motivates us to further disseminate our Trauma Informed Schools programme to promote socio-emotional wellbeing of students and achieve e-quality education. We're very grateful to Theirworld for their support."  
Istanbul-based Maya Vakfı (Foundation) launched Trauma Informed Schools with Theirworld's support as a pilot project in four public schools in the 2017-18 academic year. There was a growing need because Turkey is home to four million refugees, most of them from Syria. In 2017, Syrian children began to transition from temporary education centres into Turkish public schools 
The Trauma Informed Schools programme is run with the education ministry in schools and temporary education centres. 
Maya Vakfı (Foundation) explained: "Teachers, counsellors and parents develop skills to support the socio-emotional wellbeing of children through a trauma-sensitive approach. Arts-based psychosocial sessions in target classrooms help students develop coping skills, improving psychosocial wellbeing and reducing bullying – creating a stable and understanding environment for all." 
When Turkish schools closed during the pandemic, Theirworld funded an additional project to allow Maya Vakfı (Foundation) to distribute specially-designed support kits with art materials to vulnerable students. It also produced a storytelling video to support children forced to stay at home, featuring a wise owl called Ugi who helps a young boy deal with his lockdown fears and emotions. 
Theirworld's work with Maya Vakfı (Foundation) has been made possible with funding from the players of People's Postcode Lottery.  
What Turkish teachers say about the programme
"The kids are enjoying it a lot. They learn when they enjoy. It contributes a lot to the cognitive development of children and that it contributes a lot to their sensory development. The activities of Maya Vakfı are really so highly selected, with very careful, qualified activities."   
"You're not alone. Sometimes we think that we are the only one who is struggling with that problem but it is not true. In fact, everyone has this problem. This is something like a starfish that was washed ashore – even if I save this one starfish, it is an achievement." 
"My awareness has definitely increased. I knew some of the expected behaviours and their reasons but still I was not able to fully comprehend it. You know, it was clearer in my head now. Like there was cloudy foggy weather and now it is cleared up." 
From Trauma Informed Schools report 2019 .
---
More news
Take the test and discover how our Schools Hub helps students grasp the global education crisis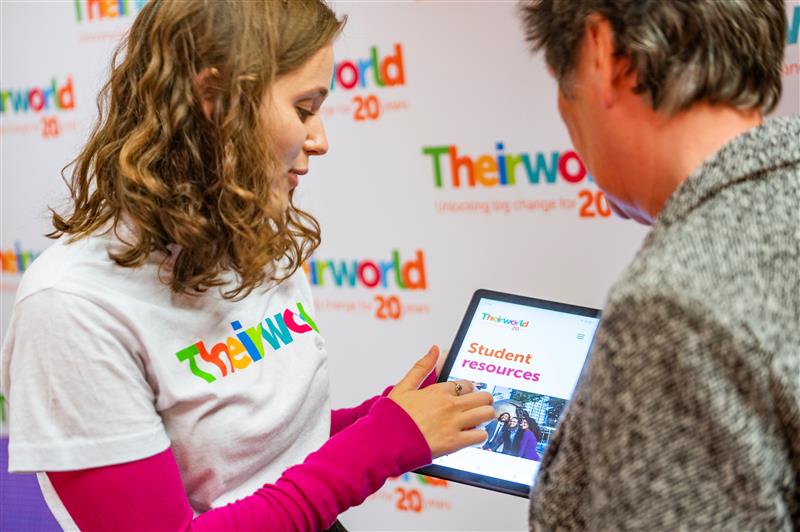 Take the test and discover how our Schools Hub helps students grasp the global education crisis
Teacher helps Harrison move from life on the street to success at school
Teacher helps Harrison move from life on the street to success at school