Generosity at Ramadan helps millions of vulnerable children around the world
Children in conflicts, Children's welfare after natural disasters, Education in emergencies, Refugees and internally displaced people, Right to education, Teachers and learning
As Muslims mark the start of the holy month today, charities and relief organisations are ensuring their generosity makes a difference to those living in poverty and emergencies.
---
For 1.6 billion Muslims around the world, the holy month of Ramadan begins today. It is a time to fast, pray, reflect and do charitable acts.
Millions of people benefit from the generosity of Muslims at this time of year – including some of the most vulnerable children affected by poverty, conflict and disaster.
British 2.8 million Muslims gave £100 million ($130 million) to charitable causes during Ramadan last year – that's about £38 per second. Much of that money went to helping children around the world into education.
In Dubai, 3000 volunteers will assemble 50,000 school kits to be distributed to Syrian refugee children in Jordan. The film below shows a similar event last year.
The philanthropic organisation Dubai Cares is holding the Back to School edition of Volunteer Emirates during Ramadan from June 17 to 22. Get more information here.
Dubai Cares helps millions of children in 39 countries to access quality primary education. Among its projects are building and renovating schools, providing school meals, childhood education and teacher training.
At the launch of its Ramadan 2017 campaign, Dubai Minister of State Reem Al Hashemi said:  "In the UAE, education has been made the number one priority. You all know how powerful our leadership is on education. We're trying to do that in other parts of the world. The power of partnership is unbreakable."
At the British relief and development agency Muslim Aid, Ramadan accounts for about 50% to 60% of its annual income from individual donations, according to fundraising chief Basit Khan.
"We're targeting £7 million this year from UK donors," he told Theirworld. "More than half of our income at this time of year is Zakat (an annual compulsory payment for charity). But people also give extra donations on top of that."
Muslim Aid operates in more than 70 countries and responds to emergencies. But it also works on strategic programmes to eliminate poverty – with one of the focuses being education. It helped almost two million people with their education last year.
"We are providing children with education, as well as paying for books and school fees," said Basit. "We also provide families with support in terms of food, which will allow their children to go to school rather than have to work."
This year, the focus of Muslim Aid's Ramadan campaign is the people who give. There are four adverts showing people of different ages who are typical of those giving to Muslim Aid.
"The heart of the organisation is the donor," said Basit. "We are a means of the donor to give to the beneficiary. We are trying something different this year that we hope will grow."
Muslim Aid is also holding a series of Sunset Walks on Saturday, June 10, with people of all or no faiths. The walks will include Birmingham, Manchester and London, which will start at St Paul's Cathedral at 7.30pm and finish at the East London Mosque at dusk.
Since 1984, Islamic Relief has saved and changed over 100 million lives. It has offices in more than 40 countries – carrying out disaster relief, as well as sustainable development work such as education.
Last year, the British-based charity received an amazing £10.2 million in donations during Ramadan. This allowed them to help thousands of families around the world and to reach the milestone of supporting 50,000 orphans.
Islamic Relief said: "During the blessed month of Ramadan, our fast serves as a reminder of the hardships that millions of people living in poverty endure daily.
"Right now we are on the ground in more than 40 countries around the world, ready to assist the most vulnerable people."
Its current appeals include Syria, East Africa and Yemen, where emergencies have left millions of children are out of school and at risk of child labour, child marriage, abuse and exploitation.
Ramadan facts
Ramadan 2017 begins on Friday, May 26 and ends on Saturday, June 24.
Ramadan is the ninth month in the Islamic calendar, which operates on a lunar system.
Zakat is one of the five pillars of Islam. Muslims whose savings meet or exceed certain values are obliged to give 2.5% of their annual savings to the poor and needy and for the welfare of the Muslim community. 
Sadaqah is voluntary. It can be given to anyone at any time and be any value. It can include food, clothing or other gifts.
---
More news
Take the test and discover how our Schools Hub helps students grasp the global education crisis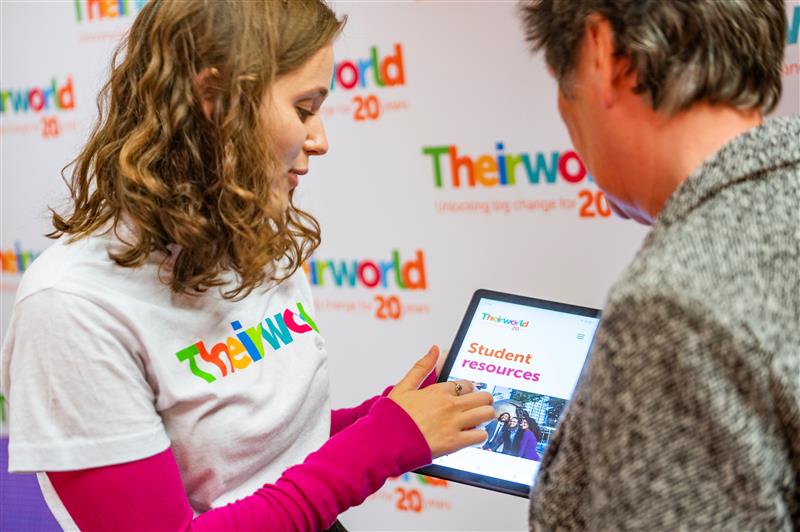 Take the test and discover how our Schools Hub helps students grasp the global education crisis
Teacher helps Harrison move from life on the street to success at school
Teacher helps Harrison move from life on the street to success at school