"We shared the power of stories with children at orphanage in Cameroon"
Right to education, Teachers and learning
---
A Global Youth Ambassador tells how an event helped to promote every child's right to literacy and education. 
---
World Vision on Education and Development (WVED) joined other partners from around the world to celebrate World Read Aloud Day in February at the Garden of Education and Healing orphanage in Bamendakwe, Bamenda, Cameroon. 
The celebration was focused on one of LitWorld's seven strengths  – curiosity – under the theme of "Readers Lead".
World Read Aloud Day is an initiative of LitWorld which is celebrated every year in February. It is our belief that everyone in the world should be able to read and write. 
During World Read Aloud Day people from around the globe read aloud together and share stories to advocate that literacy is a human right which belongs to all people. 
This was done by reading aloud and taking action on behalf of the 750 million people worldwide who lack basic reading and writing skills.  We believe in the power of stories and the right of every child to literacy.
This is why we wanted to share this moment with the children from the orphanage. With about 175 participants, the event was full of different activities including reading aloud, drama, raising awareness on the importance of reading aloud, and poetry.
LitClub members presented storybooks as a gift to be put in the library of the Garden of Education and Healing for the children to assist in reading, listening and writing. LitClub members made new friends and presented personal gifts to children from the orphanage.
This event was evidence for us that the LitWorld's seven strengths (belonging, curiosity, kindness, friendship, courage, hope and confidence) – which we believe are basic strengths children need to be resilient – have been embraced.
At the end of the programme, World Read Aloud Day certificates were presented to all of the participants of the celebration. Sanitary pads were also given to girls to help them manage their periods.
In her closing remarks, Sister Anne, one of the administrators of the orphanage, expressed her gratitude for hosting the World Read Aloud Day 2018 and emphasised the need for education for the orphanage children. 
She also mentioned that their doors are open to any programmes geared towards promoting education, as education is one of their main pillars. She ended by encouraging the girls to continue in their kind gestures and to be the voices of the less privileged.
We expressed our gratitude to LitWorld and Global GLOW for making this possible. I challenge my fellow GYAs to do a read aloud with someone or to join us next year in February to celebrate World Read Aloud Day.
---
More news
Take the test and discover how our Schools Hub helps students grasp the global education crisis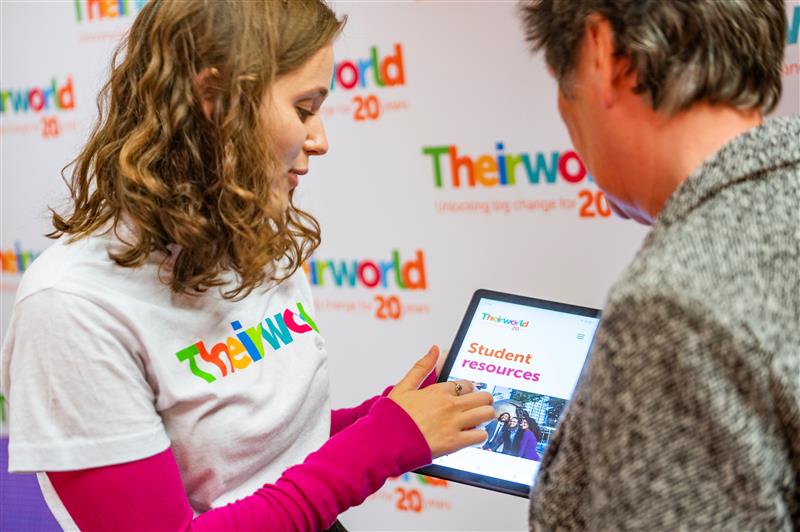 Take the test and discover how our Schools Hub helps students grasp the global education crisis
Teacher helps Harrison move from life on the street to success at school
Teacher helps Harrison move from life on the street to success at school