88,000 Rohingya refugees and host community children to get education aid
Children in conflicts, Education Cannot Wait, Education in emergencies, Refugees and internally displaced people, Teachers and learning
---
A $12m funding package from Education Cannot Wait will assist UN agencies to ensure a common vision for providing quality learning.
---
More than 88,000 Rohingya refugees and children from their host community in Bangladesh are to get education aid thanks to a major funding package.
Education Cannot Wait – a fund to provide education in emergencies – announced a $12 million response to the Rohingya refugee crisis.
"This funding builds on the first emergency investment made by Education Cannot Wait (ECW) during the initial months of the Rohingya arrivals in 2017," said Director Yasmine Sherif.  
"We will not give up on these children and youth now, as they start to recover from the painful experiences in the recent past. On the contrary, now is the time to sustain and expand their access to education, which also means to continue providing a healing and protective environment."
Here's our quick explainer of Education Cannot Wait, why education in emergencies is crucial and what the funding means for Rohingya refugees.
What is Education Cannot Wait?
Every year, conflicts and natural disasters lead to about 75 million children and adolescents of school age being out of school, needing support or in danger of missing out on education. But only 2% of all humanitarian funding goes to education.
Theirworld and others campaigned for a fund to be launched to help deliver education in emergency situations. In 2016, the ECW fund was set up by international humanitarian and development aid organisations.
In its first year of operation – up to July of this year – it reached over 650,000 children in 14 crisis-affected countries.
Why do children need education in emergencies?
Children affected by conflicts and disasters are often forced out of school and many have to leave their homes. That leaves them vulnerable to violence, child labour, early marriage, exploitation and recruitment by armed groups.
They are deprived of their right to education and miss out on being in safe spaces, learning and playing with their peers. Many drop out of education for ever and will never get the chance to fulfil their potential.
Who are the Rohingya refugees?
After violence broke out last year in Rakhine state, Myanmar, over 600,000 ethnic Rohingya people fled to neighbouring Bangladesh.
About 60% of those who ended up in refugee camps in and around the city of Cox's Bazaar are children. 
Aid agencies set up informal learning centres for children aged three to 14 – but older children have been left out and there are no formal schools for Rohingya refugees.
So what does the Education Cannot Wait investment mean?
The fund is allocating $12 million to support 88,500 refugee and host community children and adolescents. The money will go to United Nations agencies UNICEF, UNESCO and UNHCR to ensure a common vision for education and continued access to quality learning.
It's a multi-year grant that means 2000 teachers will benefit from professional development programmes to ensure quality education that can sustain and save lives by providing safe learning environments and psychosocial support for children and youth.  
"ECW's support will enable us to enhance the quality of the education delivered," said Beatrice Kaldun, UNESCO Representative in Bangladesh. "We can expand the network of our reach to close the gap on the Rohingya children and youth we are currently unable to reach in the refugee camps."
So several agencies are working together on this?
Yes – as well as the Bangladeshi government and international donors. To put it into perspective, here's Justin van Fleet – Director of the global Education Commission – with his take on it.
The ECW announcement also comes after the World Bank announced a funding package last week to help 350,000 Rohingya refugee children and teenagers to get a basic education in Bangladesh.
2000 teachers and instructors will also be hired as part of that $25 million allocation.
But what does it really mean for the Rohingya children?
"We are dealing with a refugee population which has been denied the right to education for a very long time," said Edouard Beigbeder, UNICEF Representative in Bangladesh.
"Over the past year, we have witnessed incredible changes in the children attending classes in the refugee camps. Children who were quiet and reserved have grown in confidence, they have learned new skills in a safe, protective environment and achieved a sense of normality."
Amin, an eight-year-old Rohingya boy, was asked about going to his learning centre. He said: "Diley shanti pai – I feel peace in my soul."
The teacher programme will focus on training female teachers and meeting the specific needs of girls and boys and of children and adolescents with disabilities. This includes measures to prevent and address gender-based violence.
And the host community aren't being forgotten about?
Absolutely not. For Bangladeshi children in the region, the emphasis will be on strengthening education systems to improve quality in public schools. 
Cox's Bazar has one of the highest rates in the country of primary and secondary age children out of school. The ECW grant will invest in strengthening access to education, retention of students and increasing performance levels.
---
More news
Take the test and discover how our Schools Hub helps students grasp the global education crisis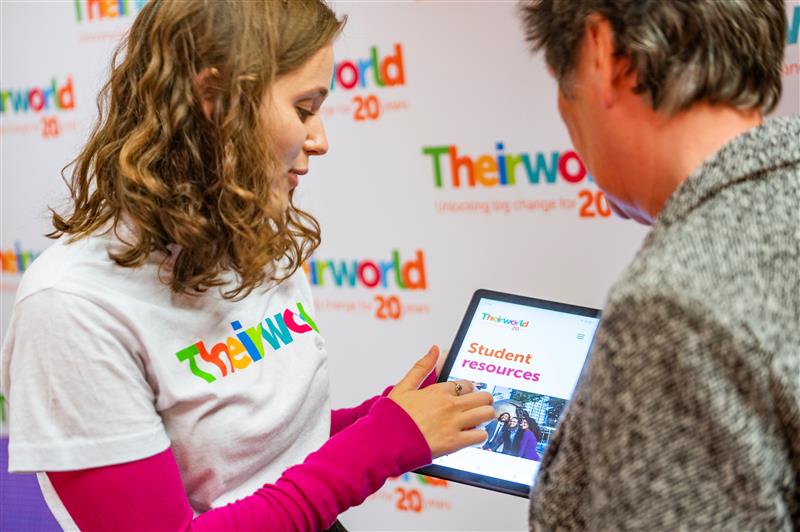 Take the test and discover how our Schools Hub helps students grasp the global education crisis
Teacher helps Harrison move from life on the street to success at school
Teacher helps Harrison move from life on the street to success at school