Secondary schools must teach more practical skills says UNICEF chief
Teachers and learning, Technology and education
---
Henrietta Fore believes students should be given relevant knowledge for their future employment - from planting crops to digital technology.
---
By the year 2030, half of the world's young people will not have the basic skills they need to get a job. 
So simply getting children into school and giving them a traditional education isn't going to be enough. Helping them to learn the skills they need for the jobs of the future is going to be crucial.
The Youth Skills and Innovation Initiative, launched last year by Intel Corporation and the Global Business Coalition for Education, is already working towards that goal. 
It brings together youth, industry leaders and experts to create solutions and take action to support the development of new basic skills needed by the next generation of innovators, makers and entrepreneurs. 
The new head of UNICEF is also thinking along the same lines. Henrietta Fore, executive director of the United Nations children's agency, believes secondary schools should be teaching more practical skills and digital knowledge to prepare teenagers for the future.
"We're re-looking at secondary education because we don't think we've gotten it right," said Fore, who took over the role last month.
"If we think of school – both in a classroom as well as out of a classroom – it means that you can teach curriculums that are useful in the students' neighbourhood."
Fore said adolescents in rural areas might need to be taught how to plant and irrigate crops. In urban settings, digital skills might be more useful.
She gave her views on the sidelines of the Global Partnership for Education's financing conference in Senegal last week.
Africa is the continent with the youngest population – about a third of people are aged between 10 and 24. But fewer than half of secondary school-age youth are enrolled in many countries.
"Most young Africans now have the chance at primary school education, which has been a big change in the last decade," said Fore. "But we really need livelihoods training."
Integrating digital learning into education – such as using radio to give children lessons in conflict-hit areas where they cannot access traditional schools – should be a priority, she said, as well as teaching mathematics and science.
"We've been finding that technology, no matter how basic, is useful," she said.
Theirworld has been making digital skills a priority through our Code Clubs in African countries. Our latest Code Clubs in Nairobi, Kenya, will teach girls how to build a computer, make games and artworks, and express themselves with code.
Code Clubs are designed as a low-cost, sustainable and scalable programme where girls from six to 25 can learn to code, foster creative thinking and increase important knowledge and skills for the future, all in a supportive educational environment.
Our first clubs were launched in Uganda and Kenya in March 2016, followed by Nigeria and Tanzania in October 2016. In 2017, we launched six more Code Clubs in three different regions of Tanzania, and expanded them to Lebanon, where we work with girls from vulnerable refugee populations, including Syrian and Palestinian. 
Our Code Clubs are part of Theirworld's efforts to create safe spaces for girls to learn and continue their education. This work is kindly supported by the players of the People's Postcode Lottery. 
---
More news
Take the test and discover how our Schools Hub helps students grasp the global education crisis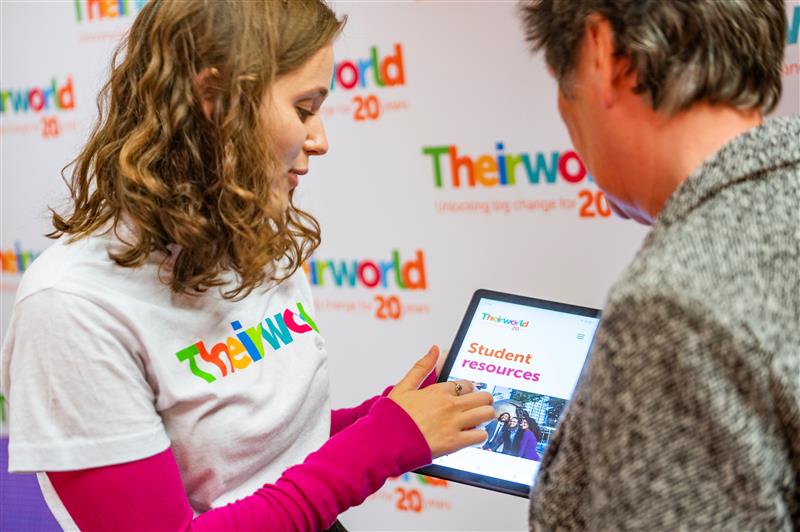 Take the test and discover how our Schools Hub helps students grasp the global education crisis
Teacher helps Harrison move from life on the street to success at school
Teacher helps Harrison move from life on the street to success at school