Three in four children out of school and a teaching crisis in South Sudan
Barriers to education, Child soldiers, Children in conflicts, Education in emergencies, Teachers and learning
---
Half of the war-torn country's schools are shut and families are having to choose between feeding their children and ensuring they get an education.
---
Some of South Sudan's 6000 schools opened for a new academic year last month – but the government does not know how many.
Teachers have not been paid. Many of them, and their pupils, are on the run after four years of fighting. In the capital, classrooms are filled with hungry displaced families.
The United Nations children's agency UNICEF estimated in December that three-quarters of children are out of school, threatening to create a second "lost generation" of uneducated adults in a country in danger of becoming a failed state.
Some are the children of the original "lost boys" – the nickname for the generation that survived South Sudan's 22-year liberation war from Sudan only to be caught up in a new conflict two years after it won independence in 2011.
Men like Lawrence Samuel had hoped for food, peace and education for his own children. But the civil war shattered those dreams. He could not pay for any of his children to finish school. Most of his neighbours cannot even pay for food.
"If you ask a child in primary school questions he will not answer you because his mind is very far away, thinking of food," he said.
Last year only half of schools opened, said Education Minister Deng Deng Hoc, whose officials are still trying to gauge how many are open now, four weeks into the new term.
Tens of thousands of people have died and 4.5 million people have fled their homes since clashes between troops loyal to President Salva Kiir and former vice president Riek Machar broke out in the oil-rich new country in 2013.
Almost three-quarters of the adult population is illiterate, one of the highest rates in the world, according to the UN Educational, Scientific and Cultural Organization (UNESCO).
The latest attempt to end the conflict, a ceasefire signed in December, was violated within hours.
Many schools are deserted in abandoned towns and villages around the country. Nearly 19,000 children have been recruited by armed groups, the UN said, although several hundred were released last month. But militias easily lure children by offering them food and protection.
Last week the UN said more than seven million people – nearly two-thirds of the population – would have problems finding food this year. Parts of the country are experiencing shortages close to last year's famine.
I decided to teach because I loved helping my country - but after two years, it was impossible to take care of my family. Former teacher Garang Mabior Deng
If they are lucky, mothers might be able to choose between feeding their children and sending them to school.
Two of Salaw Adam's five children were in school last year. She won't be sending any this year, she said, after school fees doubled from 1000 to 2000 South Sudanese pounds per term, equivalent to $9 on the black market this week.
"Of course, missing school will affect them," she said quietly, wringing her hands. "But what can I do?"
Fighting forced oil companies to shut down most of the country's production, slashing government revenues. 
Education ministry director general Daniel Swaka Ngwanki said salaries for the last three months of the previous academic term, which ended in December, have not been paid.
The government allocated 3% of its 2017-18 budget to education. More than 50% went to security and administration, including President Kiir's office. Neighbouring Kenya spent 7.3% of its national budget on education this year.
Ateny Wek Ateny, Kiir's spokesman, said the presidency needed a large budget because cash-strapped ministers were constantly asking for bailouts.
"When other departments are supposed to spend and they couldn't find any (money) … they will come to the office of the president to ask for intervention," he said.
Even if teachers' salaries had been paid, Ngwanki said, rampant inflation means a teachers' monthly salary of 1500 South Sudanese pounds won't even buy a bag of cooking charcoal.
"Many teachers have deserted the profession," he said. The UN estimates around a third of teachers have left their posts.
Former teacher Garang Mabior Deng is among those. He quit in February and left to work at a private company offering him twice his teaching salary.
He said: "I decided to teach because I loved helping my country – but after two years, it was impossible to take care of my family."
One of those desperate to continue his education is 10-year-old Ladu, who was in his fourth year of primary school when administrators kicked him out because he did not have proper clothes, he said.
"I would like to go back if I could get the uniform and shoes," he said, as he crouched barefoot at an outdoor restaurant in Juba. For today, the most he can hope for is scraps from a sympathetic diner's plate. 
---
More news
Take the test and discover how our Schools Hub helps students grasp the global education crisis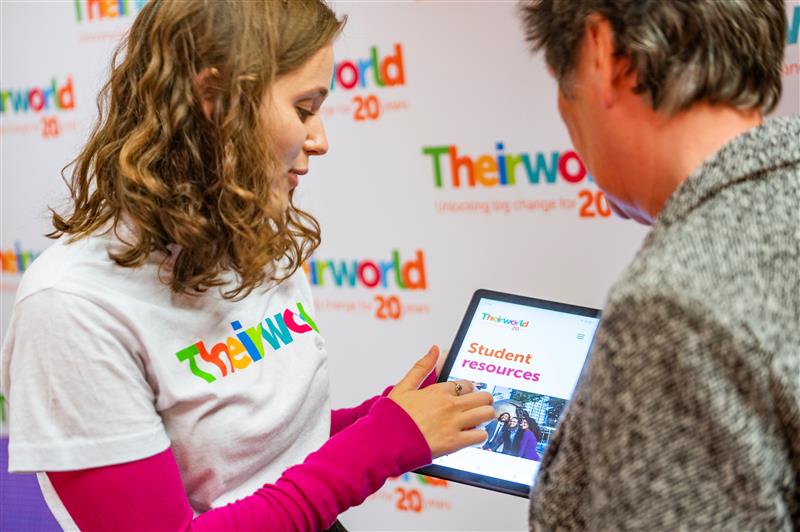 Take the test and discover how our Schools Hub helps students grasp the global education crisis
Teacher helps Harrison move from life on the street to success at school
Teacher helps Harrison move from life on the street to success at school