Education in Syria: battling against school attacks, lost teachers and book shortages
Barriers to education, Children in conflicts, Education Cannot Wait, Education funding, Education in emergencies, Refugees and internally displaced people, Safe schools, Safe Schools Declaration, Teachers and learning
---
A UNICEF Syria education specialist tells of the agency's efforts to repair damaged classrooms and get as many children into school as possible.
---
Nearly 200 schools in Syria reopened during the first half of 2017 – allowing thousands of children to return to education in the war-torn nation.
But 1.75 million children remain out of school and the education sector has lost 150,000 personnel, which has drastically affected the quality of schooling.
The United Nations children's agency UNICEF said the situation over textbooks and stationery is "dire" – with many schools reporting severe shortages of teaching materials.
Tomoya Sonoda, a UNICEF Syria Education Specialist, told Theirworld in an in-depth interview that the improvement of school infrastructure is a main part of the humanitarian response to the crisis, with the aim of restoring education across the country.   
But because attacks on schools continue in the six-year conflict, the reconstruction of damaged buildings is not currently feasible given the "high probability" they may be targeted and damaged again.  
Sonoda explained the main focus has been on the "light rehabilitation" of damaged schools and the provision of prefabricated classrooms to address the problem of overcrowded schools.
"Many schools in Syria are forced to absorb a large number of children who were internally displaced due to the war," Sonodo said.
"UNICEF as the lead education partner in Syria aids the rehabilitation of schools. For example, in 2016 in Aleppo city UNICEF supported the rehabilitation of 25 schools, allowing 20,700 children to continue their learning, and we provided 96 prefabricated classrooms accommodating about 8400 children."
In Homs governorate, UNICEF supported the rehabilitation of 78 schools during the same period to help 30,000 children. There were also 18 prefabricated classrooms built for around 1400 children.
Between January and May in 2017, 184 schools in total were rehabilitated and 119 prefabricated classrooms made to allow additional space for learning.
Analysis from UNICEF shows that 1.75 million children – aged from five to 17 – were out of school in 2016, down from 2.1 million in 2015.
There are a total of 6.3 million internally displaced Syrians as well as more than five million refugees in neighbouring countries, according to new figures this week from the UN refugees agency UNHCR.
It said 450,000 internally displaced people returned to their homes between January and May.
UN agencies, NGOs and the Ministry of Education in Syria have prioritised the provision of learning opportunities to the most vulnerable, including out-of-school children.
Sonoda said: "In areas where schools are not functioning, UNICEF and partners have designed and provided a range of learning opportunities, such as accelerated curriculum to help children catch up on years of missed education, remedial classes and self-learning programme.
"These programmes have already been rolled out in most parts of Syria including in Aleppo and Homs where the needs are high.  
"The innovative learning opportunities aim to help children, particularly the most vulnerable, to keep learning amidst the conflict. Such education programmes serve as a pathway to reintegrate children into the formal education system."
But there are "dire" problems with staffing, with the education sector having lost 150,000 personnel. In Aleppo, for example, the number of school teachers for the academic year 2015/16 had dropped by 68% compared to 2010/11.
Idlib witnessed a decrease of 57% which is impacting the teacher-pupil ratio in schools. This, in turn, drastically affects the quality of education.   
The need for textbooks and stationery is urgent. Children in most areas must share a textbook while others have to reuse second-hand textbooks from upper-grade levels.
Given the dynamic and complex situation and depending on locations and schools, each governorate can have a mix of both overcrowded and under-utilised schools. Tomoya Sonoda, UNICEF Syria Education Specialist
Sonodo said humanitarian access in Idlib remains restricted due to ongoing conflict but some education aid is provided through cross-border operations.
"This means that the number of education NGOs is also limited, thereby delaying the progress of school infrastructure support and assistance," he said.
"Meanwhile, some functioning schools in Idlib operate in double shift (morning and afternoon classes) in order to accommodate as many children as possible.
"We know that some schools in Syria have low enrolment rates due to displacement and lack of education facilities, amongst others.
"Given the dynamic and complex situation and depending on locations and schools, each governorate can have a mix of both overcrowded and under-utilised schools."
Regarding aid generally, UNICEF said education is underfunded, limiting the scale of the humanitarian response. As of July 2017, the sector had received only $64.7 million – 42% of the total requirement of $155.6 million.  
Overall, one in three schools in Syria have been damaged, destroyed or used as a shelter.
Sonodo said: "We have received anecdotal evidence showing that some schools are used for military purposes in some areas but we do not have verified information including figures and details."
UNICEF's main focus has been to advance three aims – scaling up equitable access to education; enhancing the quality of education services; and strengthening education systems.
Special attention has been paid to expanding education response to children in hard-to-reach and besieged areas, as well as out-of-school children.
Sonodo said: "For quality education, UNICEF accelerates its efforts to promote teacher professional development in coordination with the Ministry of Education and NGOs. School principals and teachers are equipped with practical knowledge and skills of teaching pedagogy and creating a child-friendly learning environment.
"UNICEF is also supporting the education system in strengthening information management system including data collection and analysis for evidence based planning, and capacity development of the sector partners."
A recent report from the World Bank said many schools have become military bases and targets during the conflict.
The report titled The Toll of War said: "Vocational institutes, secondary schools, and education offices were the highest targeted education institutions."
It said Aleppo has suffered the most damage with 49 education facilities destroyed.
It added: "Da'ra follows this with 21 education facilities destroyed, and Raqqa and Tadmur with seven facilities destroyed. Other governorates such as Kobani, Homs, Douma, and Daya Az-Zawr, have witnessed five or fewer facilities fully damaged, while Hama and Idlib had no education facilities that were fully destroyed.
"An estimated 57% of education facilities are still functioning in Syria. Many schools have limited access to electricity and water and sanitation facilities."
---
More news
Take the test and discover how our Schools Hub helps students grasp the global education crisis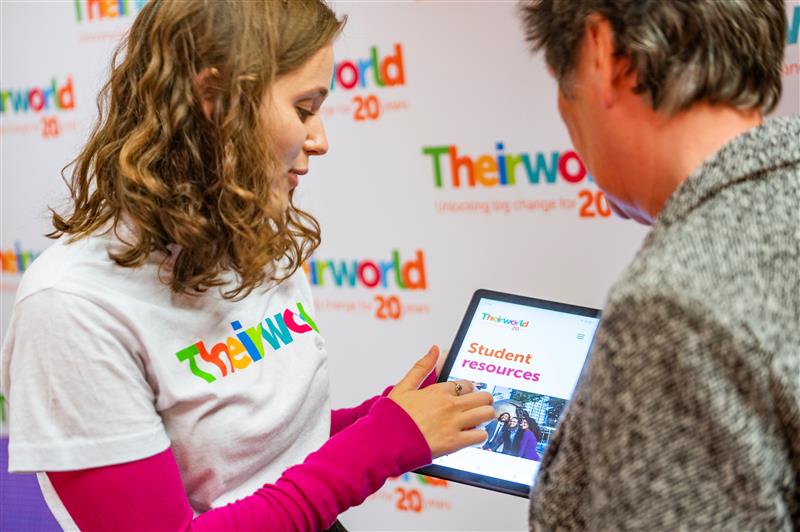 Take the test and discover how our Schools Hub helps students grasp the global education crisis
Teacher helps Harrison move from life on the street to success at school
Teacher helps Harrison move from life on the street to success at school