Corporal punishment outcry as boy dies in Tanzanian school
Teachers and learning
---
A national debate has been sparked after the death of a 13-year-old allegedly beaten by his teacher.
---
The recent death of a Tanzanian teenager who, family members allege, was accused of stealing and beaten to death by his teacher has revived the debate on corporal punishment in schools.
Sperius Eradius, a 13-year-old primary school pupil died on August 27 in the northern Kagera province, a few days after being beaten by a school teacher who accused him of stealing another teacher's handbag.
In protest the boy's parents refused to bury their son until authorities arrested the teacher and suspended the school principal.
The child's death has triggered an uproar. The Tanzania Media Women's Association (TAMWA), a prominent civil society organisation, condemned "this cruel and inhumane act" adding that it hoped "beatings and murders at school will not be repeated".
The group mentioned another case in 2016, in which a girl was forced to remove her underwear before being caned by four teachers in succession. The girl's alleged crime was serial absenteeism.
Severe sanctions should be imposed on teachers who commit criminal acts against students, to serve as an example. Tanzania's Legal and Human Rights Centre
Corporal punishment is allowed under a 1979 law but with restrictions.
Blows may only be administered by principals, must be focused on the hands or buttocks with the use of a light and flexible rod and may only be dealt out in a "reasonable" manner in the case of serious offences.
"The school is supposed to be a very safe place for students to enjoy their fundamental right to education," said Tanzania's Legal and Human Rights Centre (LHRC), calling on the government to review the school punishments regime.
Ummy Mwalimu, Tanzania's minister in charge of "health, community development, gender, senior and children", said she was "shocked" by the news of the boy's death and ordered an investigation.
"Violence against children is unacceptable," she said.
In a report last year Human Rights Watch (HRW) said, "Widespread corporal punishment… often takes brutal and humiliating forms in Tanzanian schools," and called on the government to ban the beatings.
Theirworld report on safe schools
Theirworld published a report last year called Safe Schools: An Education Free from Violence. Among the subjects it examined was violence against children at school, including corporal punishment.
We said:
A third of countries still permit corporal punishment in schools. Children living in 73 countries lack full legal protection from this form of violence, including the United States of America and Australia.
Globally 732 million children between the ages of six and 17 live in countries where corporal punishment at school is not fully prohibited. That is half of all school-aged children.
Bringing an end to corporal punishment would be one way to end the risk of children facing violence that is legal at the hands of their teachers. 
---
Safe Schools: An Education Free from Violence (August 2017)
Safe Schools: An Education Free from Violence (August 2017)
---
More news
Take the test and discover how our Schools Hub helps students grasp the global education crisis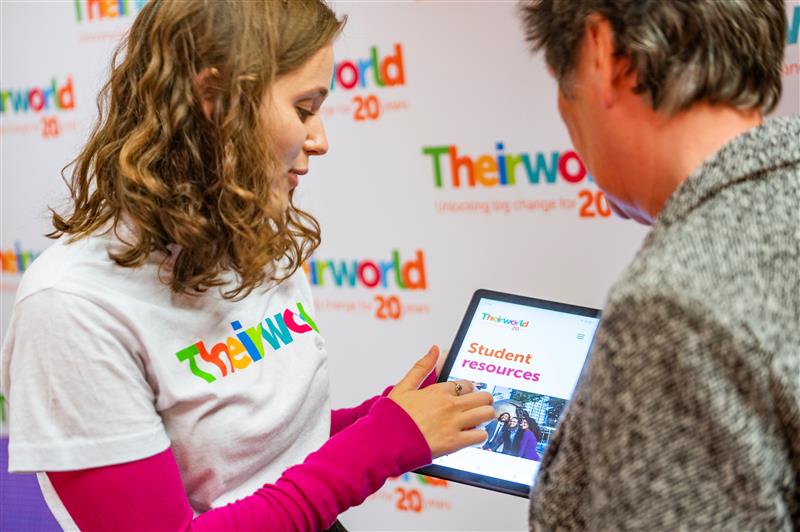 Take the test and discover how our Schools Hub helps students grasp the global education crisis
Teacher helps Harrison move from life on the street to success at school
Teacher helps Harrison move from life on the street to success at school