Teachers' strike leaves 540,000 West Bank children at home for weeks
A teacher in a class at a UN-run school in the West Bank
For a month, more than 25,000 teachers in the West Bank have been on strike over pay and benefits – causing chaos for schools, pupils and parents, and prompting the Palestinian Authority to deploy military police on the streets of Ramallah.
And yet, if Palestinian officials have any doubts about the quality of some of the teachers they employ, they need look no further than Hanan al-Hroub of Bethlehem, who is in the running to win $1 million this week for being the world's best teacher.
With the West Bank economy struggling, the Palestinian Authority in debt and Israel's occupation causing constant pressure, there are few funds available to raise teachers' salaries, unless international donors provide direct support.
In Ramallah, where the Palestinian administration is based, thousands of teachers have thronged the downtown area since February 10, protesting against low pay and the fact they receive far fewer benefits than other government employees.
It marks one of the most serious and extended strikes in the Palestinian territories and has resulted in more than 540,000 students sitting at home or roaming the streets, their initial enjoyment of a few days off school now turning to frustration.
The teachers are angry and frustrated, too. Naeem Bozeyah, who has a master's degree in mathematics and has taught the subject for 20 years, says his basic salary is frozen at 2660 shekels a month ($680), barely enough to provide for his wife and family, including three children at university.
What's more, while in other ministries government employees receive a "bonus" each month of 105 shekels if they are married and 60 shekels for each child, for teachers it is only 60 shekels once you are married and 20 shekels per child. 
"Our demands are clear," Bozeyah told Reuters. "We want our salaries to be improved and we want the government to pay our dues and equate us with employees in other ministries."
Watch Global Teacher Prize finallist Hanan Al Hroub talk about the power of education
Ministers gathered for a cabinet meeting this week expressed regret about the time the strike has dragged on and the disruption to the school year. They accused teachers of rejecting efforts to resolve the dispute.
While teachers' representatives say they will continue the strike as long as necessary – and say 90% of teachers are taking part – students in the 1700 schools affected are becoming annoyed, as are their parents.
"The strike is wrong and right at the same time," said Mohammad Abu Hwaij, a 10th-grade student. "It's right because the government must give teachers their rights and wrong because we have not been studying for a month."
He and his friends have mostly been wandering the streets looking for things to do and are beginning to worry that they will have to repeat a year of school.
It's all a far cry from the future that may await Hanan Al Hroub, a primary school teacher who grew up in a refugee camp near Bethlehem. She has gained acclaim for her focus on teaching non-violence, ethics and respect, with remarkable results.
This week, she travelled from the West Bank to Dubai, where on March 13 the Varkey Foundation, an educational charity, will announce the winner of its second annual Global Teacher Prize, which has been dubbed the Nobel prize for teaching.
Hroub is one of 10 finalists, having been whittled down from 8000 nominations from 148 countries.
"I tell all teachers, whether Palestinian or from around the world: our job is humane, its goals are noble," Hroub said in a film made about her work. "We must teach our children that our only weapon is knowledge and education."
Meet the 10 finalists for the Global Teacher Prize
The Thomson Reuters Foundation, the charitable arm of Thomson Reuters, covers humanitarian news, women's rights, corruption and climate change.
---
More news
Take the test and discover how our Schools Hub helps students grasp the global education crisis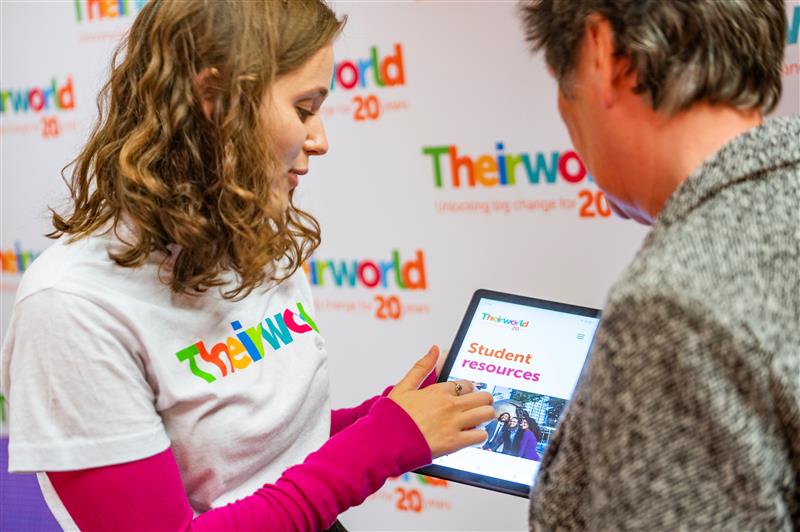 Take the test and discover how our Schools Hub helps students grasp the global education crisis
Teacher helps Harrison move from life on the street to success at school
Teacher helps Harrison move from life on the street to success at school