Teachers and students quit Venezuelan schools in food shortage crisis
Venezeuelan children at a school in the capital Caracas
By Alexandra Ulmer (Reuters)
Mariangel Caceres' teachers, whose salaries do not buy enough food to live on, stopped showing up for classes early this year.
The state school in the verdant Andean state of Tachira in Venezuela also had to cut back on providing meals due to nationwide food shortages.
So when the leftist government in April decreed Friday school closings to save electricity, it was the last straw.
"I left school a week after Easter," said Caceres, a sports-loving 13-year-old who now spends her days travelling to neighbouring Colombia with her mother to buy flour, rice or sugar they can no longer find or afford at home.
While Caceres hopes to enroll again in the next school year, she may find the oil-rich nation's economic crisis makes that difficult.
Education is no longer a priority for many poor and middle-class Venezuelans who are swept up in the all-consuming quest for food amid a wave of looting and riots.
Between 30% and 40% of Venezuelan teachers fail to show up at school each day, mainly because they are standing in lines for food or medicine, their biggest union estimates.
Pupils' attendance is also dropping because children have not eaten, know there will be no food at school, or must line up and help their parents shop, according to the union.
Frequent power and water cuts are disrupting classes, and schools have been closed on Fridays for about the last two months.
"A year interrupted like this cannot be recovered," said Tulio Ramirez, an education expert at Venezuela's Central University. "These kids are growing up with an educational deficit."
Native children in class at the Esperanza multi-ethnical school at Puerto Ayacucho in the state of Amazonas
Ramirez himself cannot afford new shoes on a salary worth about $50 a month at the black market currency rate.
Supporters of the government accuse opponents of exaggerating social problems as part of a campaign to undermine socialism in Venezuela.
They point to a 16% rise in the enrollment rate, increased literacy and funding increases during the 1999-2013 administration of former President Hugo Chavez, who declared education a priority for his self-styled "beautiful revolution."
Under successor Nicolas Maduro, however, social gains have fast evaporated during a brutal recession exacerbated by a drop in oil prices, critics say.
They cite insufficient funding for schools and a lack of qualified teachers due to low salaries or emigration.
Venezuela has released little hard data in recent times and does not participate in the globally recognised Programme in International Student Assessment tests, so it is hard to gauge the state of education with statistical precision.
The country's Education and Information ministries did not respond to requests for comment.
The decline of Venezuela, which has the world's largest oil reserves, is reflected in the fortunes of state school Monsenor Marco Tulio Ramirez Roa in La Fria near the Colombian border.
The aging building was destroyed in 2013 to make way for a new one, but runaway inflation, bureaucratic delays and shortages of materials halted construction, according to the school's administration. 
Authorities offered no alternative space for the nearly 300 pupils, the administration said, so classes have been scattered in nearby communal houses, a room above a now-empty state food store, and even an employee's hot, narrow garage.
Students in the state of Portuguesa  Picture: Venezuela Foreign Affairs Ministry
Now the classrooms struggle with frequent blackouts and water cuts. The school can no longer provide two meals a day.
"The situation is really severe," said mother-of-five Josefina Molina after her children were let out at midday because there was no lunch. "This is making us go crazy."
As Molina had no food, either, her five-year-old son Yasir was plucking fruit from a tree outside their house.
The hard times threaten to widen educational inequality. Some private schools have discreetly stayed open on Fridays and retained teachers by bumping up their salaries, but public schools have no such options.
Fellow La Fria parent Sharon Roa, 27, said she often kept her children at home because soap shortages and water cuts make it impossible for her to clean their uniforms.
Last year, Ever Mejias, 14, quit school, where art was his favourite subject, to pack ice in a factory and help out his family.
Educators are also jumping ship. Mathematics teacher Douglas Mena, 32, stopped giving morning classes in March because he made twice as much money fishing in Venezuela's vast Maracaibo Lake.
"I'm not the only one," he said after a recent shift. "There are many of us who have started re-selling goods on the informal market, baking cakes, cleaning houses, anything."
Many professionals across Venezuela have turned to such jobs to hedge against inflation and make it easier to line up for food.
But supermarket lines can stretch into the thousands, and re-sale prices have skyrocketed, so many are getting by on mangoes and starch, or skipping meals altogether.
"I've opened my eyes," said Edgar Barrios, 38, a former "Chavista" in La Fria who for three years has allowed a Monsenor Marco Tulio Ramirez Roa class to assemble in his garage. "I'm disappointed with the life we have now."
The Thomson Reuters Foundation, the charitable arm of Thomson Reuters, covers humanitarian news, women's rights, corruption and climate change.
---
More news
Take the test and discover how our Schools Hub helps students grasp the global education crisis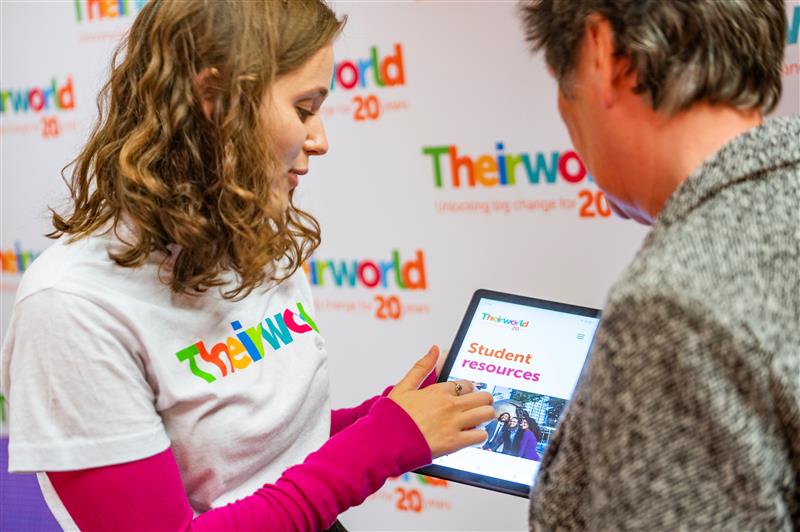 Take the test and discover how our Schools Hub helps students grasp the global education crisis
Teacher helps Harrison move from life on the street to success at school
Teacher helps Harrison move from life on the street to success at school