Theirworld's mission to give every child the Best Start in Life
Early childhood development, Jennifer Brown Research Laboratory, Theirworld
In the first of a series of in-depth articles to celebrate our 20th anniversary, we talk to some of the people involved in our work on premature birth and early childhood development and education.
---
Two little girls. Two very different backgrounds.  
Ella, born three months prematurely in Scotland, weighing just 1lb 10 oz (0.7kg). Happiness, born in Congo before becoming a refugee in Greece. 
These girls are linked by a common thread. After difficult starts to life, both are thriving thanks to projects supported by Theirworld. They are part of the 20-year story of our mission to unlock big change for children. That includes ensuring every child has the best start in life – a healthy birth, then quality early childhood development and pre-primary education.  
Catherine Smith gave birth to Ella in Edinburgh in 2015 – just 28 weeks into her pregnancy. She said: "I thought it was all over, she wouldn't survive." But Ella pulled through, largely because of ground-breaking work done at the Jennifer Brown Research Laboratory, established by Theirworld in 2004.  
Now Ella is seven and full of life. Catherine said: "She is physically strong and at a normal height and weight for her age. Her small school of 15 pupils voted her the happiest and most popular pupil last year, despite being the youngest." 
After major disruptions in their lives, Happiness and her mother Prisca now live in Athens. She benefits from a Theirworld project called Heal Together, which provides early childhood services to refugee families. Prisca said: "When she comes home from school, she tells me what they've shown her. She shows me what the teacher taught her. I'm happy."
What is the best start in life?
Theirworld's mission is to ensure that every child has the best start in life, a safe place to learn and skills for the future. The best start begins with a healthy pregnancy and birth. But the next five years are also crucial, because that's when 90% of a child's brain development takes place. 
Early years education and development can help to identify a child's learning needs early on, improve their socialisation and set them on the road to reaching their full potential.  
15 million
children are born prematurely each year
Our work has involved raising awareness of early childhood development, supporting pilot projects and campaigning for more investment in early childhood education and development. 
It all began in 2002 with a simple vision, born out of personal loss. 
Theirworld's own early days
Originally called PiggyBankKids, the charity was set up after Sarah Brown and husband Gordon – then the UK's Chancellor – lost their daughter Jennifer just 10 days after her premature birth. They received 13,000 letters of condolence 
Sarah, now Chair of Theirworld, said: "I was really touched and overwhelmed that so many people wrote to us or reached out to contact us. So many of them didn't have answers for why it had happened or ways in the future to prevent it happening to other families. That's really the beginning of the Jennifer Brown Research Laboratory." 
Every year 15 million children are born preterm, before 37 weeks of pregnancy. We don't know a great deal about the causes of early birth and more treatments are needed for its related conditions. Despite advances, too many children who are born early die or grow up with their brain development affected.
Theirworld created the Jennifer Brown Research Fund to invest in the best medical research for safe pregnancy and premature birth. It in turn supported the Jennifer Brown Research Laboratory, which was launched in 2004 at the University of Edinburgh/MRC Centre for Reproductive Health. 
"It was set up to study two major problems," explained Dr Ian Laing, a retired paediatrician and founding member of the laboratory's advisory board, as well as being a Theirworld trustee. "Why is it that some babies grow so poorly in the world? And can we identify babies who are at risk of abnormal development over the first few years of their lives?" 
The laboratory began with four research fellows – all women – and has since expanded to become a widely-respected and world-class facility. 
The growing impact
Looking back at the laboratory's journey, Dr Laing said: "The main impact of the last 18 years has been in the ability to identify babies that are growing poorly in the womb and then to be able to study them soon after birth and, in particular, using MRI scanning. The coming years will give us exciting information." 
It was research into how much oxygen should be given to babies in incubators that helped little Ella survive her first few knife-edge weeks. Her mother Catherine said: "As one of the very lucky ones, she has done nothing but flourish since her discharge from any medical care or monitoring at the age of two. She has had no health issues at all and her mental development is without any concern." 
"The willingness of families to give their time and information in the interest of helping the next generation of premature babies is generous and inspiring."

Professor James Boardman, talking about the Theirworld Edinburgh Birth Cohort
Professor James Boardman, a consultant neonatologist, became the laboratory's scientific director in 2012. He also heads the Theirworld Edinburgh Birth Cohort, which grew from the laboratory's work in 2015. It monitors the progress of 400 babies – premature and full-term – from birth to the age of 25. It's the first study of its kind anywhere in the world. 
Professor Boardman said: "We have made discoveries about the experiences and exposures that shape the developing brain. But I think the most important one is identifying the biological pathway that transmits maternal stress – whether that be physical or psychological – on to foetal brain development. 
"Within 20 years, I believe that we will have created and tested novel neuroprotective strategies that promote healthy brain development and maximise the life chances of babies born too soon or too small. Such that my generation of scientists, clinicians and midwives will achieve for quality of life what the last generation achieved for survival rates." 
Our work goes global 
Theirworld's cutting-edge research at the very start of children's lives led to us expanding further into early childhood development issues. In 2016, we launched the #5for5 campaign. It focused on the vital first five years and the five key elements of nurturing care – health, nutrition, play, learning and protection. 
The approach was playful with a serious message. Well-known comedians from the United Kingdom, United States and African countries dressed as babies for a series of videos that called on world leaders to take urgent action to make sure all children, especially the most disadvantaged, have access to the full range of nurturing care. 
A series of reports followed that highlighted an alarming gap in funding for pre-primary education and development. A co-author of those reports was Professor Pauline Rose, Professor of International Education and Director of the Research for Equitable Access and Learning Centre at the University of Cambridge. 
"Early childhood education falls through the cracks of government. There's always a question of who is responsible for it."

Professor Pauline Rose
She said: "Early childhood education is shown to be a great equaliser and so important to address the disadvantages that some children face earlier. But it has consistently received a really minimal part of education budgets." 
In fact, it comprises less than 2% of all education aid. Theirworld pushed boldly for governments and organisations to aim for 10%, backed with campaigning led by our Global Youth Ambassadors. UNICEF and Education Cannot Wait, the fund for education in emergencies, are among those that have committed to the target. Dr Rose said: "That has had an effect – pushing donors on what they're doing, making sure they're doing things differently." 
Change on the ground
Theirworld has been involved in early years projects and advocacy on the ground – with a focus on Lebanon, Greece and Kenya. 
In Lebanon, the MyBestStart project sees Theirworld working with agencies to provide thousands of children, parents and teachers with tools and resources to provide valuable early childhood education.
In Greece, the Heal Together project works with Amna Refugee Healing Network (formerly Refugee Trauma Initiative) to help extend its early childhood education for refugees. 
Theirworld's focus in Kenya is to persuade decision-makers at national and local level to increase their spending on pre-primary to 10% of their education budgets.  
175 million
children are denied a pre-primary education
Michael Simpson, Theirworld's early childhood development research and policy manager, said: "Tens of millions of children are denied the right to education, finding themselves at the margins of society through no fault of their own.
"As advocates, the best we can do is think strategically about the change we can achieve and break down our work into realisable, while still ambitious, objectives." 
Ultimately, young people themselves will be the drivers of lasting improvements. Our network of Global Youth Ambassadors campaign energetically for change in their own communities. In India, 21-year-old Hasibul Hasan is passionate about early childhood education. 
He said: "In my country, almost 70% of children don't get the opportunity of pre-primary education. Young activists can make a positive impact in their communities. They can identify the underprivileged and marginalised people and provide information and support for parents about early childhood education." 
Learn more about Theirworld's early years work. 
You can hear interviews with Dr Ian Laing and Professor Pauline Rose in a new episode of the Better Angels podcast, hosted by Sarah Brown, which will be released at the end of May. Theirworld will also release a new film soon about the Jennifer Brown Research Laboratory. 
Subscribe to our weekly newsletter for details of these.  
---
More news
Take the test and discover how our Schools Hub helps students grasp the global education crisis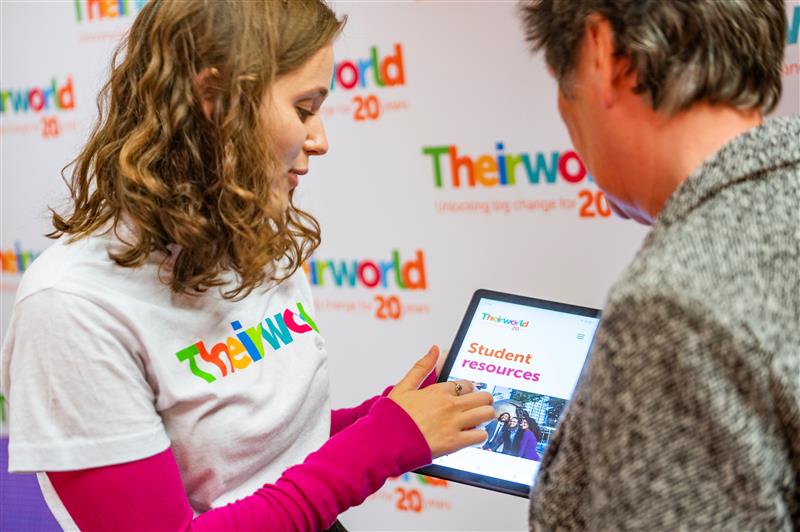 Take the test and discover how our Schools Hub helps students grasp the global education crisis
MyBestStart programme gives young girls the education they deserve
MyBestStart programme gives young girls the education they deserve