Tributes to Peshawar teachers who 'paid with blood for sake of education'
Children in conflicts, Teachers and learning
Candles in Lahore for the students and teachers who died
Tributes have been paid to the teachers who gave their lives trying to save children in the Peshawar school massacre.
Nine staff members were killed along with 132 students during the attack on the Army Public School on December 16. 
The Pakistan Teachers' Organizations Council (PTOC) wrote to Education International – which represents 30 million teachers across the world – to tell them how the teachers and children had "paid with their blood for the sake of education".
At least two teachers were reported to have been burned alive in front of students by the Taliban gunmen who stormed the school. Hifsah Khush and Afsha Ahmed, who was only 24, were both set on fire after trying to shield children from the terrorists.
Witnesses said Afsha told them: "You can only kill my students over my dead body." One of her pupils who survived, 15-year-old Irfan Ullah, said: 'She was a hero, so brave. She jumped up and stood between us and the terrorists before they could target us.
"She warned them: 'You can only kill them over my dead body'. I remember her last words – she said: 'I won't see my students lying in blood on the floor'."
In his open letter to the global education community, PTOC President Khan Faraz wrote: "You might find these images quite disturbing but this is the real picture of the educational sector in Pakistan and this is what our teachers and students paid for education."
Mr Faraz called for support from teaching colleagues around the world. He wrote: "The teachers, and especially the principal of the school, played a vital role by keeping the students locked in a room, which helped save as many lives as possible. Tragically, the staff members, including the principal, lost their own lives in the fight to rescue their students.
"These terrorists are targeting the schools and teachers in an effort to stop the activity of education. But the spirit of students, teachers and parents are so high that they cannot be challenged or stopped. These cowardly terrorist acts only reaffirm the strength of our students and teachers to continue striving for education.
"We appeal to all the teachers' unions to stand with us and raise their voices against this coward terrorist activity and help the teachers of Pakistan to stand bravely against such threats.
"These terrorists are, in fact, not hitting a specific group of people or any specific race but are against humanity and do not want to see the new generation to be educated. They just want to discourage parents from taking their children to school – but we will not let them win."
Education International General Secretary Fred van Leeuwen said: "In no way can we stand to tolerate the massacre of our students for wanting to be educated, and in no way can we close our eyes to the assassination of our teachers for making quality education a reality.
"As an organisation dedicated to seeing that all children receive a quality education, free from fear or violence, we are calling on the government of Pakistan to do what it must to ensure that schools remain safe and open to whomever wishes to learn, regardless of race, religion, or gender."
EDITOR'S NOTE: The original version of this article contained a photo montage with an image of a boy who did not die in the Peshawar school attack. The montage, which we received from an organisation in Pakistan, was reproduced in good faith but has now been removed.
---
More news
Take the test and discover how our Schools Hub helps students grasp the global education crisis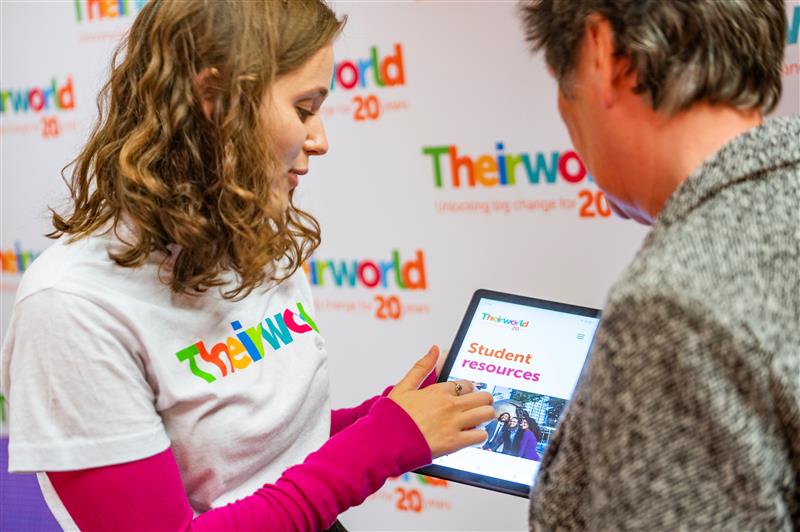 Take the test and discover how our Schools Hub helps students grasp the global education crisis
Teacher helps Harrison move from life on the street to success at school
Teacher helps Harrison move from life on the street to success at school