Countdown to UN General Assembly: education highs and lows of the past 12 months
Barriers to education, Children in conflicts, Children's welfare after natural disasters, Discrimination of marginalised children, Early childhood development, Education Cannot Wait, Education funding, Education in emergencies, Global Youth Ambassadors, Refugees and internally displaced people, Right to education, Theirworld
---
With the UN's main decision-making session of the year starting today, we look at some of the talking points about global education in the past year.
---
The 2017 United Nations General Assembly begins today – and the future of the world's children will be among the major talking points as world leaders gather in New York.
The right of every child to have a free, quality education is at the heart of the Sustainable Development Goals approved at the General Assembly two years ago.
Countries also agreed that by 2030 they should "ensure that all girls and boys have access to quality early childhood development, care and pre-primary education so that they are ready for primary education". 
Many challenges have still to be overcome. But there have also been success stories along the way.
Here we look at some of the highs and lows in the past year in the efforts to give every child in the world access to education and early years care.
World leaders back funding plan
G20 leaders meeting in Germany in July made a dramatic commitment that could change the future for children around the world.
After 10 years of declining funding for education, the Hamburg summit committed to action on a bold new financing plan that will unlock $10 billion a year and help to get millions of girls and boys into school.
It is the first time in a decade that G20 leaders signalled action on a new education funding initiative in one of their official statements. The decision to back the innovative International Finance Facility for Education (IFFEd) followed calls from singer Shakira, international leaders and more than 145,000 campaigners – including Theirworld supporters – to reverse the decline in funding for education. 
IFFEd will be progressed under the G20 presidency of Argentina in 2018 – taking into account other existing initiatives, such as the Global Partnership for Education and Education Cannot Wait.
Millions of children in conflicts
The civil war in Yemen has deprived two million children of education and seen 1600 schools unable to be used due to damage, being used to host displaced families or military occupation.
In South Sudan, UNICEF said 900,000 children need psychological help, with at least 150,000 of them living in camps. They have witnessed killings, abductions and sexual violence since South Sudan plunged into civil war in 2013.
Children in the Democratic Republic of Congo bore the brunt of extreme violence that rocked the Greater Kasai region. About 850,000 children were among 1.4 million displaced people. We reported in early June that more than 150,000 children were missing out oin education because of violence and attacks that had seen over 600 schools damaged.
Nearly 200 schools in Syria reopened during the first half of 2017 – allowing thousands of children to return to education in the war-torn nation. But 1.75 million children remain out of school and the education sector has lost 150,000 personnel, which has drastically affected the quality of schooling.
Theirworld launches more Code Clubs
Code Clubs provide a free safe space for vulnerable girls and young women to learn coding.
They also foster their creative thinking and increase important business and health-related knowledge and skills to help transform their lives. 
In July, new Voith Code Clubs in Tanzania were announced. They will expand and complement Theirworld's existing Code Clubs in Kenya, Uganda and Nigeria – working towards contributing to more women working in the area of science, technology, engineering and mathematics (STEM).
Education Cannot Wait helps seven countries
Children caught up in humanitarian emergencies in seven countries benefited from a $20 million investment from the Education Cannot Wait fund.
The money announced in April will deliver quality learning, teacher training, psychosocial support and new school facilities in Afghanistan, the Central African Republic, Madagascar, Peru, Uganda, Ukraine and Somalia.
Peru and Madagascar were hit by extreme storm and flood damage, while Uganda is hosting almost one million refugees. The other countries are affected by ongoing conflicts.
The fund – launched last year to money quickly to countries hit by conflicts, natural disaster and health crises – was already helping two million vulnerable children in Chad, Ethiopia, Syria and Yemen, over half of them girls.
Syrian refugees and #YouPromised campaign
The number of Syrian refugee children who are in school has increased – thanks to the efforts of their host countries and partners. But by the time schools stopped for the summer break, 534,000 had yet to set foot in a classroom. 
A high-level Syria conference in Brussels in April said more funding and clearer planning is needed urgently if world leaders are to keep their promise to educate every single refugee child. 
The talks came 14 months after an initial Syria conference in London vowed to get every refugee child into school during the 2016-17 academic year at a cost of $1.4 billion annually.
Theirworld's #YouPromised campaign has been pressing since last year for the pledge to be kept and for more transparency from the international community around the funding processes.
South Asia floods devastate education
At least 18,000 schools were destroyed or damaged and 1.8 million children had their education disrupted by the monsoon floods that hit India, Bangladesh and Nepal last month.
There are fears that hundreds of thousands of children could drop out of school permanently unless education is prioritised in relief efforts.
The floods have affected more than 40 million people and killed over 1200.
#5for5 campaign and early childhood development
A series of fun videos with serious messages to support Theirworld's #5for5 campaign racked up more than 1.1 million views on Facebook, Twitter and YouTube.
When we asked a bunch of comedians to get in touch with their inner child, they all jumped – or crawled – at the chance.
Our videos featured British TV and film star Matt Lucas; Rainn Wilson – from the US version of TV show The Office; Kenyan comedian Carolyne "Teacher" Wanjiku; and stand-up comedians Jackie Tohn, Wendy Liebman, Shappi Khorsandi and Nish Kumar. 
In June the United Nations restated its commitment to give every child in the world access to quality early years care. The pledge was made by Peter Thomson, President of the UN General Assembly, at a high-level meeting on education.
It followed a report from Theirworld, which highlighted a severe lack of investment in early years education.
Our Global Youth Ambassadors lead the way
Theirworld's Global Youth Ambassadors are a special bunch of people. There are 500 of them in more than 80 countries – campaigning on behalf of the world's children.
They work in their own communities and countries to advocate for all children to go to school and for investment in early childhood development.
GYAs handed in a Theirworld report on early childhood development to UNESCO Director-General Irina Bokova at a high-level event – and a call to action on IFFEd to the G20 from 29 major charities and campaigning organisations including Theirworld.
---
More news
New school resources focus on disability and girls' education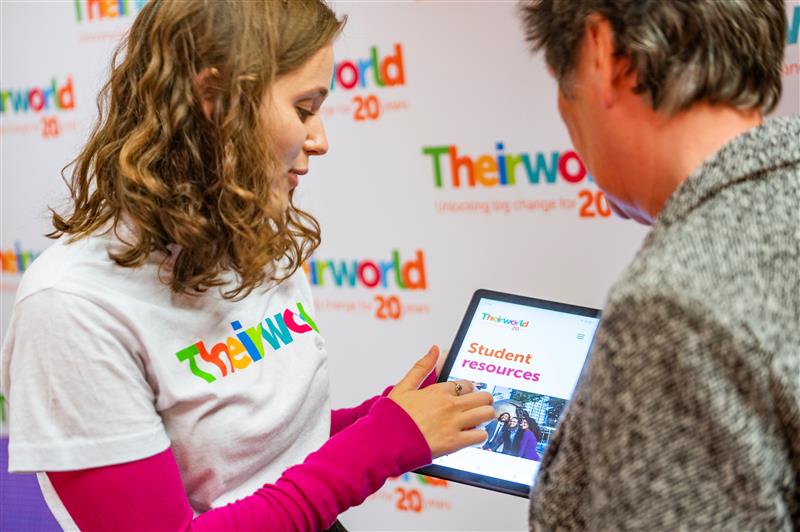 New school resources focus on disability and girls' education
Roger Federer supports the Act For Early Years campaign
Roger Federer supports the Act For Early Years campaign