Why we need to recruit and retain outstanding classroom leaders
Teacher Ewesit at a mobile school in Kenya Picture: UNESCO/Karel Prinsloo/ ARETE
Samantha Williams's hopes were not high as she travelled to Ethiopia for the launch of the Education For All Global Monitoring Report.
As a director of development for Teach For All who works with emerging social entrepreneurs addressing educational inequity in Africa, she knew better than most that millions of children do not go to school – and millions more are in classrooms but learning very little.
But she admitted: "Despite all that has been 'known', the grim findings of the Global Monitoring Report shocked me deeply. The quantitative data was far more alarming than I'd anticipated."
Among the findings from the UNESCO report that surprised Samantha was the revelation that 250 million children will not learn basic literacy and numeracy – despite the majority of them attending school.
When she returned from Addis Ababa, she wrote a thought-provoking blog in which she said: "There is a crisis out there that extends far beyond access, and it is painfully clear that meaningful access still eludes far too many children across the globe."
Samantha is Director of Growth, Strategy and Development – Africa for Teach For All, a global network of independent social enterprises working to expand educational opportunity in their countries by recruiting and developing talented future leaders to help transform classrooms, schools, and entire systems.
She believes the GMR's key finding – that the most critical factor is better trained, strategically placed and meaningfully retained teachers – echoes the vision of Teach For All.
She wrote: "It resonated deeply with me as I reflected on my work here in Africa."
You can read Samantha's blog in full on the Teach For All website, including her conclusions that we need a "global effort to recruit and retain outstanding classroom leaders".
The GMR launch on January 29 was also attended by Chernor Bah, Youth Engagement Coordinator at A World at School and Chair of the Youth Advocacy Group. You can read his very personal and passionate blog on his thoughts about the GMR report.
---
More news
Take the test and discover how our Schools Hub helps students grasp the global education crisis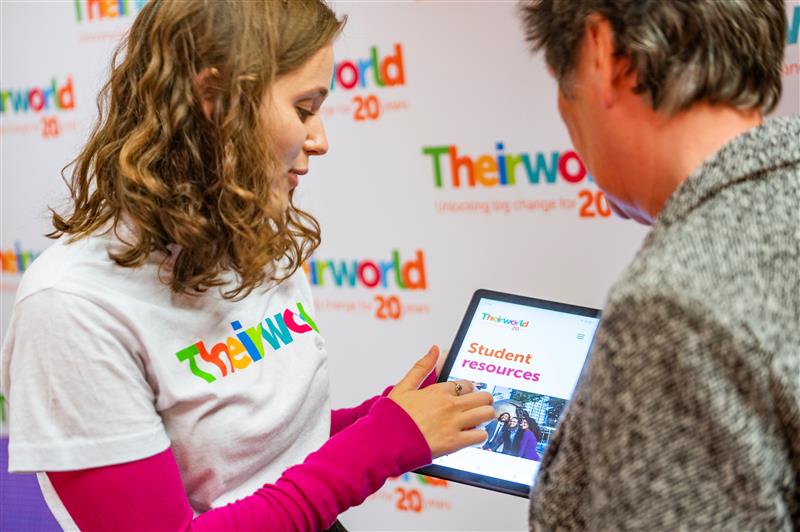 Take the test and discover how our Schools Hub helps students grasp the global education crisis
Teacher helps Harrison move from life on the street to success at school
Teacher helps Harrison move from life on the street to success at school