How Norway has become a global education leader and helped millions of children
Children in conflicts, Education Cannot Wait, Education funding, Education in emergencies, Right to education, Sustainable Development Goals, Teachers and learning, The Education Commission
The full extent of Norway's generosity and leadership on education aid and international cooperation is outlined in a new report. 
---
For a small country, Norway is known around the world for its values of equality and respect.
But this nation of just 5.2 million people has also become a global leader when it comes to helping children in developing countries into school.
A new report has revealed the full extent of Norway's generosity and leadership at a time when more than 260 million children and youth are not getting an education.
Rising to the Challenge – produced by the Norwegian Agency for Development Cooperation (NORAD) – documents the actions taken and results achieved through Norway's aid to global education from 2013 to 2016.
It shows that Norway has:
Supported more than 3.1 million children in education each year, including 1.6 million in fragile and conflict-affected countries
Provided 11 million students provided with learning materials
Distributed over 8.5 million textbooks
Trained 140,000 teachers
Constructed or refurbished 5400 classrooms in fragile and conflict-affected countries 
"In the period 2013-2016, international development assistance from Norway helped to provide education for five times as many girls and boys as there are students in Norwegian primary education," said Norwegian Prime Minister Erna Solberg.
"The time has come for the global community to work together and provide real learning opportunities for every girl and boy. Quality education is essential for eradicating poverty."
Norway's role in shaping the education agenda has been considerable.
In 2013, the government announced that it would double its aid spending on global education and take a major role in global efforts to ensure quality education for all. As a result, it increased its aid to education from $210 million in 2013 to $400 million in 2016.
It actively contributed to the formulation and implementation of the Sustainable Development Goals – a set of targets to be achieved by 2030 and agreed by world leaders at the United Nations in 2015 – particularly around Goal 4 on education for all.
In 2014 the Norwegian government teamed up with Gordon Brown, the UN Special Envoy for Global Education. This cooperation brought together world leaders to discuss global challenges in education and resulted in the Oslo Education Summit in 2015.
The gathering was attended by then then UN Secretary-General Ban Ki-moon and other big players from the international community, including education ministers and leading NGOs.
They heard a passionate plea from Hellen Griberg, one of the Global Youth Ambassadors from Theirworld's A World at School movement. She told international leaders that for young people "education gives us freedom and hope".
From that summit came the Education Cannot Wait fund to help provide urgent schooling in humanitarian emergencies. 
Norway and Gordon Brown were also instrumental in setting up the Education Commission – a group of leaders and experts who investigated how to get every child into school and produced The Learning Generation report last year. 
 Solberg is a co-convener of the commission, which also proposed an innovative plan called the International Finance Facility for Education (IFFEd)  that will unlock $10 billion each year and help millions of children into school. 
When the G20 summit was held in Germany last month, Norway contributed to the funding of education being included in the final declaration for the first time. The leaders committed to action on making IFFEd a vital part of the education solution.
Foreign Affairs Minister Borge Brende said: "Norway has taken on a leading role in mobilising support for education for all, in accordance with the Sustainable Development Goals.
"Children pay the highest price in wars. Armed conflict is a major obstacle to education – not only because of the violence and destruction it involves, but also because it reinforces barriers to education such as poverty and discrimination."
In 2016, Norwegian aid to education in humanitarian emergencies increased by 150%. 
Brende added: "Today only a handful of countries include education aid in their humanitarian policy. Between 2013 and 2016, Norway increased the share of humanitarian funding to education from 2% to 9%, exceeding the UN target of 4%."
Jon Lomøy, Director General of Norad, said: "A lot has been achieved but there is still a great need for both more global aid and for a better distribution."
Watch Hellen's speech at the Oslo summit
http://www.youtube.com/watch?v=jgpM_GMDXkY
---
More news
Take the test and discover how our Schools Hub helps students grasp the global education crisis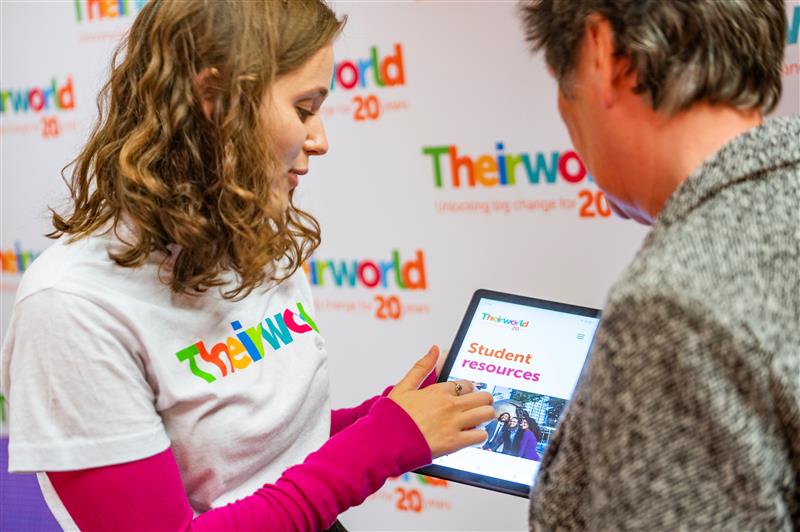 Take the test and discover how our Schools Hub helps students grasp the global education crisis
Teacher helps Harrison move from life on the street to success at school
Teacher helps Harrison move from life on the street to success at school