How Theirworld's bold campaigning style has helped to drive global education change
Sarah Brown, Theirworld, Up for School or #upforschool campaign, What is advocacy?
Our method of forming networks, building engagement and not just going for quick wins is examined in an in-depth report.
---
How do you tackle an enormous and daunting challenge like getting every child around the world into school?
Virtually everyone – from governments to families – agrees education is a positive thing. But more than 260 million children and adolescents are out of school because of poverty, discrimination, conflict, disasters and a host of other reasons.
Campaigning and advocacy are crucial in the battle to push issues such as education up the global agenda. One way to do that is to abandon the old top-down approaches and work to form lasting partnerships and global coalitions that build engagement with the public and create greater demand on decision makers.
Theirworld has chosen that route – forming networks, building awareness and engagement – to help bring about long-term and effective change that will give millions of children a brighter future.
Theirworld's approach to campaigning has been examined by Towards Global Learning Goals – an initiative started by former British diplomat Tom Fletcher to give people and organisations the opportunity to develop the knowledge, skills and character needed to thrive in the digital age.
The theory
In an in-depth report called From Ferment to Fusion, Towards Global Learning Goals says Theirworld's model of campaigning – led by its founder Sarah Brown – reflects the approach advocated by Jeremy Heimans and Henry Timms in their book New Power, published earlier this year. 
Described by The Guardian as the "wunderkinds of digital activism", their ethos is outlined in From Ferment to Fusion.   
"For Heimans and Timms, old power is closed, inaccessible, top down and spent carefully," says the report. "Old power values are more formal and managerial. Old power thrives on competition, confidentiality and exclusivity.
"New power, on the other hand, is a current, open, participatory, driven by individuals… It relies more on networks rather than hierarchies and organograms. It works best in conditions of openness and transparency."
As well as forming partnerships and movements, Theirworld's philosophy has always been not to shy away from facing the big challenges or tackling the big problems. 
We want to unleash all children's potential, amplify their voices and unlock Theirworld. To do that often means grabbing for the highest-hanging fruit and not letting go – rather than going for the quick wins. 
The challenge
According to From Ferment to Fusions, what Theirworld and others must do is "show that education is actually the key to unlocking all the other, sometimes more attention-grabbing challenges, from health to climate change".
Justin van Fleet – Director of the global Education Commission and Senior Advisor to Theirworld – said: "In 2012, there were three years left to achieve the Millennium Development Goal of universal primary education. But the out-of-school numbers were increasing and funding for education was in a freefall.
"We came together to say enough is enough. What was needed was a visible and bold movement with new evidence, ideas and coalitions for change. We wanted to target the most marginalised young people, especially girls, the youngest children and youth impacted by crisis and emergency."
The movement
In 2013 we founded A World at School. The movement brought together a vibrant collection of more than 250 NGOs, media, social media, high-profile individuals, youth, teachers and business leaders.
As part of A World at School, we launched the Global Youth Ambassadors programme. Today it's a thriving and dynamic network of more than 900 young leaders in 85 countries. 
Growing in confidence and impact, in 2015 the movement galvanised under the #UpForSchool campaign to build awareness of the global education challenge.
 #UpForSchool was a powerful campaign whose strategy was a "wild fire" approach, where pockets of activity popped up in countries and communities across the world.
There were youth rallies in the Democratic Republic of Congo, London, Norway and India. 
While youth campaigners from Liberia to Bangladesh led the activity, #UpForSchool also incorporated well-known organisations and individuals – from Muslim Aid and World Vision to Angry Birds and Shakira.
The Colombian singer and campaigner said: "We can be the first society to eradicate poverty and to figure out an intelligent way to bring education for all. But we need to move faster."
The Global Business Coalition for Education was launched along with A World at School. It has brought together 140 influential companies, who are driving public sector engagement in global education.
The big wins
#UpForSchool became the world's biggest education petition – with 10 million people calling for every child to be in school. 
In September 2015, more than 1000 young people, campaigners, celebrities and leaders gathered in New York to mark the momentous hand-in of the #UpForSchool petition to the United Nations.
Since then, Theirworld campaigners and other global education activists have seen some major wins, including:
Education at the heart of all the Sustainable Development Goals (SDGs) – a set of global targets agreed by world leaders to be achieved by 2030. At the 2015 launch, Pope Francis said education was the right of every child and added: "Education … is the basis for the implementation of the 2030 Agenda and for reclaiming the environment."
The Education Commission – a global initiative to encourage progress towards SDG 4 (inclusive and quality education for all) was launched in 2015. Its groundbreaking 2016 report The Learning Generation was an action plan for getting every child into school.
Education Cannot Wait – the first fund for education in emergencies – was launched and has served 650,000 children in its first year of operation.
More than one million Syrian refugee children have been helped into school in host countries.
The Global Partnership for Education – which helps some of the world's poorest countries – raised $2.3 billion at its financing summit earlier this year. 50 country partners agreed to increase their spending on schooling.
After years of decline, aid funding for education is growing and has hit record levels. Donor money targeted at getting children into school and learning increased in 2016 by $1.5 billion – or 13%. 
In a crucial turning point for global education, G20 leaders made a landmark commitment – signalling action on education in one of their official statements for the first time in a decade. At the 2017 summit, they committed to the new International Finance Facility for Education (IFFEd), a fund that will unlock $10 billion of additional money.
When three of our Global Youth Ambassadors handed in a petition calling for IFFEd to be backed, UN Secretary-General António Guterres said: "Education needs to be able to address the needs of today but also the future. So the investment in education is absolutely crucial. The International Finance Facility is a chance to fill the gap that exists."
Theirworld's advocacy and campaigning has been particularly significant in shining a spotlight on the need for innovative education funding. It has played a key role in the establishment of Education Cannot Wait and the launch of IFFEd.
The next level
Despite the successes, the battle to get every child in school is far from being won. To help take the campaign to the next level, the United Nations has launched the Common Ground initiative in partnership with marketing giant Omnicom. 
UN Deputy Secretary-General Amina Mohammed said: "We know when we deliver education to a young person, we're not only delivering the knowledge and skills they will need to chart their own future – we're preparing them to lend their hands, their mind and their heart to shaping a more peaceful, prosperous future for their society and for the world."
Omnicom is now working with Theirworld on a new campaign to build awareness and engagement in the global education crisis. 
The big challenge is to persuade people – including international leaders – that the education crisis is as important as the issues of climate change or health. It needs the same level of awareness and action. 
Every country in the world has agreed to the Sustainable Development Goals. One of them is to get every girl and boy into school and learning. That is the only surefire way to tackle the scourges of child trafficking, child labour, early marriage and discrimination.
It can be achieved. But only with courageous campaigning, energetic engagement and dynamic partnerships.
Young activists must be at the forefront of these efforts. When our Global Youth Ambassadors gave the IFFEd petition to António Guterres at UN headquarters, he said the campaign had come "from the will of the young people who want to have the chance to build a future for themselves".
---
More news
Sarah and Gordon Brown share global education vision in 100th episode of Better Angels podcast
Sarah and Gordon Brown share global education vision in 100th episode of Better Angels podcast
Take the test and discover how our Schools Hub helps students grasp the global education crisis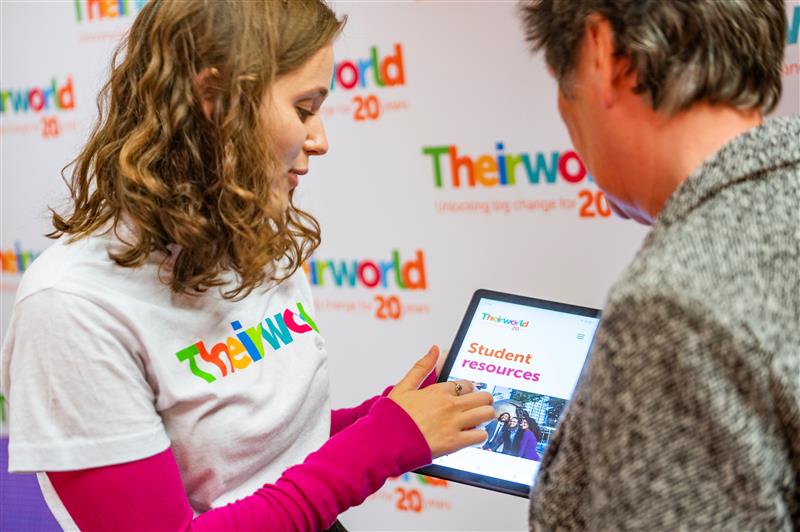 Take the test and discover how our Schools Hub helps students grasp the global education crisis